Louis Vuitton has created a one-of-a-kind Einstein Automata timepiece for the Only Watch 2023 charity auction. The watch is built on the same Tambour Automata platform as the Louis Vuitton Tambour Automata Opera watch from earlier in 2023 and features a 46.8mm-wide case in 18k white gold.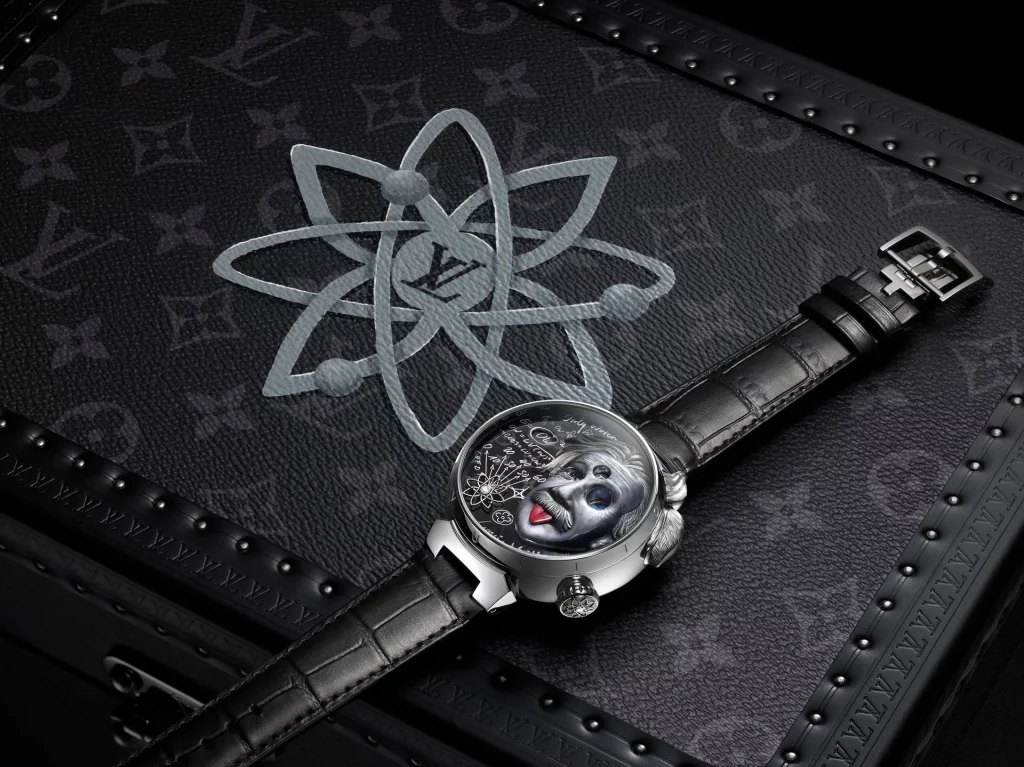 The dial is a work of art, featuring a hand-engraved humorly pleasing relief of Einstein sticking his tongue out. The rest of the dial is hand-painted to suggest maths formulae, chalkboard scribbles, and other nods to Einstein's work. The power reserve indicator on the dial is a clever adaptation of Einstein's famous E=mc2 formula.
The watch is powered by the LV 525 manually wound automata mechanical movement. When the automata complication is activated via the lever near 2 o'clock on the case, the dial automation animates while the time is also displayed. That means Einstein's face appears to change expressions, while an opening on the forehead displays the hour digitally. The atomic nucleus sculpture in white gold turns and uses the minute track on the dial to indicate the current minutes.
Included with the timepiece is a custom-made Louis Vuitton trunk watch case that has a few diamonds set into it. Attached to the watch is a black alligator strap.
This watch is sure to be a hot item at auction, and all proceeds will benefit the charity, Only Watch.