Isn't it unusual for a popular fashion brand that doesn't make watches to create very aesthetic and fashionable watches? Well, I don't know about you but this is my take for the LVMH group that owns the Louis Vuitton brand. They also own a series of watch makers such as TAG Heuer, Bulgari, Zenith, and Hublot – now that's n impressive portfolio. So Louis Vuitton really makes watches? Yeah right, and they do it pretty good. Louis Vuitton's nice watches are made by their in-house La Fabrique du Temps Louis Vuitton facility. Their line of watches includes a small number of watches ranging from everyday models with quartz movements for women to very exotic tourbillon-based timepieces for the elite wearers. Now let's take a look at the new Louis Vuitton Voyager GMT watch collection.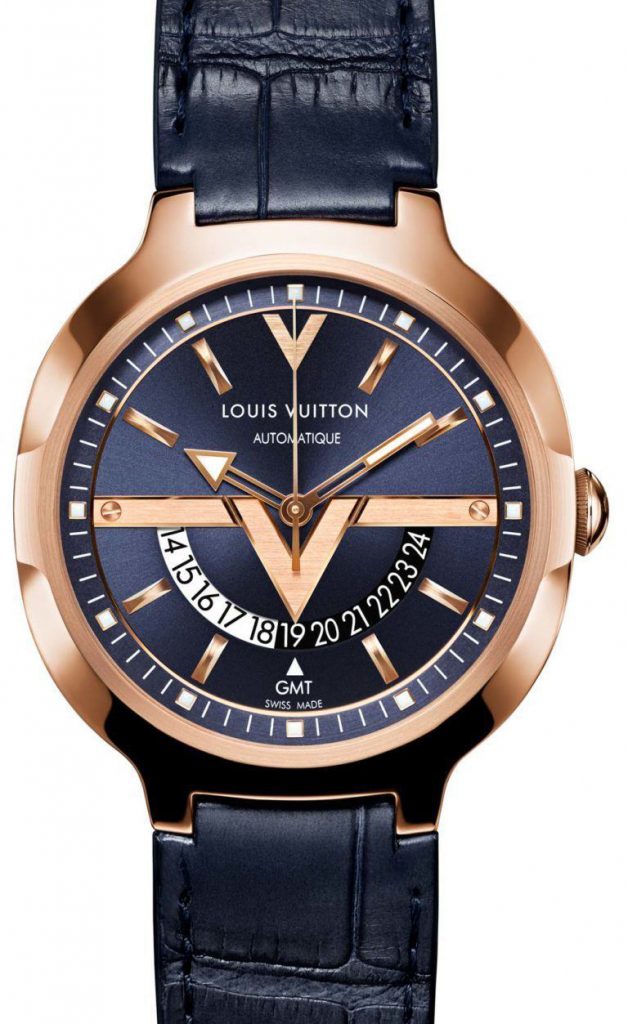 The new Louis Vuitton Voyager GMT sports a new case design much like a cushion-like case. At first look, I do feel that it's a bit odd but hey, this is an LV watch. Just like the Tambour case that LV made popular, this new Voyager case benefits from being unique and easy-on-the-eyes. The Louis Vuitton Voyager GMT case is 41.5mm wide being water resistant up to 50 meters. The versions available for this watch on its launch are Louis Vuitton Voyager GMT case on a steel case or an 18k pink gold case. The design alone is very fashionable particularly the well-designed crown and cute lugs. I would have preferred wider lugs but since this is a novel case design, let's see how it turns out.
The real deal of the Voyager GMT watch is found on its dial. The branding is superbly written on stone as I rephrase it since the V design is very poignant, you can't escape it. The indicator arrow that points to the current time on the GMT disc represents the V for Louis Vuitton. It is present again at the 12 o'clock hour marker and V markers kind of compresses the Louis Vuitton logo. I'm not complaining though since the brushed and faceted V shapes look very nice. The hour and minute hands also resemble the look of Xemex hands (with a large arrow for the hour hand and a blocky minute hand.) I like the GMT disc being partly exposed because it's visually attractive. AM and PM times are distinguished by the use of colors depending on the version (light blue and black or white and black.) Simplicity at its best is given to the movement that focuses just on the local and secondary time zones without extra indicators for the date. The mix of shapes and colors are great so we can safely say that if you like the LV brand, then you won't have problems with this kind of obvious branding.
For now, I'm a bit hazy when it comes to the Louis Vuitton Voyager GMT watch movement but it is said to be based on the Swiss automatic that has likely been modified a bit by Louis Vuitton. It operates at 4Hz with 42 hours of power reserve which is good enough. LV is also kind enough to hint that they're going to include an exhibition caseback for the watch featuring a custom "LV"-style automatic rotor. For more info, please visit louisvuitton.com