Today, I'd like to cover one of Maranez's  twist to their original Layan brass model – introducing their Layan stone dials. When the stone dials were launched in Sept 2014, I knew I had to get my hands on them. Picking a stone dial over the basic Layan model was a no-brainer, it was just a US$20 premium to their original Layan model retailing at US$299. Really? Just $20 for a unique stone dial? Yes, exactly what I thought.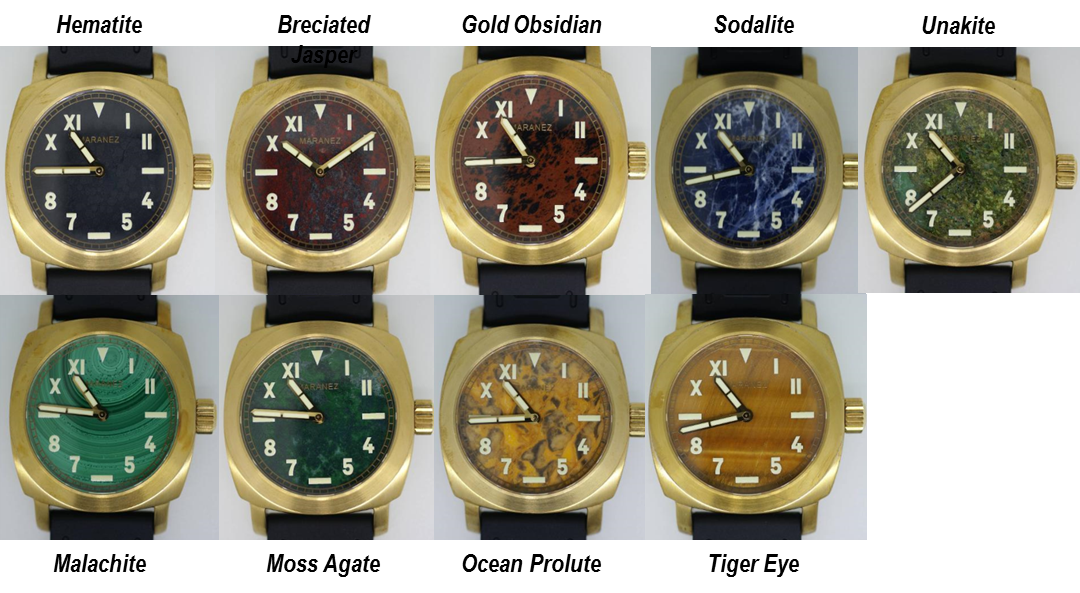 Just a little bit of background. Maranez is a small independent brand based out of Thailand, and they have garnered a huge following for their affordable yet classic designs. Their watch models have all been named after various places in Thailand – the Layan was named after the Layan Beach in Phuket. For the naysayers, yes, their watches are manufactured in China, but hey, they've shifted most of their cost savings to the consumers, so I'm definitely not complaining. Where else can you get such an assembly under USD $320, with shipping thrown in for free?
Case: Brass
Movement: Seiko NH35 automatic movement
Dial: Moss Agate/  Breciated Jasper/ Gold Obsidian/ Malachit/ Tiger Eye/ Unakite/ Sodalite/ Ocean Prolute
Lume: Yes
Lens: Sapphire
Strap: 1 x Leather, 2 x Rubber
Water Res.: 300m
Dimensions: 43 x 53mm
Thickness: 14 mm
Lug Width: 24 mm
Crown: 8 x 6 mm screw down
Warranty: 1 year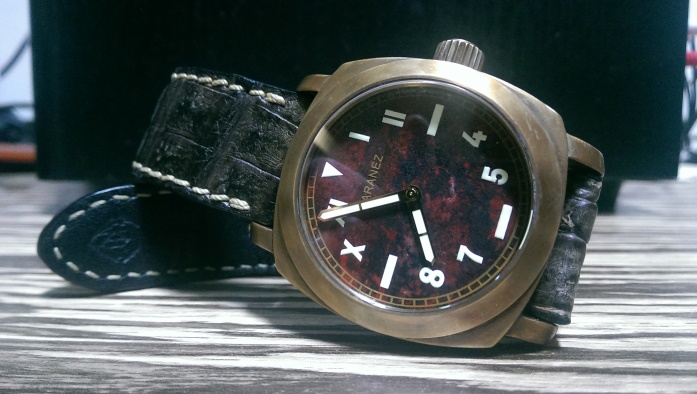 P.S. Their supply of stone dials is very limited and the majority of their stone dial models sell out really fast. They recently replenished a handful of stock, but there is still a shortage of supply for some stone dials, so get them while you can!
Truth is, these are not the most original watch designs out there, but it is a commendable assembly of stock parts to give the watch a distinctive look and feel. These Layan stone dials are also a fantastic alternative to a stainless steel timepiece for a casual evening out, and also serves as a great conversation starter.
Catching onto the patina bug, these stone dials are perfect for integrating different shades of patina. Personally, I feel that brass is much more suited for growing patina as opposed to bronze, as it gives off a richer and more rugged feel. For the purpose of illustration, my Moss Agate was recently polished while I treated my Breciated Jasper with Ammonia Fumes, LOS solution and baking soda to create the patina (excuse my pictures, the patina is still nowhere near perfection).
The stone dials watches are delivered in a black cylindrical container, and comes with 3 straps (leather, nato, and rubber) accompanied with a strap changing tool. Not a big fan of their brown leather strap, but I do appreciate their thoughtfulness. Oh…did I mention that my watches arrived 3 days after making payment?  Talk about efficiency!
Their bronze stone dial Layan (retailing at USD$599) is coming soon in early 2015, stay tuned! For more info, please visit maranez.com
James Phang – Contributing Writer
James Phang is a young watch enthusiast from Singapore and is self-professed fanatic of independent brands for their unique avant-garde designs. Some of his favourite brands include MB&F, Urwerk, Romain Jerome, Sarpaneva, Peter Speake Marin and Azimuth. His love for art extends out to all things handmade, and he has made it his personal mission to find the best handmade straps and buckles worldwide for his humble collection. Read his articles here.