For those of us familiar with the MB&F watches, well these timepieces are regarded as the beasts of the horological universe. Even though I'm familiar with this brand, whenever there's a new one, I always get excited simply because of their outrageous designs. They don't really look like wristwatches in the traditional sense but more of an inventive timepiece from the future. Nah, that's just me talking in excitement so without further ado, here is the new MB&F HM8 Can-Am Watch, marvelous and features avant-garde elements as usual.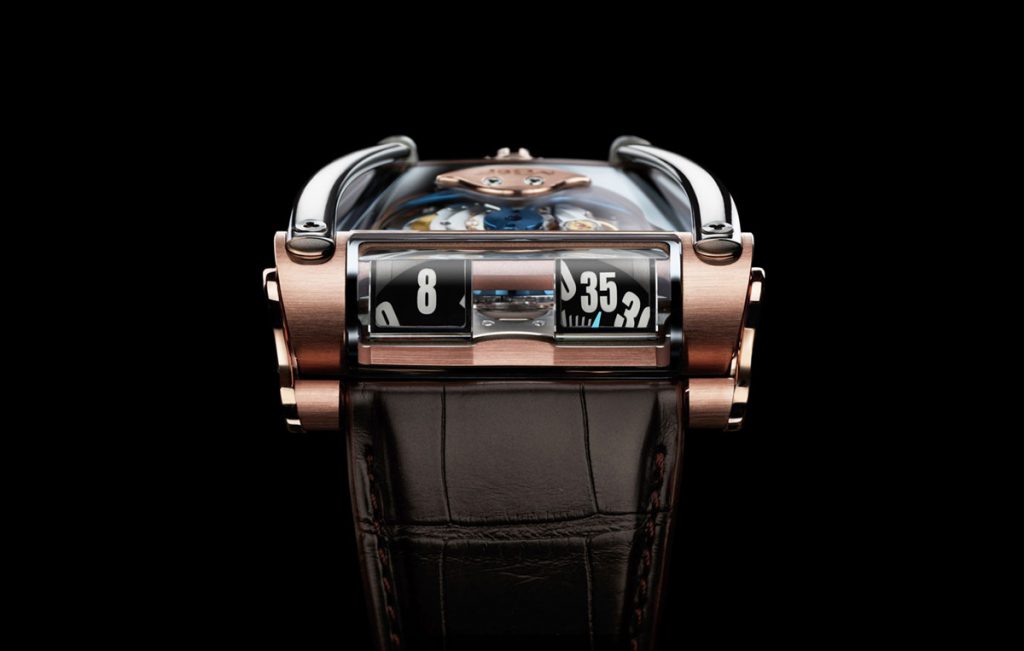 By the way, being a Can-Am timepiece short for the Canadian-American Challenge Cup, a car racing series that existed from 1966 to 1987, MB&F watches have automotive inspirations built into them. Thus the new MB&F HM8 Can-Am Watch features a lot of automotive elements such as the 2 "oil sumps" at the caseback and the seemingly roll cage styled case. The HM8 looks tough and very mechanical too. Being an avant-garde watch, you'd be quite surprised as to how it operates so it takes time to fully appreciate these mean machines. However, being a high-end watch, it doesn't resonate with a mediocre watch at all, not by a long shot. No no no. Some MB&Fs even feature crazy mechanical clocks and even music boxes at times too, simple proof of their mechanical prowess.
Moreover, the complicated case of the HM8 is made from 60 components in gold, titanium, and sapphire crystal. This watch is undeniably designed for driving since time is presented on the vertical side of the side of the case, beats me since the designers think this surface as the most visible part during driving which negates removing the hand from the wheel just to look at the time. Well, it's a new way of looking at the time but if you ask me, this surface is pretty much small and professional drivers don't look at their wristwatches when racing, who does that anyways? Anyhow, design-wise, it looks exemplary but I sure hope it doesn't get anyone a ticket from squinting too much and swerving into the opposite lane, quite dangerous to even think of that.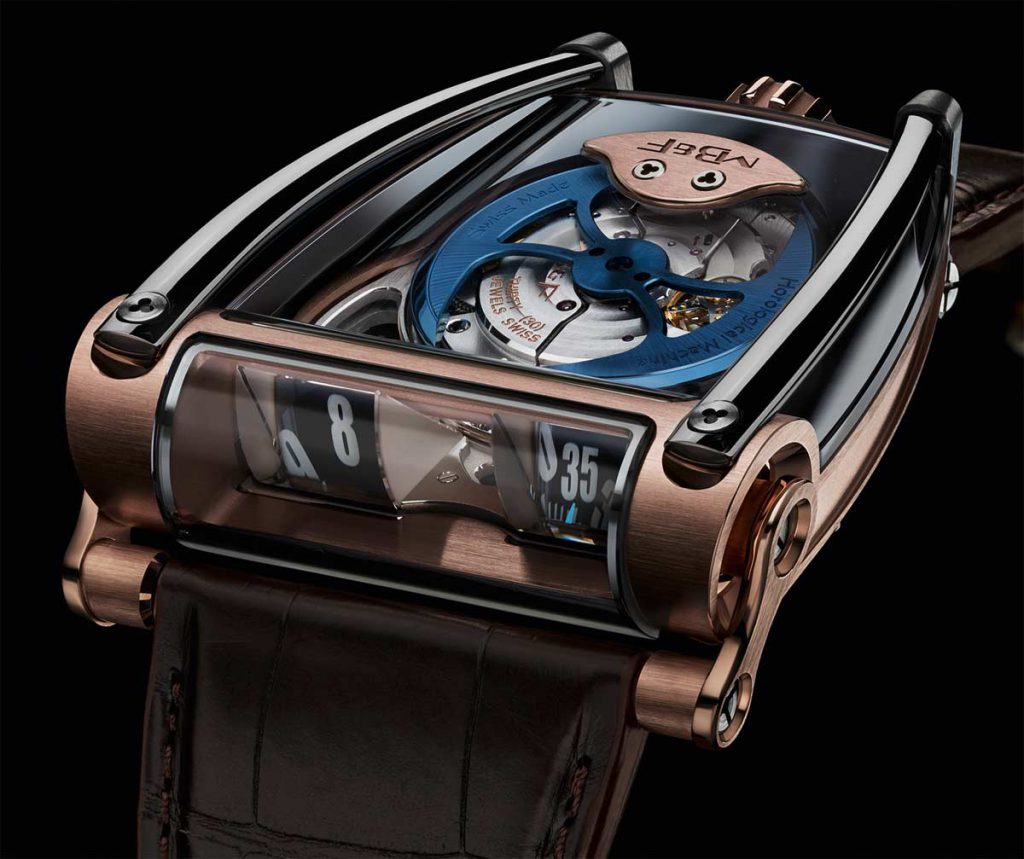 Back to the HM8 aesthetics, it does really appeal to mechanical junkies such as myself I admit. The sloping wedge shape of the case is somehow a common trait of MB&Fs but on the HM8, it adds more angle and flatness and when combined with the two "roll bars" well, it seems like a mini car design to me. This is really a machine literally and if you're so used to traditional watches, well you may not like the HM8, there's no use sugarcoating this one observation. However, to most of us looking for the most mechanical timepieces, the HM8 is a priced bagger. I also happen to love cars and quite a speed junkie too that's why I'm quick to point the small time window on the case side of the watch no matter how legible it may be.
Furthermore, the HM8 runs on the movement conceived and developed by MB&F based on a Sowind (Girard-Perregaux) movement found on HM5 watches. Since there is no traditional dial, the movement is displayed on the front crystal. The most prominent feature is the brand's signature blued gold "battle axe" rotor shape, it looks large and great. With only 42 hours of power reserve, the 247-pieced movement operating at 4Hz seems synonymous with running on petrol so yeah, that's quite a speedy run. For more info, please visit mbandf.com