It seems like I'm WristReview's official MB&F correspondent these days which is marvellous! Today we're introducing you to the newest member of the family, the HM9 'Flow' watch in gold. In true MB&F style, it fuses high-end watchmaking and its techniques with modern-day design and execution methods to achieve an impressive result. MB&F watches are renowned for the intricacy of their watches as well as the steampunk/futuristic styling. 
This watch is no exception to their rule of crazy designs. It features a case design which drew inspiration from postwar icons such as the 1948 Buick Streamliner, Mercedes Benz W196 and the deHavilland DH 112 Venom jet, which was enlisted with the Swiss Air Force for over 30 years, ending its enrolment in 1983.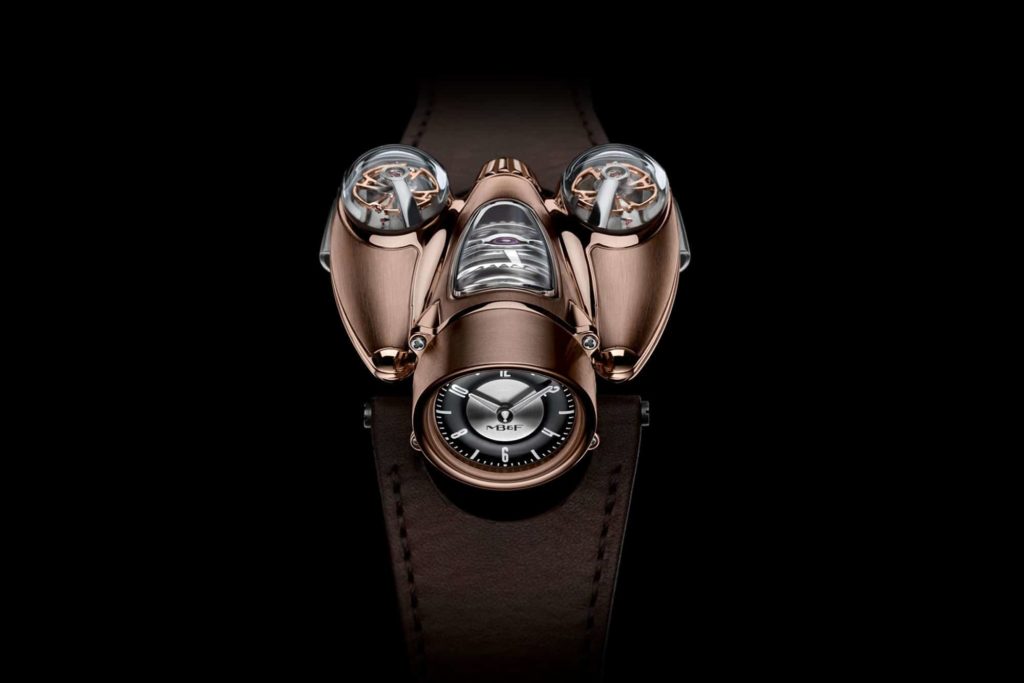 The watch features a design inspired by both the open road and the even more open skies, and strangely enough, it seems like it looks at home in both. The orientation of the watch means that the time is displayed on the side of the case, rather than perpendicular to the wrist like nearly all other watches. This means that when driving a vintage car or grasping for dear life onto the yoke of an old British Jet, the time will be clear to the wearer without needing to move their wrist. The case is in red gold, and it's large at 57mm x 47mm x 23mm, so don't expect this to be light. It has a very wide strap, though so it should at least be quite well balanced.
The case isn't just cool to look at; it's also intelligent. The angles and curves are so extreme that standard milling techniques simply weren't up to the job. MB&F had to develop and patent a new 3D gasket that could move around all the curves of the main body. There are several pieces of milled sapphire crystal dotted about the place to allow the wearer views into the movement, too. 
And what a movement it is, too. It's not one flat piece sat in the middle with some gears dotted about. The twin balance wheels are mounted on the ends of the watch on signature MB&F balance cocks. They're coupled with a special planetary differential gear to allow both balances to power the dial. The dial is mounted perpendicular to the rest of the movement, so the energy from the movement needs to be turned 90 degrees, and yet it still has a 45-hour power reserve, and there aren't even that many components for it, just 301 in total. 
There will be a 'Road' and 'Air' version of this Flow watch with slightly different dial colours for variation. Both are limited to 18 examples each and will cost $198,000.
Visit MB&F here.