You may remember early last year I had the privilege of doing a fortnight review with a special edition Diver Deep Dive from Ulysse Nardin, the Hammerhead edition. I thought it was a tremendous watch both physically and for the amount of money they're asking for. Now, Ulysse Nardin unveils a new version of the Diver Deep Dive, this time it's working with the One More Wave charity.
One More Wave is a unique charity which aims to aid in the recuperation and recovery of wounded and disabled veterans in what is, I think, one of the coolest ways possible: surfing. Veterans can apply to the charity who will review their status, and when the charity accepts them, they will be consulted and will have customised equipment made for them so they can get back out there and catch the waves. Having both bodyboarded and surfed myself, I can attest to the exhilaration felt by surfers, so these folks will enjoy it even more.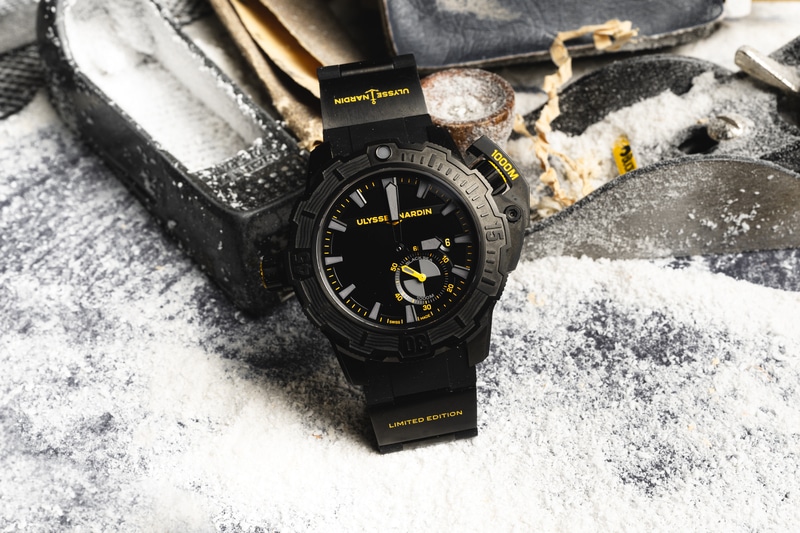 The most striking feature of the new watch is the black and yellow colouring. The titanium case keeps the same 46mm case diameter from before, but thanks to that contrasting colouration you'll find it probably stands out even more than the Hammerhead edition despite that watch having polished parts. Members of One More Wave helped design the watch, so it would both stand out as a special edition timepiece but also reflect their charity in a subtle way.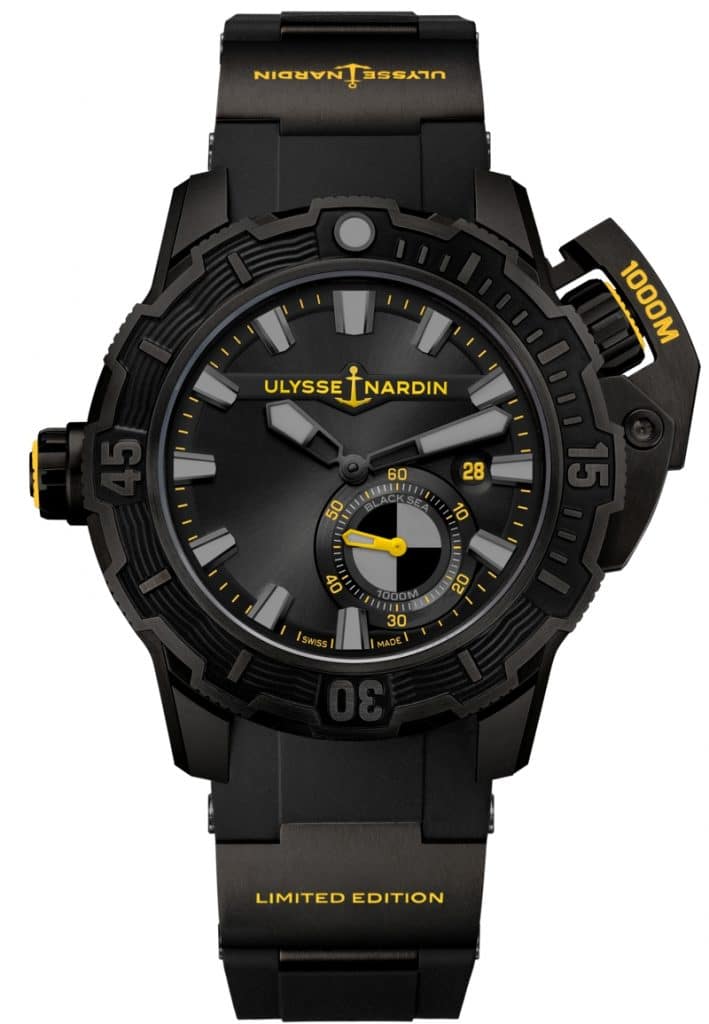 At the 2 o'clock position, you have the winding crown, locked under a folding bar that's held in place with a ceramic ball bearing. This crown controls all the functions of the calibre UN-320 manufacture movement. The second crown at 9 o'clock is the screw-down helium escape valve.
The dial remains legible, despite being mostly blacked out. Based on photographs the hands and the alternating lighter parts of the subdial appear white, but in the renderings and other press photos, they seem to be grey in colour. The water-resistance of the watch stays the same at a meaty 1000m, but this also makes it much safer for impact watersports such as surfing, for instance. See our Lexicon page for more on water resistance.
The price of one of these sits at $13,500.
Visit Ulysse Nardin here.