It would be fair to say that MB&F is one of those companies that goes where other companies fear to tread. There are a few other companies around that lead the way in their respective industry like MB&F does, but rarely do they collaborate with masters of yet another industry to make a fantastic piece of functional art.
Reuge is a Swiss company that specialises in using clockwork systems to make beautiful music. They have been going away at their business in Sainte-Croixe since 1865 and have built up a big repertoire of examples, all of which are exquisitely crafted by hand in-house. Each machine created by them uses a barrel with pins on it that pluck a metal comb which creates a music note. Over the years, Reuge have made many different systems including extras such as drums and bells.
They have worked closely with MB&F in the past to create the Music Machine, a system which fixes two Reuge music box systems to the body of an interstellar travel vehicle where the twin barrels were cleverly laid out so that they look like engines. That was back in 2013. For 2014 Reuge and MB&F reunited with a passion for creating functional art. They created a music system that was based on the design of the most iconic spaceship ever to fly, the USS Enterprise NCC1701. It was a resounding success and didn't take long for all examples to sell out.
For 2015, they bring us a music system based off of the famous TIE Fighter ship from the Star Wars series, a series which MB&F's founder Maximilian Büsser is a big fan of.
This new design features beautifully skeletonized aluminium wings on it to help keep it as light as possible, making a flight around a planet easier. They're connected to the main body of the design which comes in three colours, either lacquered white, black or a cool chrome finish. The base that the machine sits on amplifies sound (technology that Reuge is very well accustomed to making) that is over 350 years old.
Of course, the twin barrels in the wings aren't just for show, they play shortened versions of the following songs:
Merry Christmas Mr Lawrence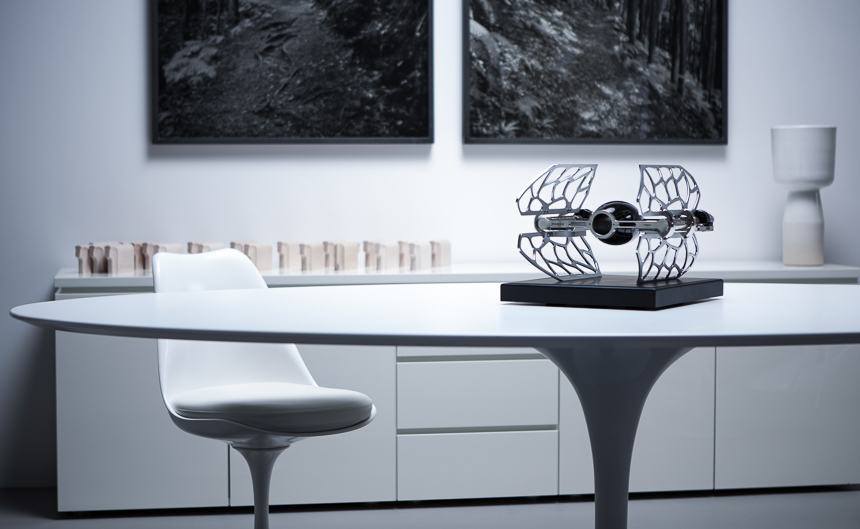 This is one piece that I feel out deuces the art industry with its care and detail as well as its functionality. If you place it right it's guaranteed to be the centre of attention at a party and it honestly deserves it. The MB&F MusicMachine 3 will be limited to 99 pieces with 33 pieces in white, 33 pieces in black, and 33 pieces in chrome. Price for each is CHF17,500. For more info, please visit mbandf.com & reuge.com
HARLAN CHAPMAN-GREEN – CONTRIBUTING EDITOR
A keen bass guitar player, Harlan enjoys all the perks modern watchmaking technologies the industry has to offer. Although you might catch him sampling Omegas or the Rolex, Harlan loves all things Haute Horology, with his three favourite brands being Breguet, A.Lange & Söhne and Vacheron Constantin. He hopes to study timekeeping more in depth someday and will never be able to thank his father enough for introducing him to the industry. Read his articles here.