In today's society of 2015, there's obviously new ideas floating around all the time that seem to catch the peoples' eye and they follow. Well, Vulcain has done just that with the Cloisonné Grand Feu Pegasus.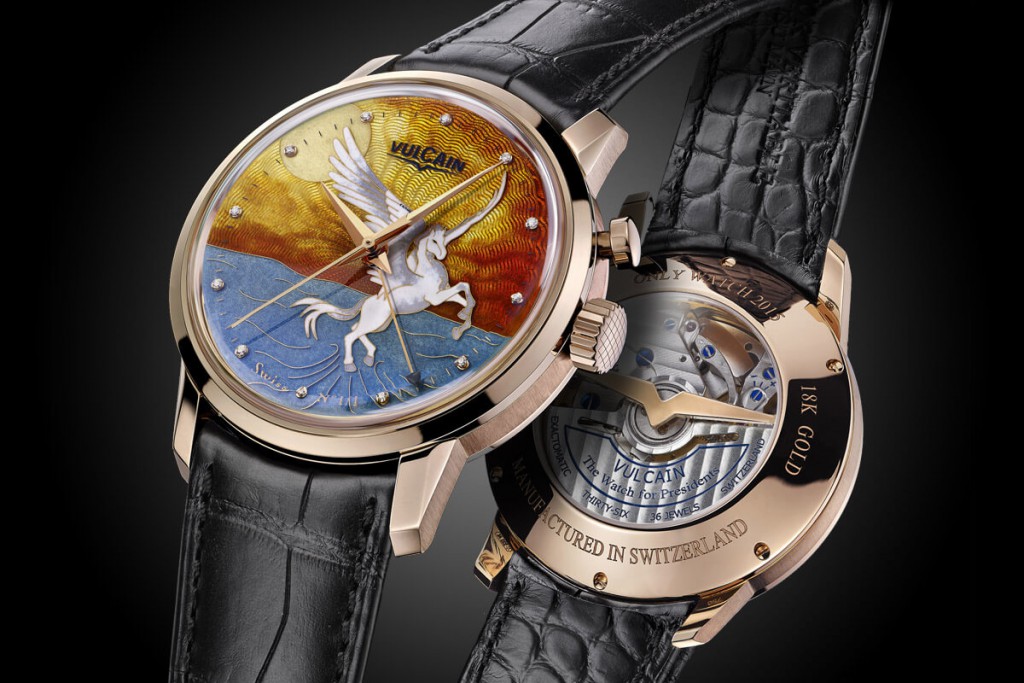 Vulcain first became widely known when they were the first brand to manufacture wristwatches with alarms. This device has an alarm loud enough to be heard in noisy situations in the rather small case of a wristwatch. Vulcain first became popular in the 1950's when they became know as the brand for President's as four of the U.S. presidents were seen wearing timepieces from Vulcain. For this particular timepiece, Vulcain uses its vintage re-edition, the 50's President, to create a unique watch with an amazing Cloisonné Grand Feu enamel dial.
The creation of a dial such as this is obviously very difficult and requires incredibly creative craftsmen. The dial is first guilloché and is engraved to obtain the base pattern. After that comes the enameling, this being the cloisonné, or in English, compartmentalized. There are a few slim wires or stripes which are used to create small compartments. The forms obtained are independent one from each other in order to be separately filled with different types of enamel, thus creating a scene or a character. On the Vulcain 50s President Cloisonne Grand Feu 'Only Watch Pegasus', the enamel used is pellucid in order to leave on the main plate visible. Here, Vulcain chose to illustrate one of te best-known creatures from Greek mythology, which is the Pegasus. The pegasus actually symbolizes power against evil forces or beings, tackling the spirit of Only Watch's mission to find a cure for Duchenne Muscular Dystrophy.
The Vulcain 50s President Cloisonne Grand Feu 'Only Watch Pegasus comes in an 18k rose gold measuring forty-two millimeters and pays tribute to the vintage watches that were worn by the U.S presidents in the 1940s-50s.
Inside of this case is the famous and well-known in-house caliber, a self-winding movement that includes the brand's cricket-watch alarm complication (stated earlier in the article.) Featuring blued screws, Geneva stripes, and chamfered angles, this movement is enjoyable to look at and to hear when the alarm is going off.
In summary, the Vulcain 50s President Cloisonne Grand Feu 'Only Watch Pegasus is not only beautiful but a well-functioning watch that would indeed be a pleasantry to own and toy around with. It is one-of-a-kind and will be auctioned, along with forty-two other watches, at the Only Watch auction hosted by Phillips Watches on November 7th. For more info, please visit vulcain-watches.ch
SUMMER SHEFFER – CONTRIBUTING WRITER
Summer's stepfather introduced her to the world of watches when she was at a young age. He'd gotten a watch with a face that lit up, and she'd become incredibly intrigued. Years went on, and she did more research about watches, mostly what's on the inside. She was fascinated by how they were put together. As for luxury watches, Summer prefers Breitling. Though her favorite brands are Franck Muller and Jaeger-LeCoultre. Read her articles here.