The perfect fusion of human and robot production
Right from the beginning, there is one thing to know about Officine Panerai, they freely state that they use robots to assist in the production of their watches, in fact they are very proud of it and from my first hand experience they have every right to be proud. What they have achieved is one example of how futuristic production can be while still keeping that touch that a machine cannot provide. The manufacture has around 250 members of staff dedicated to it, not all of them are involved in physically making the watches either. Consider that another of Panerai's Richemont owned sister companies that we have visited, Jaeger-LeCoultre, has around 1000 staff and quite a large production figure for such a high-end company. Panerai makes more watches, as they are in demand more, but where JLC sticks to tradition Panerai is very forward thinking, as is tradition for them.
The cases are made in-house, they use very high tech CNC machines which are capable of switching tools in a split second and do not require an operator present at all times. The machines are responsible for cutting the cases from a huge block and down into the mono bloc cushion shape that Panerai is most known for. We only got to see them creating the metal cases, particularly steel and titanium, I should imagine the ceramic, Carbotech and BMGTech™ cases are made in a secret room to ensure security. Panerai also splits its production up categorically too. The more standard (as far as that can apply) watches are created on one side of the manufacture, and the high-end complications are made in another.
Panerai is also capable of creating its own tools where necessary, and does so quite often as well as working with suppliers of CNC machines themselves to create bespoke machines for a specific purpose, machines which are not found anywhere outside the manufacture. There are machines which create all different kinds of finishes too such as sandblasting which creates a very rare texture not found very often in the industry, although Panerai doesn't always use open casebacks unlike competitors, particularly Omega, which has a uniform finish for every movement which is open at the back. One large machine shop creates all the parts for each watch in various steps, but it also serves as a laboratory for the CNC machine manufacturers which examine the results Panerai creates and uses them to create the next generation of machines, we saw one they had which seemed to use four or five axes to create the case in a much smaller timeframe than the larger current millers can produce.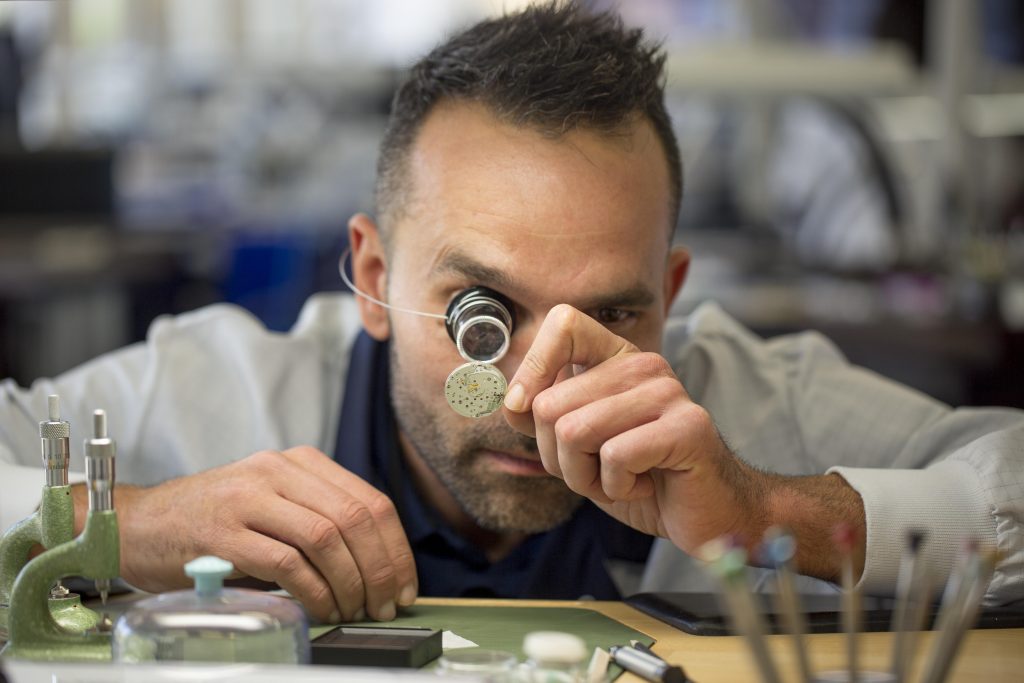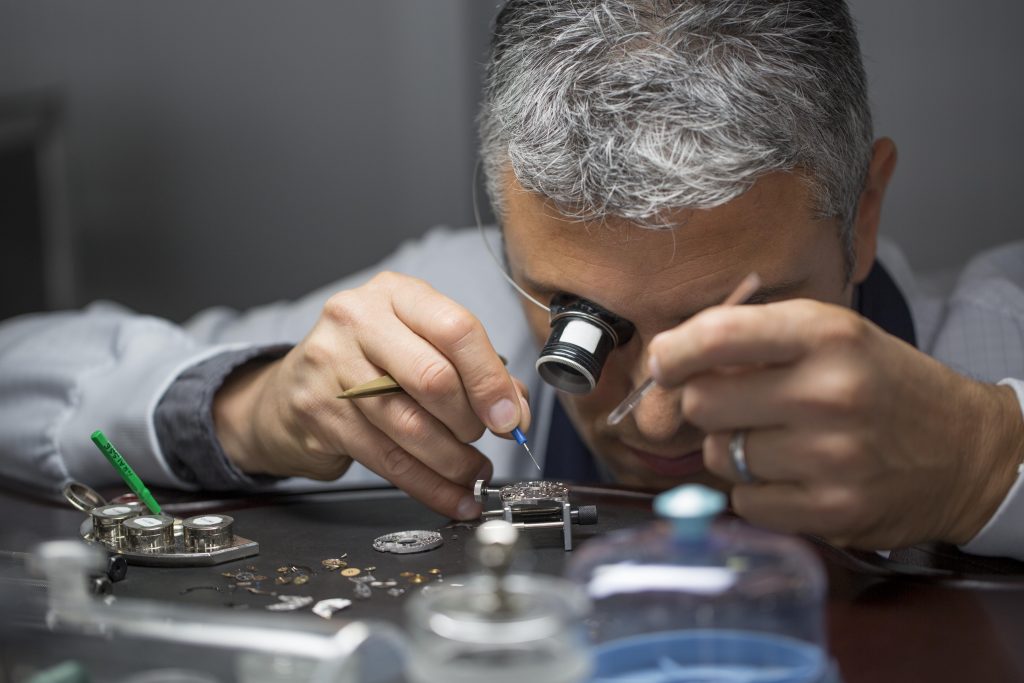 Wandering around the place a bit more we come to quite possibly my favourite room which is where the magic happens and you can really see how well people and machines work together. You'll notice a big hopper as you walk in which has square white plates inside it, these contain movements. A movement is selected and identified via a breakthrough digital recording system, which knows all the part numbers and information about a specific component as well as who worked on it (this is so they can see if there is a drop in quality and take the necessary steps to retrain said person if need be).
I digress slightly here but bear with me, modern day Panerai watches have a lot of fake counterparts, worse still there are a lot of extremely detailed ones which can even fool authorised dealers and end up getting sent back to the manufacture, which discovers the fakes. The digital tracking system will instantly identify even the best fake watches, because they don't have any recorded information in them, neat huh?
Anyway, each watch is then moved a long a slick belt system built into the desks which all connect like Lego bricks. At each station is a member of staff responsible for a set task which they complete and then send on to the next desk. There's also a machine at one end which is responsible for setting something about the balance, I don't recall exactly what it was doing, sadly. The movements then go down the other side where more parts are added or adjusted if need be, and then they finally get to a machine at the end which applies exactly the correct amount of oil for each jewel in the movement, it was pretty cool to watch this entire process and just be there, the atmosphere is so quiet and relaxed it is unreal!
There's a great big bespoke machine sat in one corner with a robotic arm inside like you see in car factories and whatnot. This tracks the movements and can place them in a separate testing unit for the winding system. There are also more examinations which happen here, and any fault can be detected and sent via the conveyor belt system to a watchmaker who has already been briefed by the computer on the issue. There are also chronometer tests which observe the accuracy of the movements in several different positions, at this time the movement is also tested for other quality measures too, I won't go into too much detail though as some calibers such as the P.2002 have over seventy separate tests as well as five water resistance tests once the calibre is all cased up.
On average it takes Panerai around three months to make one watch which is time only, the very basic piece. Add in complications and high tech cases and it could take up to a year to complete, as is the case with the high complications. In the case of high complications such as the Minute Repeater Carillon only one watchmaker is assigned to the timepiece, and they see it through all the way from the very beginning right up until completion and quality control. They are also then responsible for servicing said watch when it comes in for repair, provided they still work at the company of course.
There are six people in total in the high complications department, all they do there is build, test and examine watches that are being made of have come in for a service. Out of those six people, only three of them are able to work on minute repeaters, what's nice to observe is how young the entire team is, it's great to see this ancient industry has a whole new generation working on the most difficult complications at such a young age! There's also something to be said for how much patience they all have, one minute repeater system alone can take over three months to assemble given the complexity of the job, so to be young and active in life and able to sit and stare at a tiny weeny little box of tricks is astonishing. We also got given a demonstration of a working PAM00600 movement that had yet to be cased, it sounded spectacular and the third gong strike was quite special, I've only ever seen two gong minute repeaters in the metal myself.
One extra thing to note before I wrap up the section on making the watches is a process which happens as minute repeater watches come in for a service. You see, each watch is unique in that they will all be subjected to different environments and states of wear, for example the demonstration PAM00600 watch has its minute repeater activated over 3000 times in one year, so each watch develops its own particular sound as it goes along. When the watches come in for a service the first thing they do is put them in a special soundproof case with high tech recording equipment. This listens to the frequencies emitted and can detect reverberations and other effects which are characteristic of that particular watch. Once the service is completed the watch goes back in the chamber and is examined again to ensure the sound is exactly the same. No Panerai minute repeater leaves the factory after a service unless it sounds exactly as it did before, to ensure the owner has the maximum level of joy when they receive their freshly serviced timepiece.
Closing Thoughts
Before I do that I would like to give a special mention to the lunch that was provided in a beautiful room on the top floor of the manufacture, which has spectacular views over Lac de Neuchâtel and to the mountains beyond. Both the food and the wine were of excellent quality, Panerai has its own top Italian chef who works tirelessly to create a special menu for the staff and visitors to enjoy.
We also got to handle some of the watches, though there were a lot more watches there than I had time to photograph and document for some hands on articles, so I selected a few in particular that caught my eye and will be writing about those as we go along.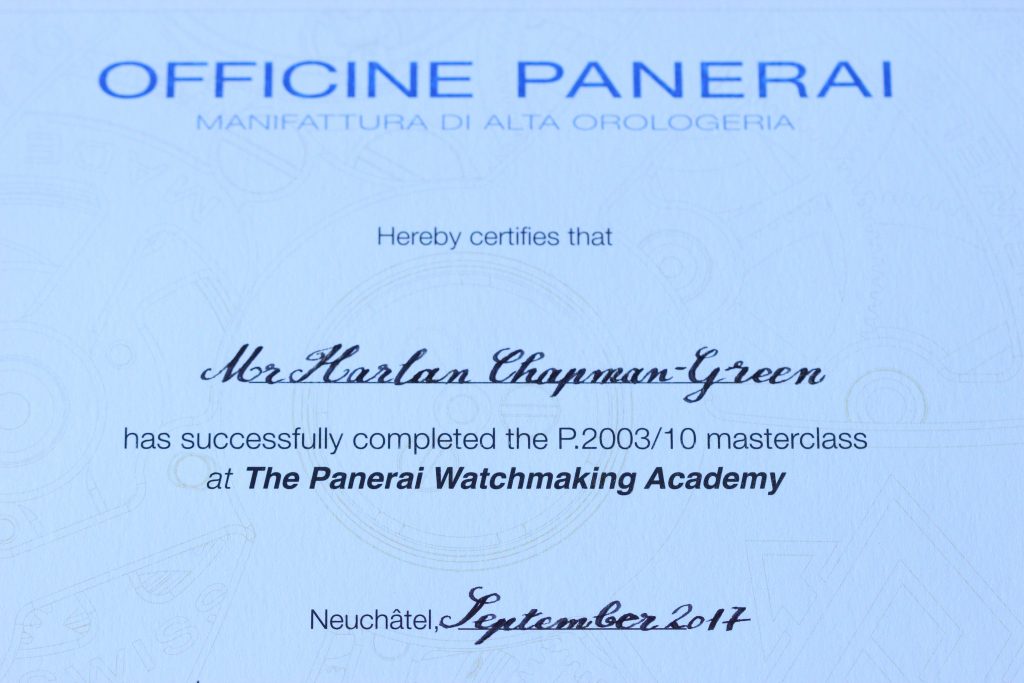 Just before the hour long trip back to Geneva Airport we had time for a masterclass in watchmaking, particularly working on the P.2003/10 calibre, an automatic skeleton movement which runs and is a real movement used in watches (though not these ones, they had been butchered quite badly over time when other guests come in and give watchmaking a try, I can't say I was much better though). I've never actually done anything involving taking apart movements before and that's something I admit freely, but now that I have I want to take apart more timepieces and attempt to out them back together. I wasn't half bad for the most part, except once where I dropped a tiny screw and because of the open worked movement it fell right down into the deepest part, typical. We even got a cool certificate too.
That brings me to the conclusion of this tour. I really had a smashing time and have a lot more respect for Officine Panerai than I did before. Their level of research into watch case materials is unparalleled, they use 9 different materials for different watch cases that they make, that's practically unheard of! It's also great to see the future of watch production has already begun, both in the automated processes happening there and the mostly young staff that work alongside them.

My special thanks go to Ms. Stufkens for organising all of this in the first place. Also to Mr. Toninelli for stepping up and taking over the tour. As well as this, my thanks go to all the staff for allowing us to come and breathe down their necks and ask silly questions while they worked hard, and finally to Mr. Mikko Sokero of the Kellolehti Watch Magazine, the first printed magazine for wristwatches that's written in Finnish. We had some very interesting discussions regarding watches and global politics and such, so it was a grand time all around.
If you shied away from Panerai and their large cases, why not give them another try? It's a very interesting company with a lot going on, and their prices on the pre-owned market are pretty great as well right now.
Pages: 1 2