I know what you're thinking: "Isn't Officine Panerai an Italian brand?" The answer is a simple yes, "but aren't they also still based in Italy?" Which would once again be a straight up yes. But the watchmaking part, the important part, has very much made itself at home in Switzerland and has been based there for some time now. Why Switzerland? Well, I did in fact ask while we were going around and the response was quite simple and logical, there's more expertise left alive in Switzerland than in Italy. Watchmaking, chocolate, tobacco, and medicines are pretty much Switzerland's main industries if you discount all the highly secure banks that live there too. There's also probably a little bit of stigma to the name as well, the fact that they can proudly claim their watches are Swiss Made, it has a better ring to it given all the dubious things Italy has made in the past, I'm looking to you, Maserati from the 70s.
Let's do a little history of this company before we go straight in shall we? I promise it won't take long, I don't like history lectures any more than anyone else does.
The company was founded in Firenze, or Florence to you and me, the cradle of modern science, the Renaissance and all good things Italian, (except Pizza, thank Napoli for that). In 1860 Giovanni Panerai set up a workshop in the Ponte alla Grazie, near the world famous landmark, Ponte Vecchio. His first shop, opposite the marble clad Battistero di San Giovanni cathedral in the city, is still a part of the company today and serves as Panerai's flagship boutique. His little store imported lots of Swiss watches especially after the turn of the century with Rolex and Omega watches being featured along with others.
Under the supervision of Giovanni Panerai's son, Guido, Panerai became the supplier of instruments to the Italian Royal Navy in the early 20th century, at this time they made not only wristwatches but also compasses and other pieces of equipment, some of which survive to this day. In 1916 came the first revolution in watchmaking, their landmark invention which would change everything forever, it was called 'Radiomir'. Radiomir is a powder substance which glows in the dark thanks to the use of radioactive materials which become excited by direct light and in turn generate light, with the light slowly fading as time passes on. Radiomir wouldn't appear on watches, but it was used on their depth gauges, compasses, and other things.
In 1936 came along the first generation watch which looks similar to what we know today to be a Panerai. It had wire lugs which were flimsy and would eventually be replaced, and also the California dial, which is half Roman numerals and half simple numbers. When the Italian Royal Navy was asked to choose which it liked on the watches more, they responded that they liked the dials as they were, half and half. This watch was a prototype.
1938 brought along the Radiomir watch with the Sandwich dial that has also become a Panerai trademark, if you are trying to visualise it, this was the one with the writing 'Officine Panerai Brevettato (which means patent)' on the bezel, it still had the wire lugs but is more familiar to us Paneristi. As for today's Panerai watches, the dials are not made in-house but instead by a Richemont supplier which is also responsible for handling the dangerous chemicals used, sure they aren't radioactive any more but they are still hazardous.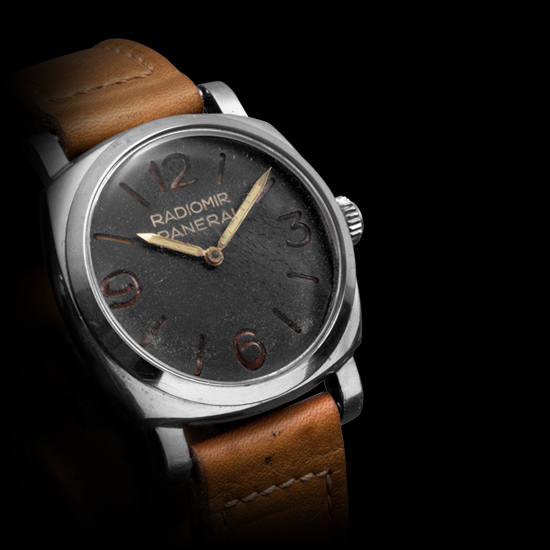 In 1940 the design changed to the now super familiar Radiomir which uses a mono-bloc case, getting rid of the weaker welded wire lugs in favour of something more robust.
1943 saw the early prototypes of what would become a famed piece for the company, the Radiomir Mare Nostrum which is a chronograph timepiece.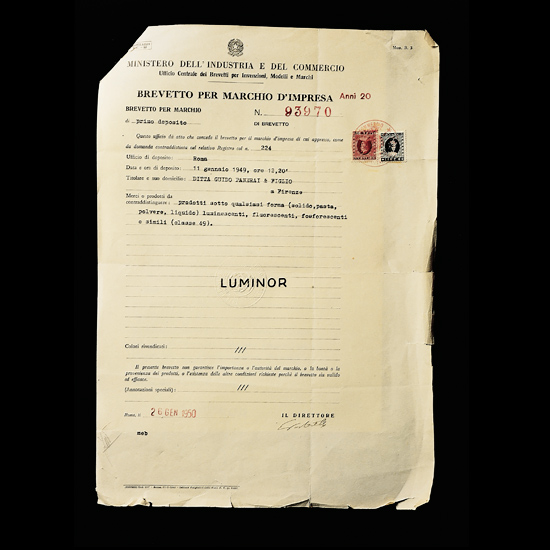 It was 6 years after that, and 33 years after the invention of Radiomir that Panerai introduced Luminor in 1949, a safe and non-radioactive luminescence for its wristwatches.
7 years later in 1956, the Egyptian Navy asks Panerai to come up with a diving wristwatch for them after observing the success of the Italian Navy's 'Frogmen' scuba divers, the result of this was the behemoth 60mm L'Egiziano (Egiziano Grosso as it was known then). At this time the now signature crown guard which had previously been a prototype received a full patent.
It was around the early seventies that the word 'Officine' meaning workshop would come into use.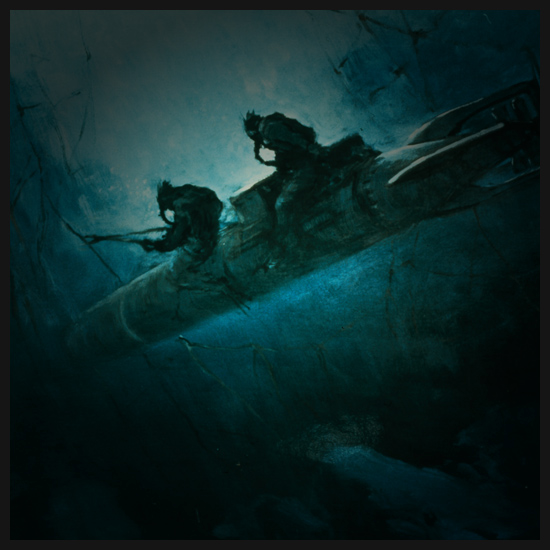 Then we move to 1993 when Panerai's watches would become available to the public to buy and own, before then the watches were officially produced for the government and the armed forces.
In 1997 then known as Group Vendôme (Richemont) purchases Officine Panerai, which later becomes a member of the Richemont group after the name change.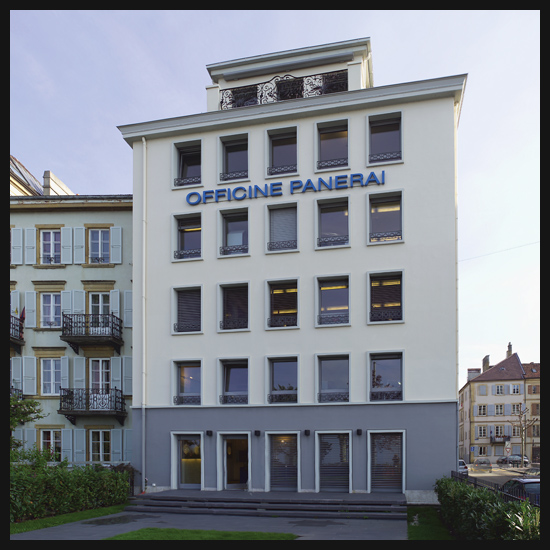 Skipping ahead five years to 2002 we find ourselves in Panerai's now former manufacture in Neuchâtel which was too small for the volume of watches they produced.
In 2005 the in-house calibre P.2002 movement came to life, signifying not only Panerai's intent to move a lot of its movement production in-house but also celebrating their arrival in Neuchâtel three years prior.
2007 heralded yet another breakthrough for Panerai with their first tourbillon movement created which, as far as I am aware, also debuted Panerai's interesting take on the tourbillon which spins the cage and balance wheel vertically as opposed to the more traditional horizontal motion.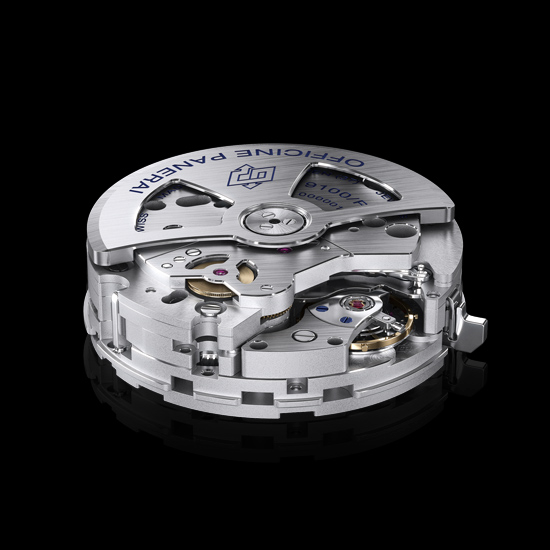 Going forward to 2013 Panerai's in-house regatta chronograph was debuted and was used on Panerai's own boat, Eilean, which competes in races all around the world for the company.

In 2014 Panerai moved into its new home up a very steep hill in Neuchâtel. The building itself is 10,000 square meters in size and has a very eco-friendly focus in its design. As such all the water used for the toilets and for other cleaning is collected from the roof, which itself is covered in photovoltaic cells and solar panels which generate electricity and heat water respectively. The building is also very well insulated meaning it is not only very quiet inside but also saves on a lot of heating bills during Switzerland's notoriously cold winters. The manufacture itself houses around 250 staff inside who are all dedicated to their jobs and very enthusiastic about wristwatches.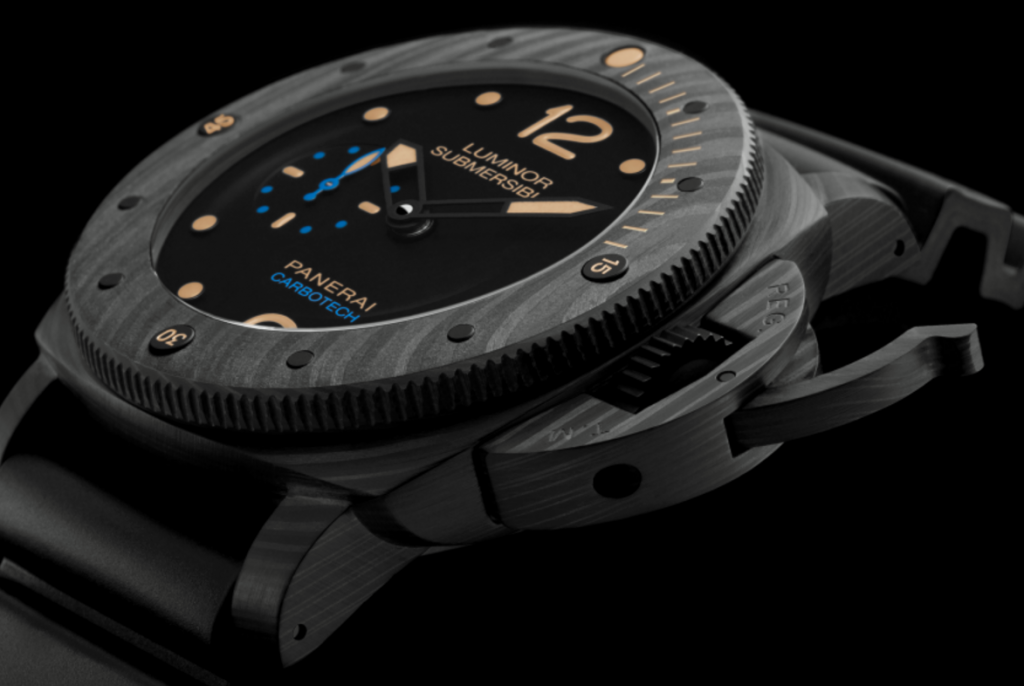 One year later Carbotech was launched for a few collections, notably (and also my favourite version) the Luminor 1950 Submersible Carbotech PAM00616 diver. Carbotech is a very light and hard material which is very suited to wristwatches, though when I asked about how likely it is to shatter in comparison to ceramic the answer was more or less they don't really know given the molecular structures of the two different materials.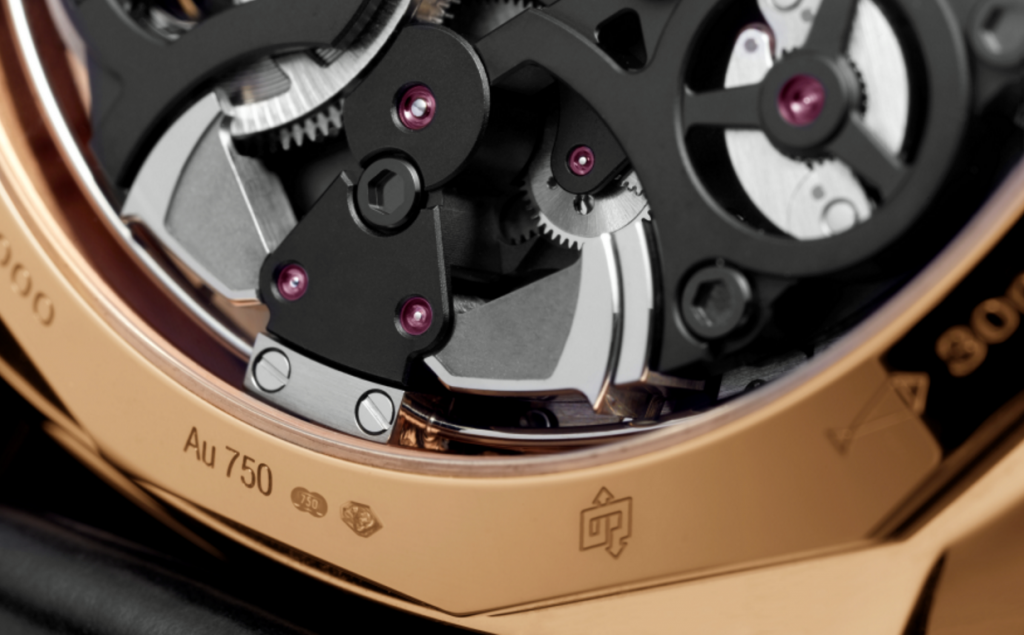 In 2016 we saw Panerai up its game horologically, it showed off two different extreme complications. First there was the PAM00578 which is a 47mm tourbillon watch with a skeleton dial and a titanium case and movement, which in total weighed less than 100g. Second was the PAM600, Panerai's first minute repeater which, like sister Richemont company A. Lange & Söhne's Zeitwerk Decimal Strike, sounds ten minutes rather than quarter hours with its middle strike which in this case uses a third hammer and gong as well for extra complication. There's also a GMT system which can tell home or away time and with the push of a button the minute repeater can sound the time for either zone. There's also a tourbillon in there, just because. It costs between €359,000 and €370,000 and is in a 49mm case.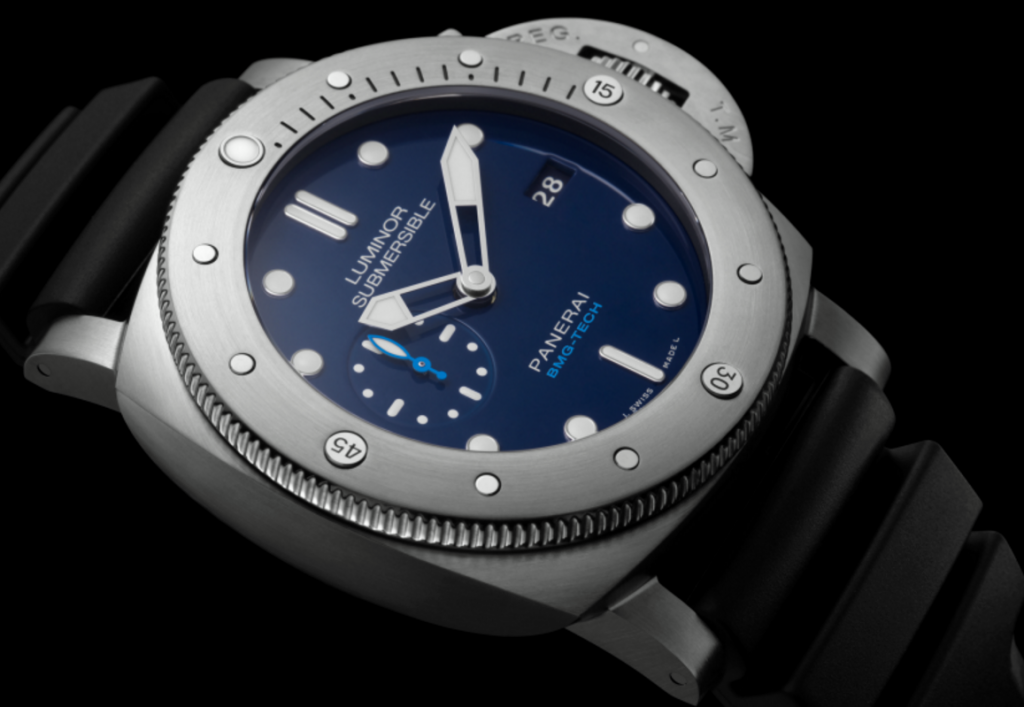 This year saw two more interesting creations. The first is the PAM00692 BMGTech™ which uses a case made of BMG (Bulk Metallic Glass), a special type of glass which keeps its appearance over time as well as being extremely resistant to wear, is very hard, non-corrosive and also anti-magnetic as well, it could therefore be called the perfect material for a truly function based timepiece. We also saw the introduction of the PAM00700 Carbotech LAB-ID™ which has no jewels and self-lubricating connections, meaning the watch can have a 50-year guarantee (take that Rolex), although Panerai will examine them before this time is up to ensure the highest standards are met.
That brings us up to date, there are a lot more technical details which we could cover at some point in an in-depth look at the world of Officine Panerai, but today is not the days I am sure you are eager to see and hear more about the manufacture itself, so, on with the show!
Laboratorio di Idee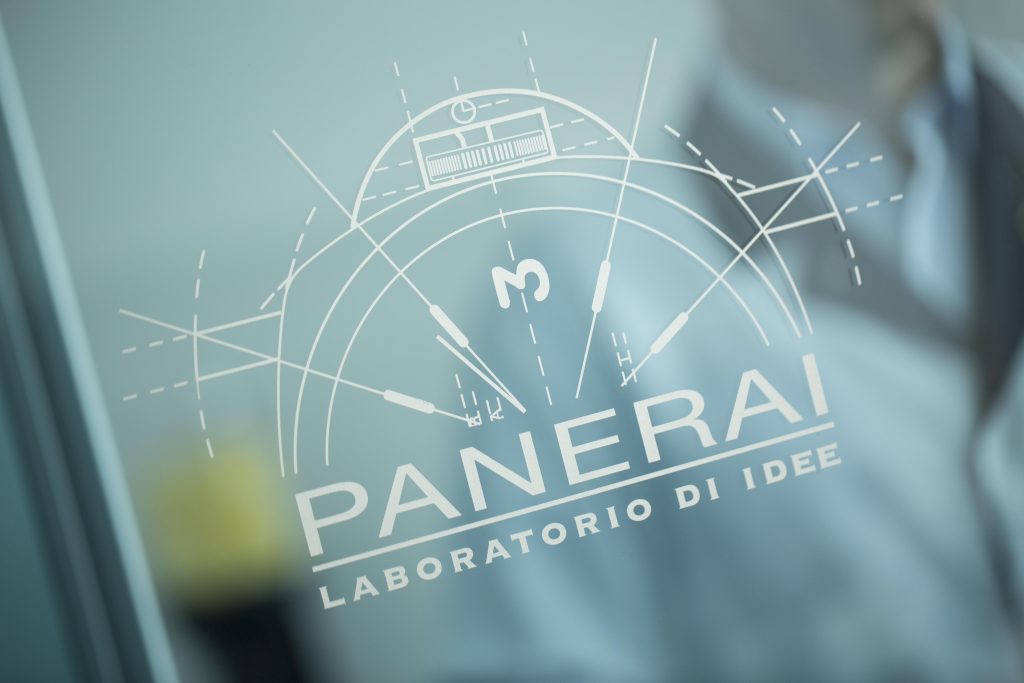 There's no point calling yourself a laboratory if you don't actually do anything with it. In fact, there's no point having two rooms dedicated to beating the living hell out of prototypes if you are going to make run-of-the-mill wristwatches, something I'm glad that Panerai has avoided so far. The designs for Panerai watches don't originate in Switzerland at all, they come from Milan where Panerai's design studio is based. It's up to these two teams to collaborate and communicate effectively to ensure that not only are the designs feasible, but also that the finished product meets the design specifications in the first place.
Once a design comes through it's modelled in 3D CAD software (an AutoDesk office is next door to Panerai, so I would assume they use Inventor for their products). It's also drawn out by hand as well, as Panerai keeps a hand drawn record of every single component of its watches. Once the prototype is developed in the software it is then created on a 3D printer out of blue plastic, this doesn't represent the weight of the product, but it gives the design team a great idea about the proportions of a watch they are working on. Each development stage is also recorded and is shown in a display cabinet set up for guests to examine each part from the first concept right up to the finished product. I found it amusing that the office space has a big lego board with blocks showing the progress a project is making with little Lego people showing where staff have been allocated in real life. It's a pretty calm environment too, with no real indication that it isn't a normal office space.
That is, until, you step through two sets of doors and into a room with a special floor system with springs underneath it. This room has been described as the worst room in the entire building, where working prototypes are tested to the extreme with machines that subject them to enormous magnetic fields, lateral impacts in excess of 500G (examining the accuracy of the movement and the operation of the crown). There's also a machine set up to pull and push on the crown simulating real life wear, a machine which pulls on rubber or leather straps to ensure they are of high quality. There's also a big noisy machine which sits on shock absorbers that repeatedly subjects movements to vertical shocks and my personal favourite machine, a big glass cabinet which drops a watch from 1 meter onto a big metal block which created 5000G. We had a demonstration on a watch which was slammed onto its crystal, after the case had stopped bouncing around we saw the aftermath and what do you know? Not a single scratch. A lot of these tests are quite similar to those found in the Qualité Fleurier test, which basically tests watches to destruction as well.
Next door to the 'worst room in the manufacture' is one that's less bad, but still pretty brutal. It subjects the watches to all kinds of water and pressure tests, including one which tests resistance to salt water. Next to this is a small machine which heats up the case, after a drop of water is placed onto the crystal it is possible to see whether there is any moisture in the case as it will fog up. There's even a special oven which is used to bake the cases and ensure that the cases can withstand high temperatures, it's at this point I'm beginning to wonder whether Panerai makes watches or cakes.
One extra little tidbit of information which I remembered to ask about. Water resistance testing and their limitations. Those of you who have spoken to any kind of salesperson for Rolex watches will probably know that they give you an extra margin for safety. Each water resistant Rolex watch is actually resistant to the depth stated on the dial plus ten percent to ensure quality and the safety of the timepiece. Panerai's safety margin on every single one of its watches is twenty-five percent over the limit. I'll leave you to think on that for a minute.
Pages: 1 2