At long last Omega has gone some way to updating what is one of it's most neglected and underappreciated model lines: the Constellation. While everyone rants and raves about sports watches which seem to get larger and larger, the Constellation has been working away diligently in the background. It's like that co-worker that doesn't come out to staff parties or get involved with office banter, but you can't complain as they're the most efficient and hard-working member of the team. At long last, it's the turn of the Constellation to take the spotlight and show off the improvements that have been made.
Now, you might be thinking "hang on a minute, didn't you release an article about the Constellation in January?" and you'd be right, we did. The 39mm Constellation in Sedna gold with a silk-embossed dial was the first Constellation in 5 years that we covered, but it was a one-off addition to the collection which didn't have much of an impact. Now, though, the Constellation has been updated further, and it looks impressive, to say the least.
Omega is introducing no less than eight different variations of the Constellation, seven of which have what is undoubtedly the most striking change applied to them: a ceramic bezel. Coming in either black or blue, depending on the dial, the ceramic bezel uses Omega's proprietary metallurgy technology that forces the metal inlaid into the grooves of the ceramic bezel to fuse to become one single piece. Depending on its application, it's either known as Liquidmetal or Ceragold and relies on high temperatures and pressures to work, but it makes for an immaculate finish.
The watches keep the hallmarks of the Constellation collection, namely the claw-like decorations which hold the bezel in place and the unique single link connecting the case to the strap. There's no option for a pie-pan dial here, though, that's still reserved for the Constellation Globemaster. The crown and claws have been scaled down slightly, so they protrude less than before and make for a more elegant look. The fact that all these watches come in 41mm cases meant that they didn't need to have substantial extras on them, which would only serve to make them even bigger on the wrist.
Omega has given us a variety of options with the new Constellation range. You can have the case in either stainless steel, 18k yellow gold or 18k Sedna gold (Omega's proprietary gold alloy which has the colour of rose gold and yet will not fade or tarnish over time). You also have an array of silver, black or blue dials with the different metals, and the silver dial in steel can also be had with a steel bezel instead of ceramic if that's your thing. All of these watches will accept straps designed for the 39mm Constellations too. It doesn't appear that any bracelets have been announced yet, so that could be a good option if you're desperate for the touch of cold hard metal, you naughty savage. The rubber straps also have an antibacterial coating on the inside to stop the, well, you know, the smell.
Inside the watches is the in-house made calibre 8900 or 8901 depending on whether your watch has gold in it or not. Solid gold watches also receive a gold balance bridge and gold rotor, which is where the 8901 comes in. These movements are METAS certified and have a 60-hour power reserve, 4Hz beat rate and a 15,000 Gauss resistance to magnetism.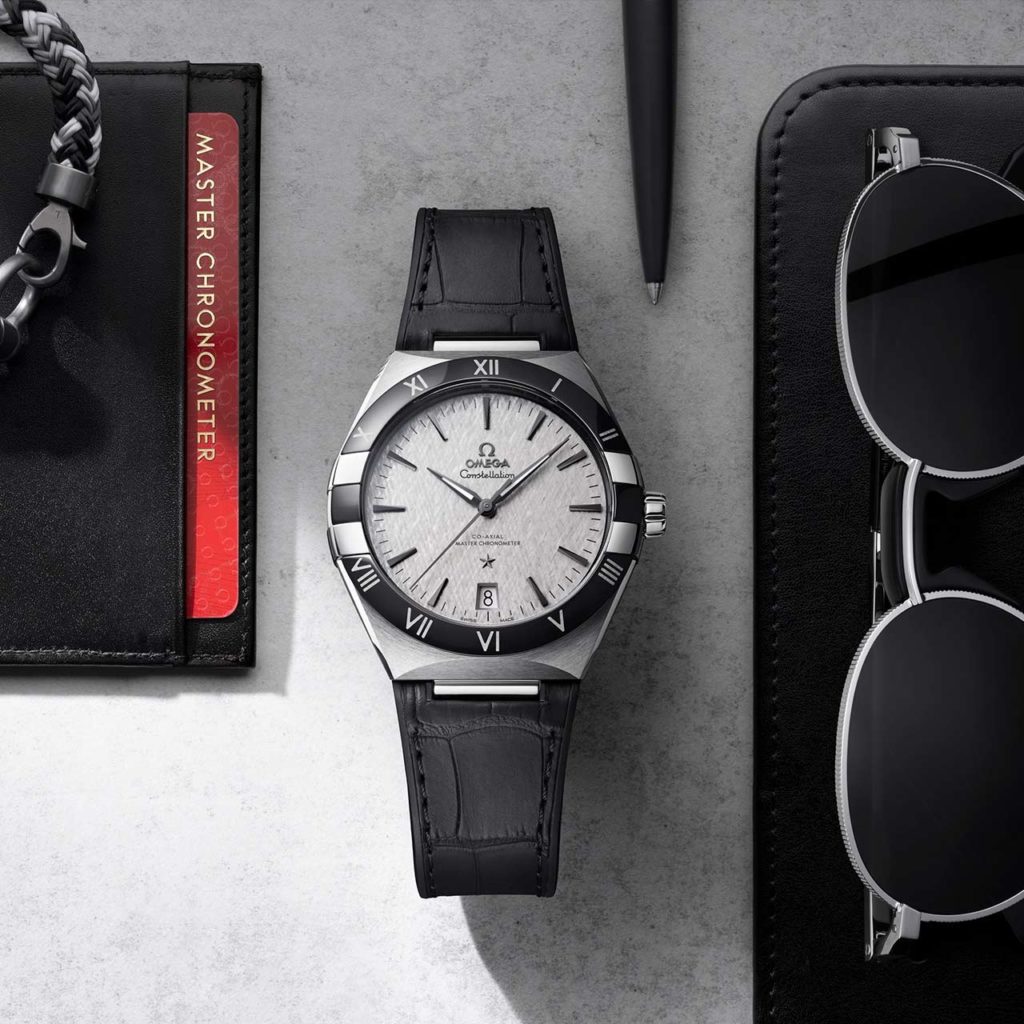 All of these models are, only 50m water-resistant, which is half the resistance of their chief rival, the Rolex DateJust, which has a 100m water resistance rating. Nevertheless, they are still excellent looking watches, and with prices starting at $5850 excluding sales tax they could be a good value buy. We don't have any pricing for the gold ones yet but don't expect them to be value buys.
[button color="black" size="normal" alignment="center" rel="nofollow" openin="samewindow" url="https://www.exquisitetimepieces.com/watch-brands/omega-watches.html"]BUY YOUR OMEGA HERE[/button]