As you know, we here at WristReview like to keep things relevant, to make content appealing to our audience. Recently, a popular sporting event held its opening ceremony, a time when we celebrate the beginning of weeks of sports. In this instance, I am referring to the Winter Olympic Games, which are this year held in Pyeongchang, South Korea. We have already unveiled a special Limited Edition Planet Ocean and the Limited Edition Aqua Terra watch which celebrates the Winter Olympics, but it seems this collection is more celebratory of Omega's sponsorship of the Olympics in general, rather than of these games individually.
Omega has been the timing partner of the modern Olympic Games since 1932 and will most likely continue to work with them for a long time yet. Given the enormous viewing figures the Olympics receive across the globe, and their long history, this has undoubtedly been one of Omega's most significant triumphs, perhaps even more so than their Moonwatch, thanks to the massive number of people seeing the Omega name.
One of the most prestigious parts of competing in the Olympics, other than competing in the games themselves, is receiving a medal for your efforts. Whether it is bronze, silver or gold, an Olympic medal is a lifetime achievement. To commemorate this, Omega has revealed the new collection which is in three metals, all of which are gold or a gold alloy (no silver or bronze for these guys, everyone is a winner!).
In a surprisingly elegant yet not entirely unexpected turn of events, Omega went all traditional with the new collection. I mention that we weren't overly surprised by the design of the new watches because Omega has been recreating a lot of old models from its past recently, what with last year's collection of three different historical watches, as well as the return of the famed Pie-Pan dial to the Globemaster line. These new watches have ceramic dials with applied gold markers and gold hands, as well as an older style logo and text. Most importantly, they have done away with the date window! This makes for a clean and crisp watch, although it was hardly surprising given that it would be challenging to cut the ceramic, it's better to leave it clean as they have done.
Inside the watches is an award-winning (or at least, one deserving of an award of some sort) automatic movement from Omega. The calibre 8807 is an automatic winding machine with all of the key features one should expect of their timepiece. For example, it is a Master Chronometer movement, and so has very high resistance to magnetism and also high chronometric performance. We also see the coaxial escapement make a return in this movement, as with every mechanical Omega watch these days.
But, given that modern Omega movements usually end in double zeroes (possibly a reference to their connection with the agents of the '00' program, most notably James Bond), what's up with this one? Omega uses numbers at the end to signify there is a difference in the watch. Usually, something that ends in 01 has a non-standard rotor made of precious metal. This collection has that, with the rotor and bridge metal differing depending on the case metal, apart from Canopus gold (we'll get to that in a moment), which uses a Sedna gold rotor and bridge. The other difference is of course that these movements lack a date window. Although, a big ring the surrounds them with all the city names and their years on it since 1932, going even so far as to predict the 2024 games, which would be a shame if it moved somewhere else.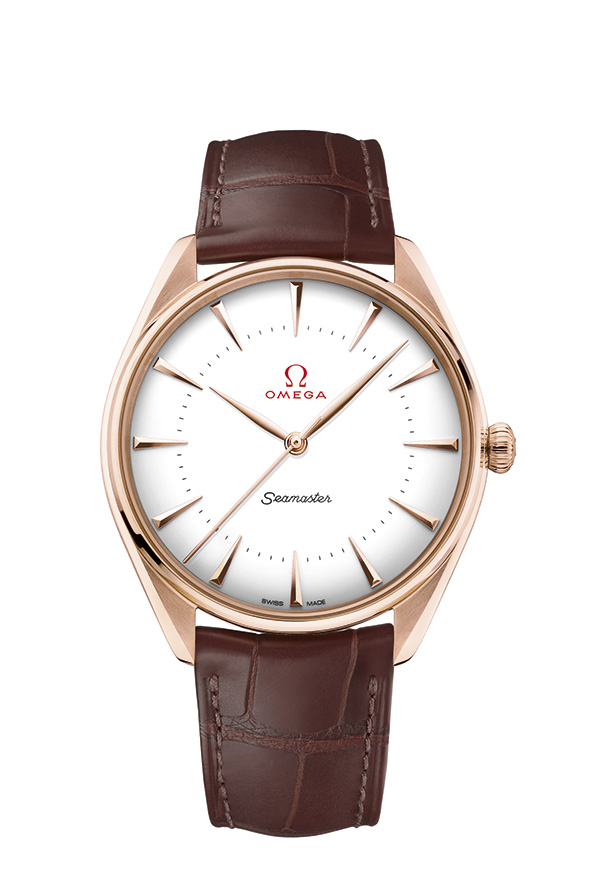 As stated above, the collection comes in three different colours of gold. The first being yellow gold, which is priced at 16,000 Swiss Francs, it's 39.5mm in diameter, as are the others. Also, there is a Sedna gold piece for the same asking price. Sedna gold is Omega's answer to Everose gold from Rolex, which does not lose its colouring as it ages. There's also one other material available. It's called Canopus gold and is the most pricey of the bunch at 17,500 Swiss Francs.
Canopus is the second brightest star in the night sky and the brightest star in the constellation Carina. It's visible from the southern hemisphere. The idea behind Canopus gold is the same as with Sedna gold. Over time, white gold can discolour, Canopus gold is a secret alloy which significantly reduces this discolouration, but it is unknown whether it would prevent it entirely. This is currently the only alloy of this type on the market that I can name. But then again Omega has quite a few firsts under its belt. omegawatches.com