When you think about wearing a luxury watch on your wrist, you usually have to factor in their considerable prices. Most luxury watches on the market don't really offer any timepieces for a lower price, leaving entry-level watch enthusiasts for themselves. There is, however, a brand that aims to bring more for your buck and offer luxury timepieces that anyone can enjoy. One such brand is Kataphrakt Kronograf, which offers high-end design, Swiss movement equipped and affordable stylish timepieces.
Although watchmaking is a saturated market, this level of design and components is unseen and unheard of for entry-level prices. Kataphrakt Kronograf has gone above and beyond to satisfy the needs of the masses.
Inspired by the beauty of astronomy, Kataphrakt Kronograf sought to capture the beauty and ethereal nature, and meld it with their love of minimalist timepieces. Designed in the heart of Auckland, and perfected by one of the world's top custom timepiece manufacturers, these watches strike that perfect balance between beauty, quality, comfort and affordable price.
KEY FEATURES
Every one of Kataphrakt Kronografs (Terraformer, Eclipse, Twilight) is specially designed with aesthetics and function in mind.
Swiss Quartz Ronda Movement – Unlike some watchmakers who use movements of lower quality at entry level prices, Kataphrakt moon-phase movements are equipped with Swiss Quartz Ronda 708.
Hardened Mineral Glass – Scratch resistant AND shatterproof hardened mineral glass will protect your watch face for years to come.
Top Quality Leather – Soft yet durable, with a unique embossed logo, such premium quality leather makes this watch a steal for the price range.
Premium Anodized Watch Casing – Watch casing is anodized with color accurate pantone to give a premium and balanced feel.
Dial – Two-piece dial design with a 15-degree slope
Water resistance – Up to 5ATM/50M
Dimensions – Case: 42mm x 51.5mm Bezel: 42mm Opening: 37mm Crown: 6mm Links: 22-20mm
Warranty – 2 years limited warranty against manufacturing/movement defects
Each watch also comes with a hand stitched gorgeous two-tone navy and white leather case unlike any other.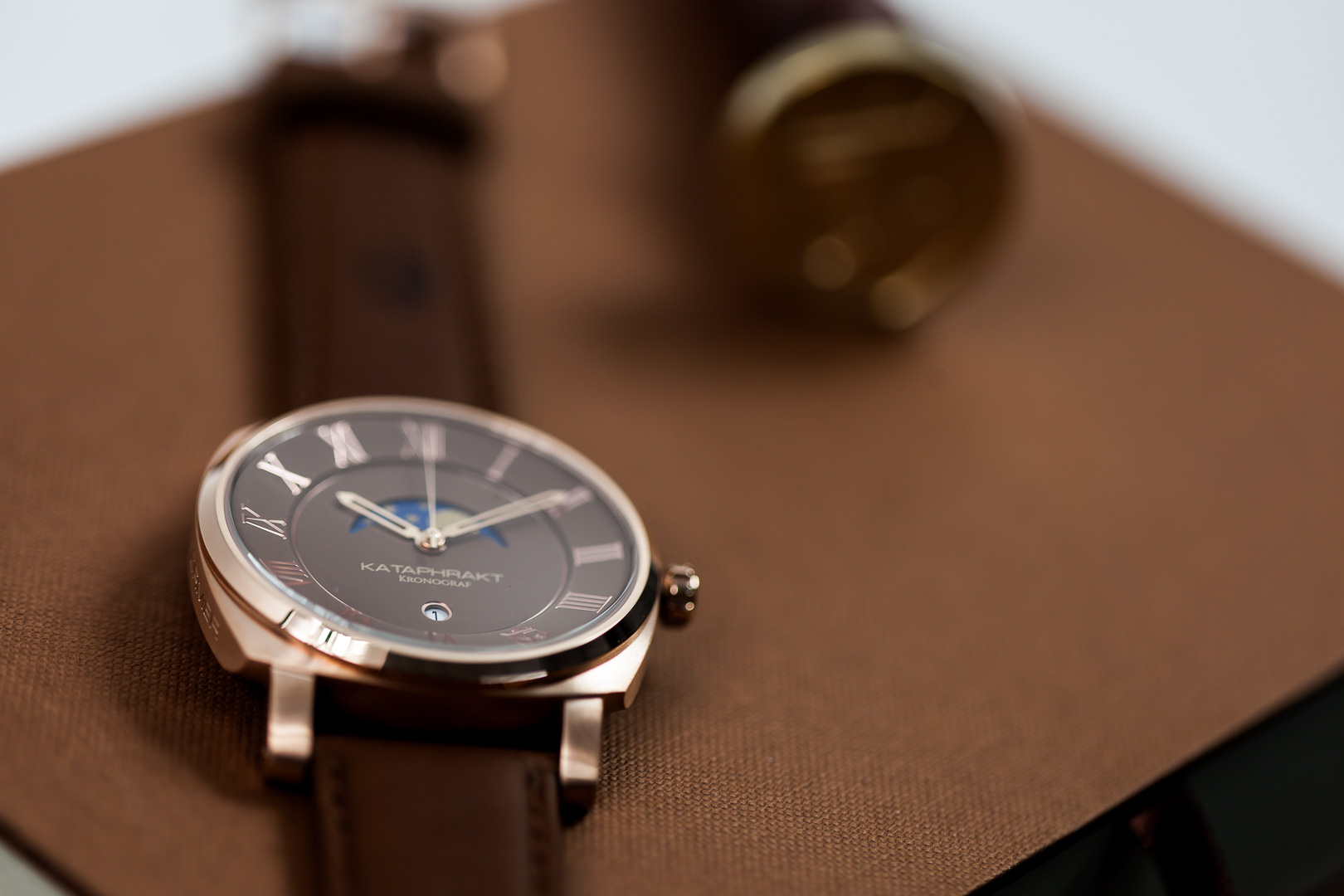 These beautiful timepieces are now available for pre-order starting at $99 and they offer 150 limited edition engravable pieces. We are certain these prices will not last long.
Advertorials

 at 

WristReview
Promotions are done by our partners