Did you know that Omega has been making watches under one name or another since 1848? You probably did. It's relatively basic information for watch enthusiasts, just like Omega's use of historical watch designs. Nearly all the watches in Omega's range are adapted from a previous design (the Planet Ocean is the most notable exception). It's pretty interesting to think that they're able to make those old designs look timeless in today's world of digitised everything. Chronographs have a long history, and Omega is known for making some particularly good ones, so it wasn't a huge surprise to see that Omega once again turned to the pages of history for inspiration.
The watch you're seeing is based on a Speedmaster, it comes in a Speedmaster case with a new size (43mm) for this particular model, placing it between the Moonwatch and the Moonphase Speedmasters. The short lugs should mean the watch is still wearable despite the diameter. But, let's be honest, the case is not the most eye-catching thing about this piece. That would be the dial.
It was pretty common for chronograph wristwatches of the 1940s to have multiple measurements set in concentric circles on the dial. This gave them a wide variety of uses. The two innermost rings are a continuation of the tachymeter scale, which begins on the bezel. The bezel times from 450 units per hour down to 60, at which point the outer of the two tachymeter rings takes over. Its scale begins at 55 units per hour and ends at 30, at which point the innermost ring continues in one-second intervals. That means the tachymeter can measure from 450 units per hour down to 20 units per hour. The outermost ring is a telemeter, which can be used to measure the distance of an event based on the speed of sound (for example, the distance of a lightning strike based on when you hear the thunderclap). A pulsometer is between the telemeter and tachymeter rings, useful for doctors and anyone with a vague interest in cardiac science.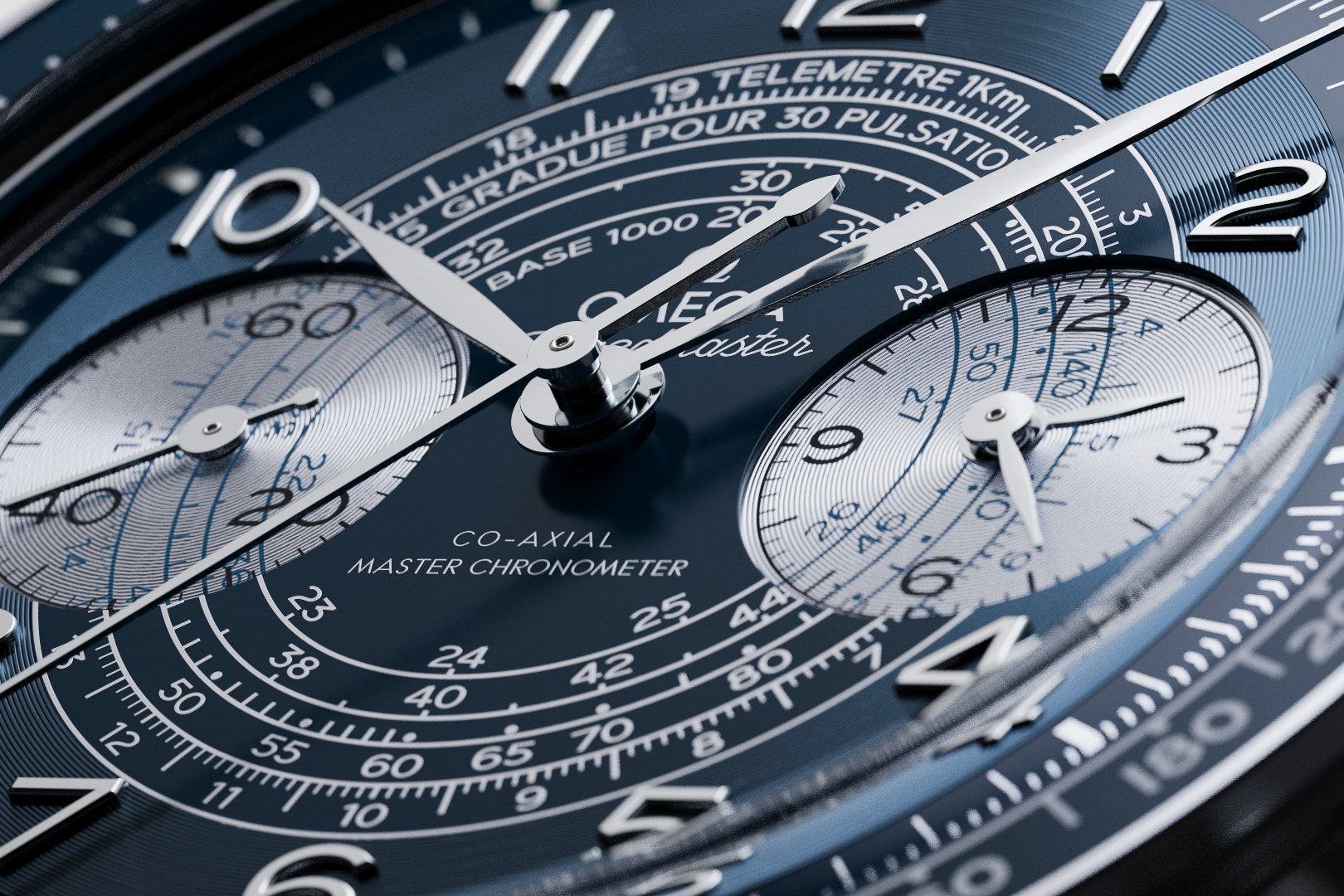 The rest of the dial is clean and straightforward, with two subregisters (a seconds hand and a combined chronograph minutes and hours. I like that Omega neglected to add a date window; enough is going on with this piece as it is. Also, I like that they made this classy, even at the expense of lume, by using applied numerals and solid hands. It gives this watch a dressy feel while keeping the shape of the Speedmaster we all like.
Powering all this is in-house made Master Co-Axial calibre 9908, which is a hand-wound movement. It's unusual for Omega to use a hand-wound calibre that isn't a descendant of the 321 or 861 movement family in a chronograph watch, but it works. Omega's finishing may not be on the level of A.Lange & Söhne, or even Chopard for that matter, but it is still very good for the price. I like how this movement looks, with the engraved waves radiating outwards from the silicone balance assembly, it looks like a dress watch movement. This movement has a 60-hour power reserve with a 4Hz beat rate, and there's a column-wheel controlling the chronograph too.
A variety of dials and straps are available. On the dial front, you have a choice of navy blue with silver subdials and blue bezel, a silver dial with silver subdials and a blue bezel, and a panda dial with red accents. These watches come with a stainless steel case with a choice of leather strap colours at a price of $8450 or stainless steel Speedmaster style (nice alliteration there, I think) bracelet with quick sizing adjustment for $8650. There is one other model, a watch made of Omega's proprietary bronze gold alloy. It comes with a brown dial, silver subdials and bronze gold PVD hands. This model only comes on a strap and will cost $14,100. All models are available to view and purchase from Omega authorised dealers worldwide.
Visit Omega here.