Believe me, a watch must do something pretty special for me to put a little line like that in the title, I'm a firm believer of suspense being the key even if it is pretty hard to portray in writing. However, this one wowed me enough to add it in there and it gets to be the headline review from our recent tour, that means that we've got lots to discuss about this particular watch, which I will start off by saying is a substantial piece, but more on that in a minute. If you're in the market for something a bit left-field without straying into the strange territory of independents then this could be a good one for you to consider, let's check it out.
I want to start the review not with looks or history or build quality but instead with pricing. I did a little homework on this watch, which is in itself a triumph as I never do homework for anything ever (I mean honestly who wants to sit there and do loads of hard study work only to hear the good ol' professor tell you to do more at home?), and I have to say what I found was pretty impressive. The watch is 45mm across from one corner to the other, it's also made of red gold and has an in-house calibre in it. The watch would cost a buyer £19,100 including sales tax if someone were to shop were to go straight to the authorised dealers here in the UK. But, after doing all of five minutes of searching about on the world's largest watch trading website, Chrono24 (not a sponsor), I have found one of these from 2016 so a year old at the time of writing on sale now in the UK for a smidgen over £12,000, and there's even one in the USA from 2014 that's gone under £12,000!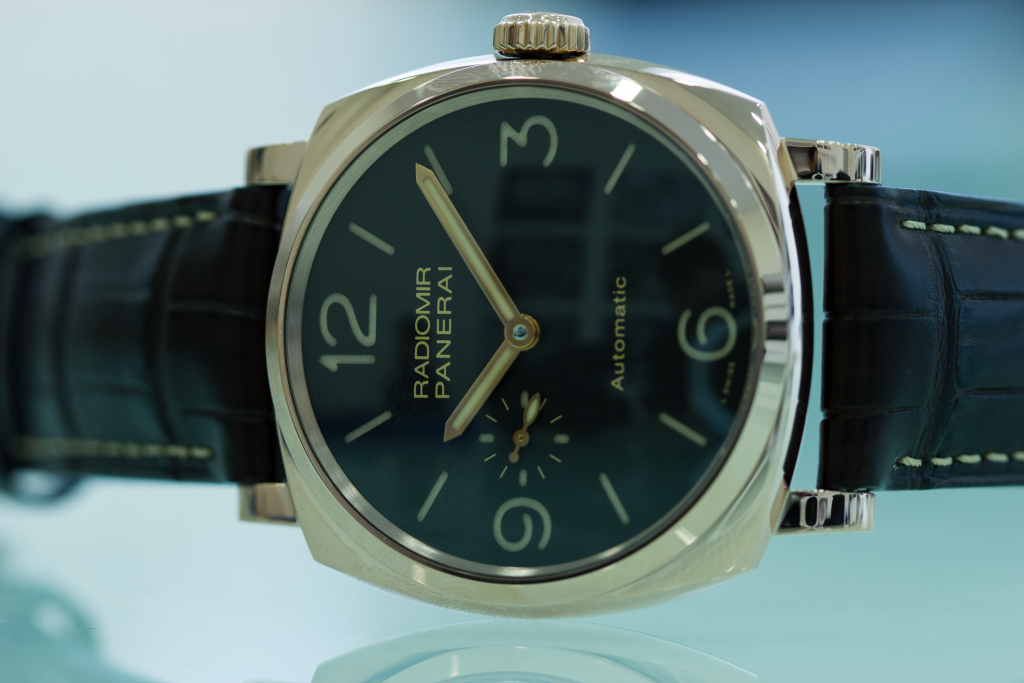 This makes Panerai a really good bang per buck company right now, I love the work that our friends there are doing but it's a soft company on the grey market at the moment, there was a boom for them about ten years ago which lasted a while and then they dried up all of a sudden. But, that doesn't mean Panerai makes terrible watches, as their new timepieces are excellent overall. What upsets me about today's watch climate is people like to judge watches on whether or not the watch can retain value, I will at some point delve into this further, but let's just say that that isn't the case. Die-hard fans of all sorts of wristwatches greatly appreciate it when a watch loses some of its value on the secondary market, because it makes the watch more affordable and what I will loosely term the 'bang-per-buck' ratio (or BpB for short) will increase, in today's economic climate of post market crash recovery and political deadlock with the EU we should all appreciate a little extra money in the bank.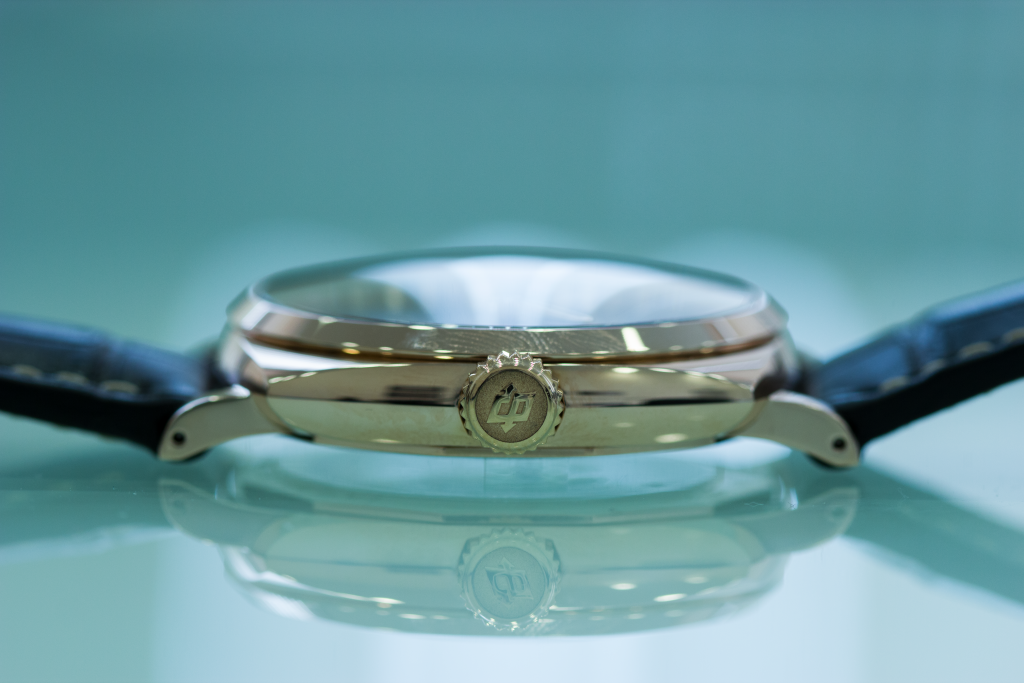 So, now we've got that exciting news out of the way let's take a closer look at the watch itself, which is a pretty sharp timepiece. As I previously said, it's 45mm in size so it will not win any world's smallest wristwatch awards, most people would scoff at Panerai's attempt to make a sports watch thin and elegant, but I say that it has actually paid off in this instance. Modern styles dictate that watches can now be bigger and suit a variety of purposes, it's not uncommon any more for people to wear their submariner with black tie. The slim case, rounded case side and angled bezel mean that this could be perfect for wearing with even a pretty tight cuff, though I do have my reservations as to whether a smaller wrist could sport something as large across as this. Another little charm that only Panerai seems to be able to do is make its gold weirdly heavy, if you've ever worn a Calatrava or even a gold Submariner, this is heavier, I don't quite know how but, at least in my mind the extra mass means a great sense of satisfaction on the wrist. Thanks to the heavy buckle to balance it out and the thick, wide alligator leather strap for extra weight distribution I'm happy to say it is a joy to wear.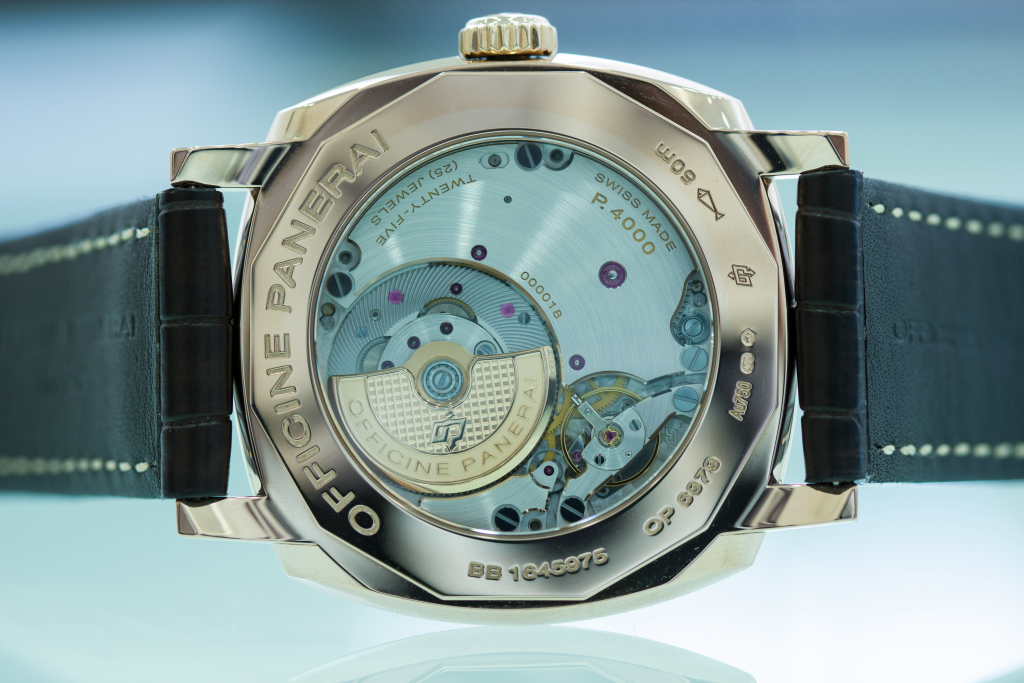 The movement of this watch is a treat as well, this is Panerai's in-house made P.4000 calibre is inside the watch, and I have to tell you that it is a good looking movement. I've been a bit critical of some of Panerai's movements in the past, at least the ones on display, because of the industrial finishing and unpolished edges and whatnot, but this one has come a long way. Notice how the polish radiates outwards not from the centre of the main-plate but from the micro-rotor instead, underneath the micro-rotor has been treated as well with some excellent flurried type guilloché spiralling out from the centre. The micro-rotor itself has been given the Officine Panerai logo in both its forms as writing around the edge and the little image inside the Clous de Paris finish on the rotor.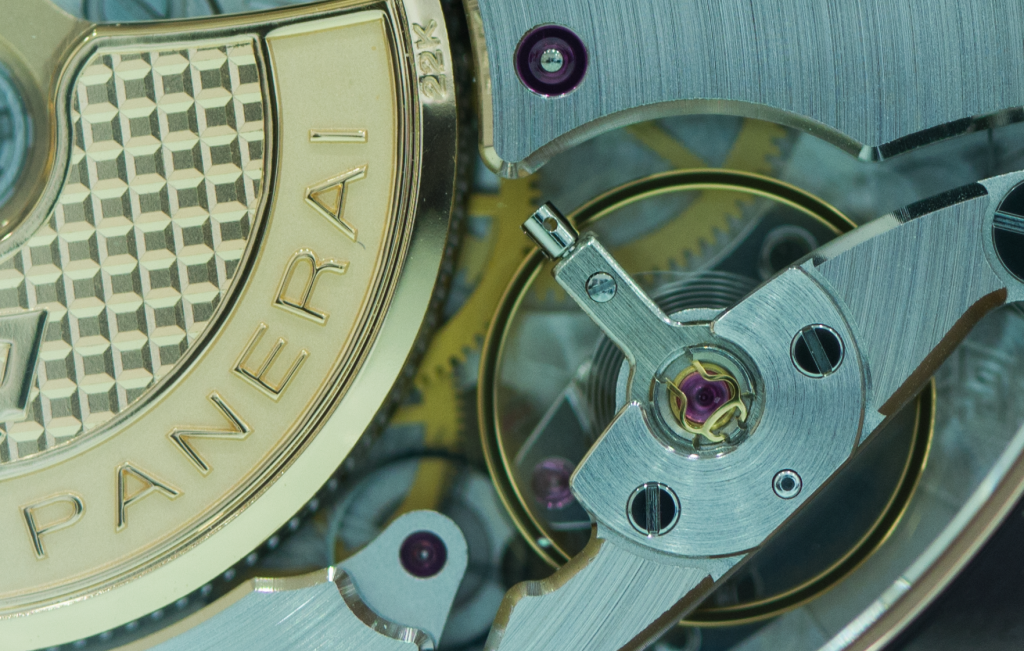 The bridge for the balance is basic looking but held in place with two polished screws holding in a Glucydur balance with what's called a KIF Parechoc anti-shock device, which when viewing their website actually brings up three different types that are made there, so who knows which is in this.
Interestingly, KIF Parechoc also makes other tiny and complex components for watches such as gears, barrels, and screws, their website doesn't have any information regarding who their customers might be, so I'd think it's fair to assume some of the big names in the watch industry use KIF Parechoc, not that that's a complaint it looks extremely interesting. My only actual gripe with this movement is some of the writing on it, look at the movement photo and where it says Swiss Made P.4000. Now look across to where it says Twenty Five (25) Jewels, upside down, why is it inverted at all why not just have it all facing inwards rather than one the wrong way round?!
As the name suggests the watch has a long run time of three days, it's also as I've already stated made of Oro Rosso (red gold) which you can't pronounce properly unless you can roll your 'R's like a true Italian. It's also modern and crisp, well executed, dead serious and an absolute steal on the pre-owned market, don't miss this one out as Panerai are sure to become hot again soon.
For more info, please visit panerai.com