Panerai is a maker of generally large and flamboyant watches that are as much about horology as they are about showing off. Brabus specialises in modifying Mercedes Benzes with big engine tuning and flamboyant body kits. Therefore, it seems fitting for them to team up to make special edition watches with that big ol' B symbol on. We showed you their first creation in October, and now they're back for more with some summery blue vibes. This one is based on Brabus' Shadow 900 Deep Blue luxury boat which debuted recently.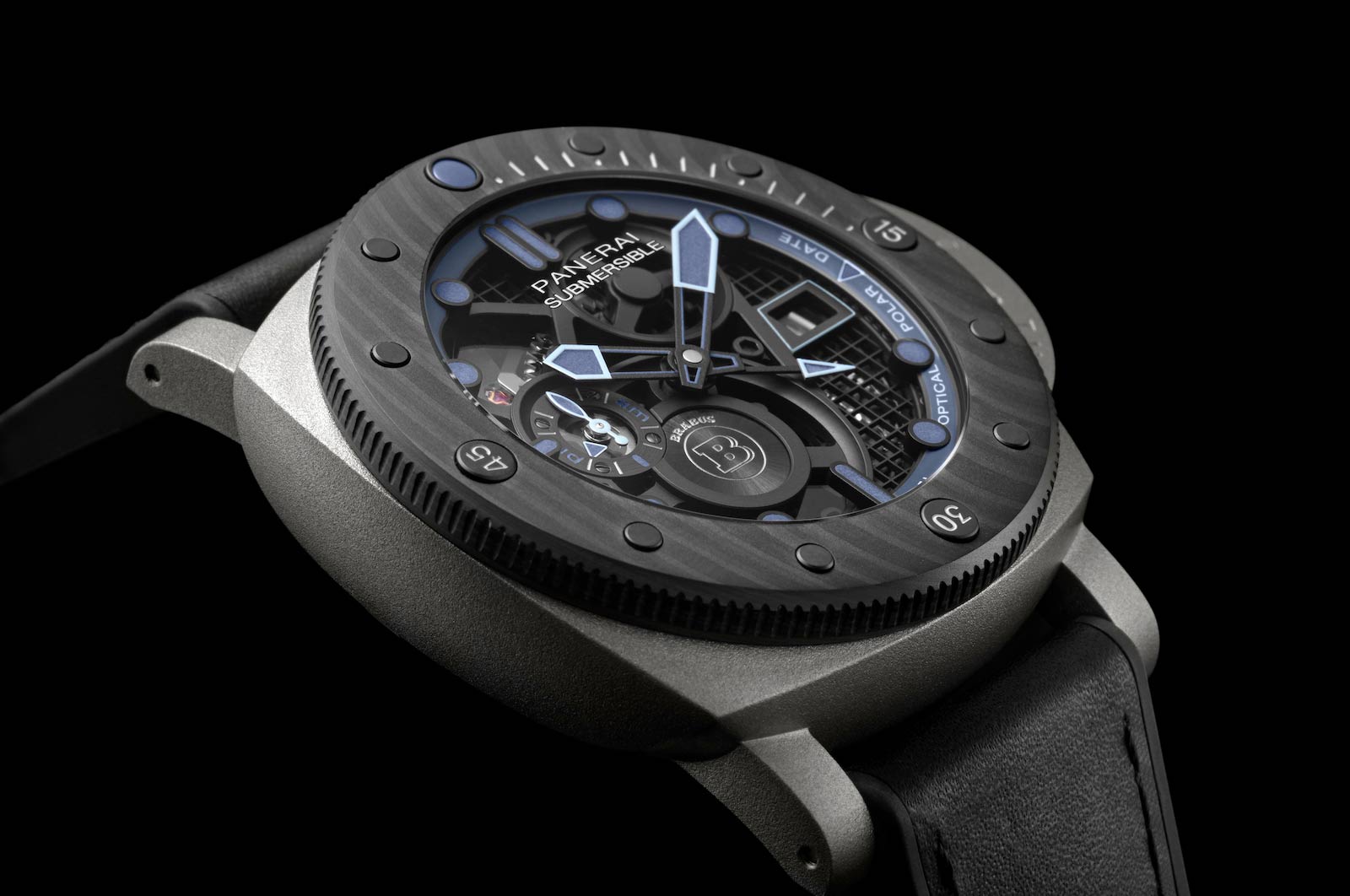 The last Brabus collaboration watch used Panerai's Carbotech case in 47mm format. This new one keeps the 47mm diameter but ditches the scientific Carbotech case for the equally scientific titanium case made using Direct Metal Laser Sintering (DMLS). DMLS is a method of 3D printing metal. It uses a high power to blast a shape into a tray of metal powder.
The direct heat causes a shape to appear as the laser follows a specific pattern (whatever it's designed to print). The tray then moves down slightly, and the metal powder is smoothed out. The laser does another pass and thereby builds the next layer. Panerai's signature crown locking mechanism is also made of titanium using this technique. However, the lever is made from Carbotech to match the Carbotech bezel. This case is water-resistant to 300m.
The most intriguing part of the Submersible S BRABUS Blue Shadow is the dial which has been partially skeletonised. On display with blue finishes is the calibre P.4001/S. It's based on Panerai's P.4000 movement, which is their first off-centre rotor movement developed in-house in their Neuchâtel factory. It's self-winding with a 4Hz beat rate and a power reserve of 72-hours. A KIF Parechoc impact protector is used to keep it ticking even after many knocks and bumps. The rotor is made of tungsten which is very dense and therefore more efficient at winding.
It features a GMT indicator as well as a power reserve indicator and even the date. Also, it displays the movement, but that's not really a complication it just looks nice. It has the Brabus logo on the dial, but it doesn't seem to have much else that flies the flag for this pairing. Limited to 200 examples worldwide, this'll cost you $42,900.
Visit Panerai here.