If there's a watch I've been dying to wear, it would be no other than the new Radiomir 1940 3 Days Ceramica from Panerai. Minimalism has never tasted this good and it's way over my requirements for a truly classic and tasty watch. Pardon the food-like compliments but I may yet have a hangover from my urban adventures and it makes me even more electrified thinking about wearing Panerai's new release.
If I may indulge your curiosity, last month Panerai just released three new watches. So why the sudden bursts of releases? I honestly don't know but I'm glad that they took inspiration from the historical watches in the 1930s. Back then, we're just looking at plain spartan steel watches which are somehow not that immune to corrosion and scratches. The new releases are mind you, kick-ass in terms of durability and design thanks to the employment of ceramics.
Now, let me get to the fuss that is the Radiomir. One thing I really like about it is its overall aura. It has a sense of bravado and if you've been following my articles, you'll notice that I like to show off in a discrete way. Radiomir does this by totally blending in the background just like any watch, but if you have a good eye, you can easily notice the elegance of the watch. There are no funky lines and abundant decorations, just you and time, at least, that's how I see myself with the Radiomir. There are only a few watches that can make me feel this way, so thank you Panerai.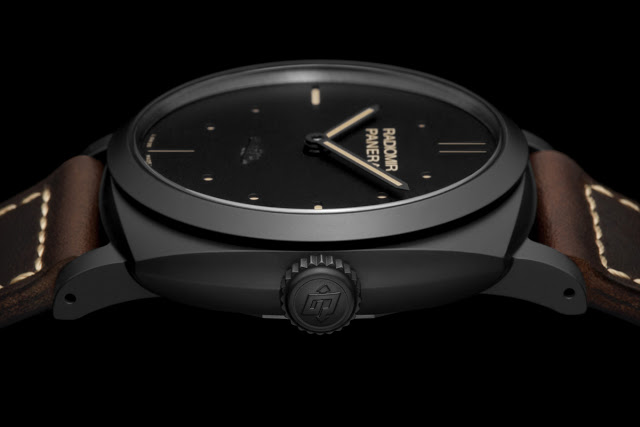 The Radiomir's case is using the standard size of 48mm and it's made of high-performance black ceramic case which makes it more muscled compared to its predecessors. The case has the shape of a rounded square which perfectly hugs the lugs, the elegant crown, and the bezel producing a very neat and masculine appearance. Its matte finishing creates a stronger aesthetic appeal albeit almost like an urban camouflage. You're gonna love its caseback which is made of titanium too for its hypoallergenic properties. And to make it even more appealing, it also uses a DLC (diamond-like carbon) coating. Oh and there's more, it uses a large sapphire crystal window so that you can fully appreciate the beauty of the watch's beautiful internals.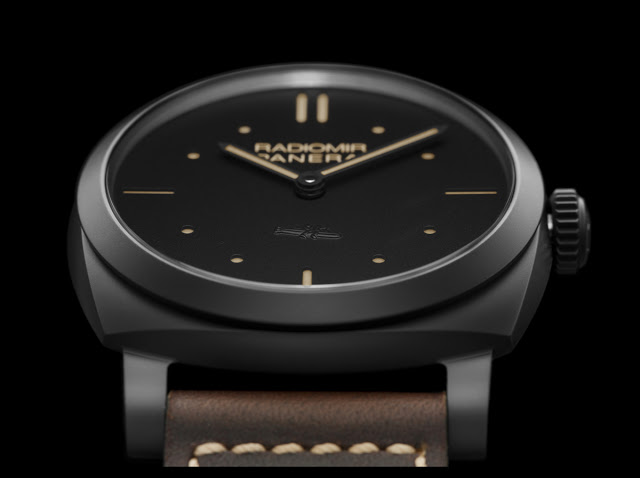 The black dial is totally refined to represent the entirety of the watch — simple, clean, and functional. The subtle markers in dot and bar style are also coated with Super-LumiNova for optimum visibility. I'm sure you're complaining about the lack of innovation if you're familiar with Panerai's history. As for me, I just don't like the appeal of the Silura a Lenta Corsa or the human torpedo relief above the 6 o'clock, thankfully it's in black.
It is powered by an in-house hand-wound mechanical P.3000 calibre featuring a jumping hour hand when time is adjusted. For those of you not familiar with this feature, it simply means that changing hours doesn't interfere with the minutes and seconds hand. Other features include water resistance up to 100m. The Radiomir uses brown untreated leather with trapezoidal buckle made of black DLC-coated titanium that perfectly blends with its dark look. For more info, please visit panerai.com
JOVAN KRSTEVSKI – FOUNDER, PROPRIETOR & EXECUTIVE EDITOR
Watch collector, aficionado and an Event profile in the Swedish nightlife. He launched Watchgeek back in 2011, which is now known as WristReview and is one of the most widely read watch blogs on the Web. He quotes 'WristReview is a site to help people find, explore, discover and enjoy wristwatches.'  His passion jump started in his early teens, when he was given his first mid-range wristwatch which was an Omega Seamaster. Since then he has always been in love with wristwatches! Besides WristReview, he also writes for a number of publications. Read his articles here.