Iconic in name and iconic in appearance, the Alpina Startimer Pilot range has always been a great success for the Swiss manufacture and used by many military organisations around the world. With so much success it was only a matter of time before Alpina expanded the range and with that in mind, Baselworld seems like the perfect time to launch their new additions to the Pilot range, the Startimer Pilot Chronograph Big Date and also the Startimer Pilot Big Date.
Having so much experience in creating professional pilot watches, we were excited to see what Alpina had in store for us and we haven't been disappointed with the results. Simple, clean, to the point and no nonsense…exactly what we expected from Alpina.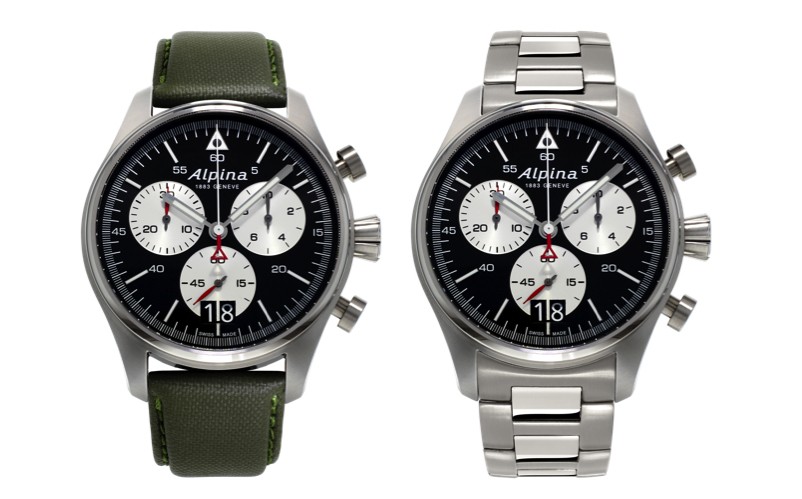 The Startimer Pilot Chronograph Big Date features the same stylish aviation dial as expected for which the Alpina Startimer line is known for. This new version features a black and silver chronograph dial that has a really nice contrast, especially when red markers are added giving the piece a really crisp and legible presentation. The iconic red Alpina triangle is also utilised in its traditional spot at the base of the central chronograph hand. Finished in stainless steel, the case measures 44mm in diameter and features sapphire crystal glass with anti-reflective coating. The Chronograph Big Date is piloted by the AL-37 high precision Swiss quartz chronograph movement.
The Startimer Big Pilot however features a much different dial and set of functions but still keeps true to its heritage. The new Pilot Big Date features a beautiful deep navy blue sunray dial and is contrasted beautifully with the silvered seconds counter and white dial indexes of the numberals. Like the chronograph version, the Startimer Pilot Big Date features the same 44mm diameter stainless steel case with sapphire crystal glass and anti-reflective coating. Also included is a screw-in pilot crown and a small second display at 6 o'clock with a big date window that also features on the chronograph version. Piloting the Startimer Big Pilot is the AL-280 high precision Swiss quartz movement.
Designed for professional pilots in mind, Alpina has yet again hit the right mark and produced a range of new timepieces for us to enjoy. Not overly complicated or outrageous, Alpina prefers to do what it does best, provide quality timepieces for a modest price without straying to far from its origins. For more info, please visit alpina-watches.com


Osheen Arakelian – Contributing Editor
Drawing on a lifelong love of horology and a more recent introduction to appreciation of fine whisky, Osheen brought the two together with watch & whisky. He is proprietor of the site, which covers everything related to watches and whisky. In between completing a degree in commercial law and supporting a rich social life, he is out and about attending all the latest watch and whisky events Sydney has to offer. His passion has also taken him around Australia attending a number of events and he hopes to continue his career in the watch industry on a more serious level after he graduates. Read his articles here.