Back in 2005 we saw Breguet's 7027 Tradition. We liked how it was a dress watch from Breguet that had modern, industrial styling. We liked the choices of metals and colours available and we loved the exposed movement that they plonked on the dial. It was never a complicated watch with a hundred functions or so, but the art of stacking the movement in plain view in such a beautiful way made it evident of the craftsmanship put into it. And now for 2015, it's back.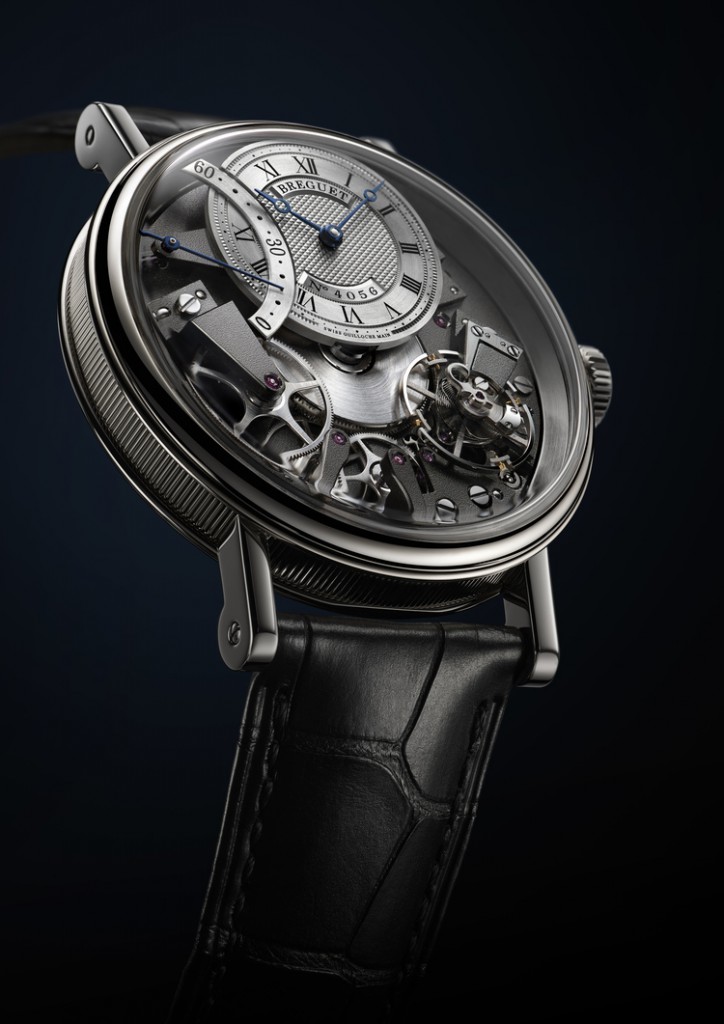 First off there's the hours and minutes sub dial right at the top of the watch. Next to it is the retrograde seconds indicator which comes in the form of a small arc shaped cut-out that has the seconds on it. You might think that because this seconds indicator isn't circular that the hand would simply stop when it got to the case as it tries to complete 360 degrees, however that's not the case. Because this is a retrograde seconds indicator once it gets to the 60 seconds it jumps right back to 0 and starts all over again, the same way a retrograde date indicator that you'd find on a Longines would do. Both of these dials are hand worked and have the signature blue hands that have become one of the most distinct styles in all of horology. It's this colouring that helps make the dial so legible despite the hands being smaller, because they're not the same shade of grey as other parts of the movement.
Although there aren't any official shots of the caseback yet, we do know that there's an automatic rotor back there which helps keep this watch wound up to its full 50 hour power reserve. These parts are all arranged in a wonderful way that shows pff the mechanics of the movement. Also, the movement itself appears to be frosted metal, this look is achieved by a process called "peening". A concave punch is pressed into the metal which makes it become more active i.e. flare up around the edges. This forms these micro-craters that forms the frosted look. Unlike Geneva stripes (which are still not an easy task to achieve), peening takes extreme skill and patience in order to get into a uniform look to it, ultimately adding to the kudos of this watch.
Breguet has still included all the features that separate Breguet timepieces from others, including the choice of either 18k rose or white gold and the coin edging along the side of the piece. They've also chosen to keep with watchmaking tradition (as the name suggests) by using welded lugs instead of a CNC unibody design. The lugs themselves have a lovely minimalist approach to them, being small enough so as not to detract from the industrial look of the watch face but large enough to still keep their rigidity.
We're looking around $50,000 I reckon for this timepiece when it goes on sale, but until then we'll just have to wait and see. Stick with WristReview when BaselWorld comes around, we'll be covering the latest releases from Switzerland and updating the website as new articles come in. For more info, please visit breguet.com

Harlan Chapman-Green – Contributing Editor
First introduced to horology with the Patek Philippe Calibre 89 by his father few years ago, Harlan enjoys his passion for fine horology. He prefers to spend his time in the boutiques of upmarket brands, trying out new pieces constantly. His preferred 3 brands are A. Lange & Söhne, Breguet and Vacheron Constantin. Although not much for the smaller brands, he still finds the complications intriguing and wishes to own one watch from each of his three favourites. Read his articles here.