The Alpiner model range from Alpina Watches is one of those that packs a lot of punch despite a lower cost than the big boys and the new Alpiner 4 Flyback Chronograph featuring an in-house movement is definitely a watch to watch upon its release to the market.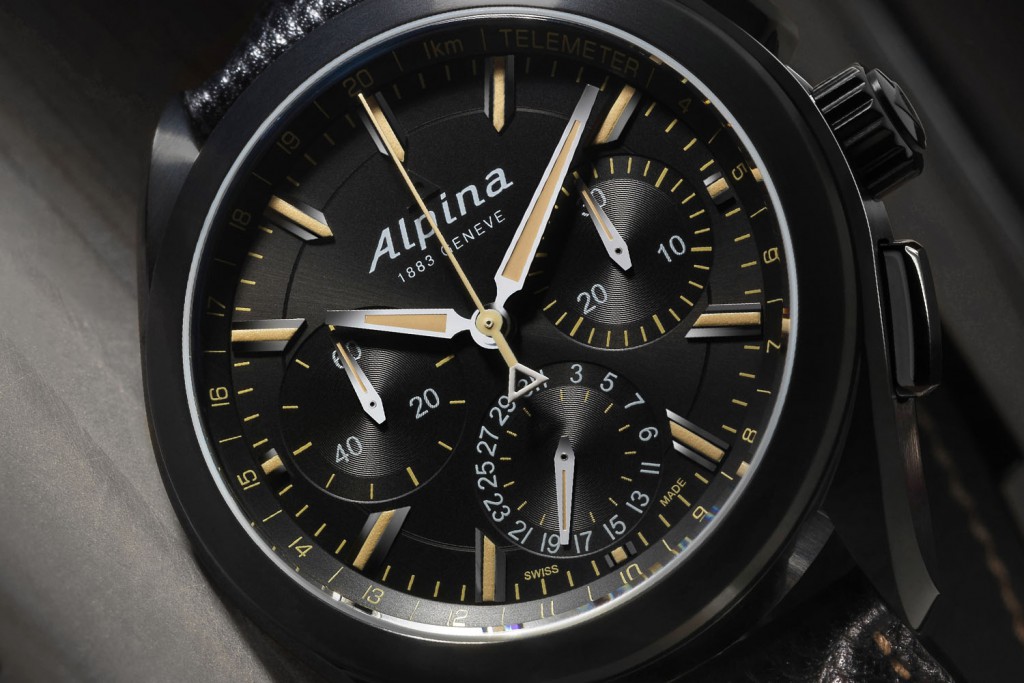 Since 1883 the Alpina Watch company has been working away on making high quality watches focussing more on aeronautical and sub aqua markets like Bell & Ross rather than motorsports like it's main rival in the market, Tudor. You might never have heard of this company before and if you haven't then you'd be forgiven for thinking, like I did, they were in some way related to the tuning house that makes already sporty BMW cars even faster. However Alpina is a full on company with their own movements and this watch is one of them.
The completely in-house movement inside this watch is based on the automatic Calibre AL-710, a movement that Alpina shares with Frederique Constant, sister company to Alpina. The AL-760 calibre in this watch has a chronograph module added to it and was a smart choice by Alpina as they have used a solid base to start with and built up from there, building on rock will always be safer than building on sand after all. Digressions aside this is one fiendishly complex chronograph module as the column wheel module in this watch is star shaped so it can work in tandem with a vertical clutch mechanism. The chronograph module also features a flyback system, meaning yo don't need to stop the chronograph before resetting it.
For those unsure of what exactly a vertical clutch does I'll explain. Ever hear warning from other watch fanatics about the downsides of leaving a chronograph running all the time? Excess wear, more regular maintenance etcetera, the use of a vertical clutch mechanism removes this meaning you can leave the chronograph running all the time if you want to (it will still affect the power reserve though as the chronograph doesn't have it's own barrel (power source) in this instance). Start the chronograph at 12 noon or 12-midnight local time, doing this will make use of your chronograph watch as a second-time zone piece too meaning you can travel and not need to adjust your watch accordingly. This movement has a 38-hour power reserve without the chronograph running.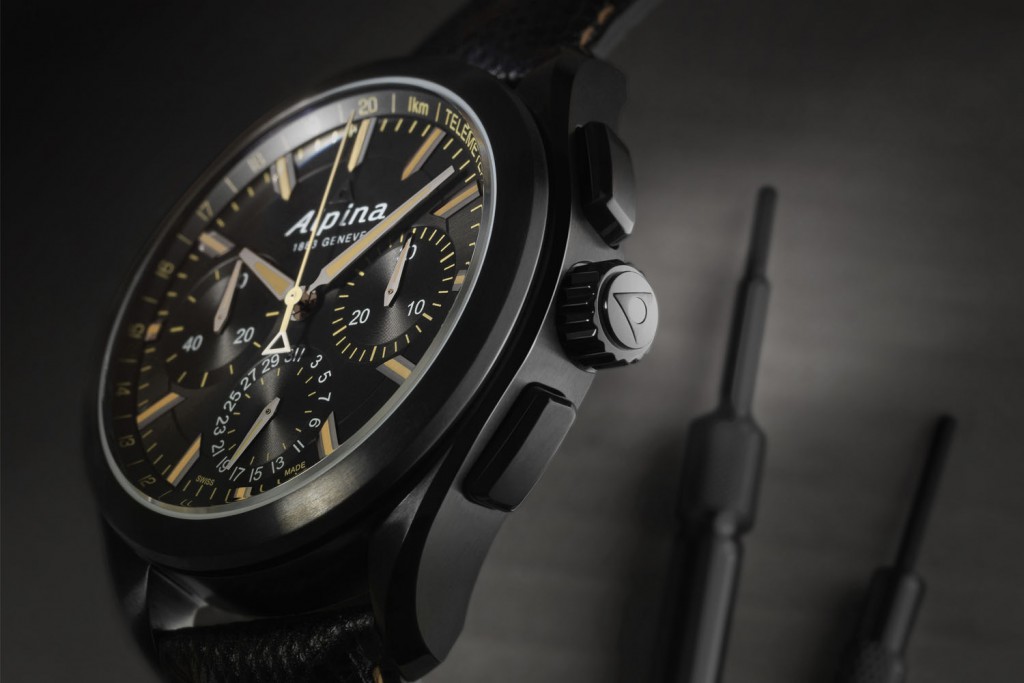 The case on this watch is 44mm in total diameter and is made of stainless steel that's been coated in black PVD giving the piece a discreet and almost stealthy appearance. All of the indices and hands (including the seconds hand) are coated in faux-patina lume that gives off a warm beige when glowing. The watch features a thirty minute counter subdial for the chronograph at 3 O'clock, a rotary date indicator at 6 O'clock and a running seconds hand at 9 O'clock and there is a lured telemeter scale on the inside of the bezel. We expect this watch to go on sale for between $5000 and $6000 and will be very rugged as it's anti-magnetic, anti-shock and water resistant to 100m. For more info, please visit alpina-watches.com
HARLAN CHAPMAN-GREEN – MANAGING EDITOR
A keen bass guitar player, Harlan enjoys all the perks modern watchmaking technologies the industry has to offer. Although you might catch him sampling Omegas or the "odd" Rolex, Harlan loves all things Haute Horology, with his three favourite brands being Breguet, A.Lange & Söhne and Vacheron Constantin. He hopes to study timekeeping more in depth someday and will never be able to thank his father enough for introducing him to the industry. You can follow him on Instagram Read his articles here