Grönefeld is a company I've touched on once before, sadly it lost out to Chopard in the first installment of the Tourbillon Trials but their Parallax Tourbillon piece did get recognition as it became WristReview's go to tourbillon watch of choice. The Parallax Tourbillon was Grönefeld warming up before they even flex their muscles and I suspect we will need to wait to feel the full force of this creative house, without further ado let's look at today's watch.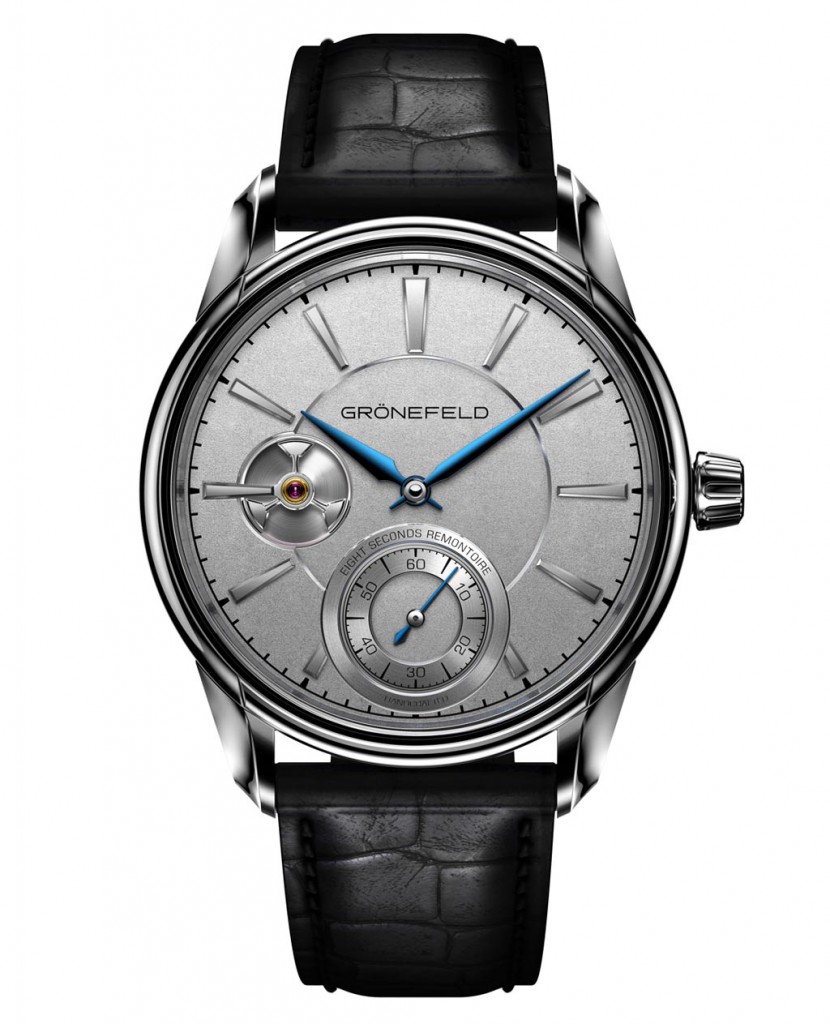 The spring remontoire isn't a new invention by Grönefeld themselves, in fact, it's been around for a very long time, going all the way back to 1739 with English clockmaker (and one of the horology gods) John Harrison. It comprises of a series of gears and springs that provide a constant force of power in a clockwork mechanism thus removing the ever decreasing amounts of torque exerted as the barrels unwind, A.Lange & Söhne have their own system which they call the Constant Force Escapement which does the same thing in a different way. The point of the remontoire mechanism being mentioned a lot on this piece is due to the fact that it's very complicated to make, like, not for the faint hearted of horologists. the Grönefeld 1941 Remontoire joins a very elite band of watches above and beyond the likes of Richard Mille and so forth, this is classical horology at it's very best.
 Bart and Tim Grönefeld
The name of the watch, the 1941, is symbolic most of all to the founders of the company, Bart and Tim Grönefeld, as it's the year their father was born. It's great to see that in this world of corporate… everything and executive board decisions that there are still those who take something, or, in this case, someone, important to them and immortalise it in a product. But, what exactly has their father got to do with horology? Even though a reason isn't actually needed, it's interesting to note that Bart and Tim's father helped his own father maintain the village clock in Asten, the Netherlands. This clock, in particular, has a constant force mechanism just like the 1941 Remontoire.
Speaking of it, the 1941 Remontoire is a seriously good looking piece, looking around the WristReview office at people's reactions I was very surprised to find that there weren't eyebrows raised in the manner of a bad reaction. Both the dial and the movement on the reverse of the watch are exquisite Being 39.5mm in diameter means that the watch is a practical size for a dress watch and also avoids one of the biggest of my personal pet peeves, tiny mechanical movements on display. I understand fully how calibre and case size aren't always necessarily proportionate to each other, but if you're going to pay a lot of money (whether it be $2000 or $200,000) for a mechanical wristwatch with a display case you'd, at least, expect some eye candy.
The Remontoire's movement is delightfully complicated with parts even I don't understand being hand made, polished and fitted just so as to keep the gaze of one fixed for a long time. The movement itself uses some hallmarks of the Grönefeld watch company, for example, the bridges are not rhodium plated brass but rather solid stainless steel, aiding in rigidity and giving the movement a richer lustre. The watch will come in either 18K white or rose gold and has a power reserve of 36 hours due to restrictions caused by the case size (the movement was actually developed for a 44mm case) and is priced at €49,500 for rose gold or €50,850 for white gold.
For more info, please visit gronefeld.com
Technical specifications of the Calibre G-05 8 Seconds Remontoire
Diameter: 32,0 mm
Thickness: 5,5 mm
Number of parts: 258 parts
Number of jewels: 36 jewels, partially set in solid gold chatons
Power reserve: 36 hours with constant force (stop system)
Remontoire: to optimize time keeping a small hairspring is wound every 8 seconds to guarantee a constant force for the escapement. A complex satellite gearing mechanism with hypocycloidal gears, twin ball bearings, pinions and jewelled levers, achieve this.
Balance wheel: variable-inertia balance wheel with four white gold timing screws (diameter 10 mm)
Frequency: 21.600 vibrations/hour
Balance spring: free sprung with Phillips terminal over coil curve with triangle hairspring stud
Escapement: jewelled Swiss lever
Main plate: spotted and ruthenium electroplated brass main plate
Bridges: stainless steel, bevels polished by hand, micro-blasted centre, circular grain on the top rims to highlight the bridges shapes and engravings, bas-relief engraved Grönefeld logo, number of jewels and eight seconds remontoire
Hacking seconds: in setting mode the hacking seconds mechanism will be activated
Display 
Central Hours and Minutes
Small Seconds at 6 o'clock
Governor speed regulator at 9 o'clock
Case and Dial specifications
Number of case components: 66 parts
Case material: white gold Au750/Pd150 (Non Rhodium plated) or red gold Au750 5N
Domed sapphire crystal on the front with hard antireflective coating on both sides
Flat sapphire crystal on the back with hard antireflective coating on both sides
Case back engraving: Grönefeld and the individual number
8 White gold security screws
Diameter: 39,5 mm
Thickness: 10,5 mm
Water resistance: 3 atmospheres – 30 meters – 100 feet
Crown: white gold (Non Rhodium plated) / red gold engraved with logo
Dial: Sterling Silver 925, frosted and satin-grained surfaces
Hands: extended 'lancette' hands, flame-blued steel and mirror polished centres, small poised seconds hand
Strap: hand-sewn ostrich leather with white gold or red gold buckle engraved with Grönefeld logo
HARLAN CHAPMAN-GREEN – MANAGING EDITOR
A keen bass guitar player, Harlan enjoys all the perks modern watchmaking technologies the industry has to offer. Although you might catch him sampling Omegas or the "odd" Rolex, Harlan loves all things Haute Horology, with his three favourite brands being Breguet, A.Lange & Söhne and Vacheron Constantin. He hopes to study timekeeping more in depth someday and will never be able to thank his father enough for introducing him to the industry. You can follow him on Instagram Read his articles here