I'll bet you were wondering when this would show up. Not even at SIHH yet and we are already on about the big boy, Baselworld, which promises glamour this time around. It's like Christmas where all the stores are selling red and gold sparkly things in mid-October and we all wonder what is happening to the world. I'd like to start off WristReview's long, metaphorical journey to the world's largest watch show located in Basel, Switzerland. We will be having coverage of SIHH, our Masthead will be making his way to Geneva soon to take pictures of the new watches, offer critiques and insights into the companies in the form of interviews, as well as enjoying the high life of SIHH. Until then, let's dive straight into what we can expect to see at BaselWorld this year, Omega taking the first spot.
"Oh no", I hear you complain, "it's another limited edition Omega, this can only be damaging their resale value and it makes no sense blah blah blah". But, hold your horses for a minute, because this one's pretty interesting. If you were around during the 60s and 70s then you probably have some good memories of things that entertained you, Hornby train sets for example. Back then people gathered around the television to watch important events, rather than seeing it on 9Gag or some such. The two big events were always motor racing and the moon landings, so Omega's decided to put them both into this new watch.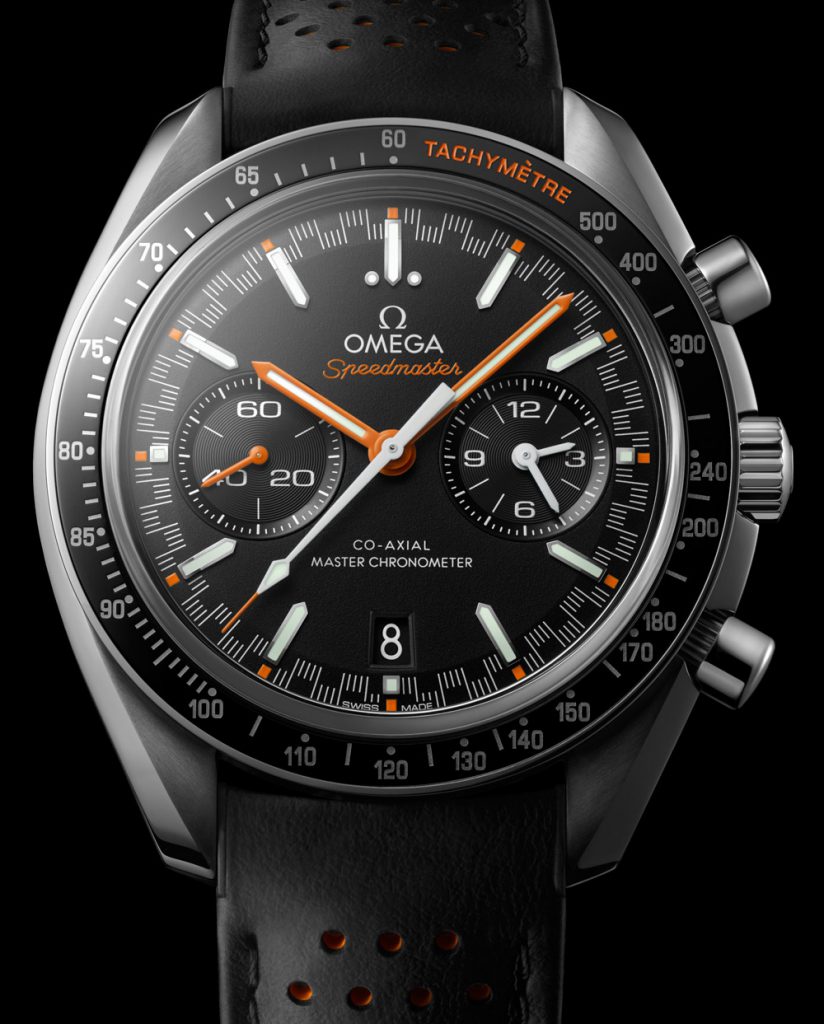 Take the Moonwatch we all know and love, add in your revolutionary Master Co-Axial calibre and put some orange bits on it, give it a shake and you are left with something resembling the new Speedmaster. Impressively, though, they have pulled it off rather well. The elegant 'racing track' style indices have added a tasteful and unobtrusive layer to the dial without drawing attention from the time. The splashes of orange here and there are very appealing, too. We have always liked Omega's colour coding system with their chronograph watches, the orange hands represent the time, while the white hands are purely chronograph related, so no confusion here. there's also much to be said about adding in the orange to the Liquidmetal bezel as well, giving the watch a slightly asymmetrical look if observing at arms length, but one so as not to cause too much distraction.
The case on this watch is a hefty 44.25mm in diameter, but to balance it out Omega has told us that it's done  'some work' to the crystal to make it thinner, a problem I've noticed with their watches is how top heavy and thick they can become so it's good to know they're bringing in line a bit (except for our beloved PloProf, please don't touch it!). They've also done some work to make the subdials bigger and easier to see, as well as coating the watch face with a generous amount of SuperLumiNova.
Omega's been stepping it's game up over the past 15 years or so with regards to movement technologies (though every expert who read the Omega bashing parts of the Rolex forum will now disagree), so it's no surprise to see their most cutting edge technologies come to the new watch. The Omega in-house made calibre 9900, which we saw in last year's Planet Ocean, makes a comeback with a chronograph module attached as well. The 4Hz movement has a 60 hour power reserve and comes in with the new METAS Chronometer certification, providing superior accuracy than ever possible with COSC. It's also 15,000 gauss resistant so the wear and tear of everyday life is no trouble here. Omega didn't send us any pictures of the caseback, but it's likely to be open to view, which is great as Omega's movement finishing is top notch. For more info, please visit omegawatches.com
We regret that there is currently no pricing information, check back here soon!