Yet another preview of a watch upcoming in the annual SIHH watch fair! Here we have one of the most exquisite pieces if the entire show, the Rêves de Panthères by the French firm Cartier. You may remember that I've already covered the Rotonde Reversed for Pre SIHH, and we've also seen John Galt's Rotonde Astrotourbillon for SIHH 2015 article which you can read here. This watch is completely different to those watches.
This is an automatic watch indeed, but it's movement is also pretty simple. Essentially there's a minute hand and an enormous moonphase indicator to it. Nothing more, nothing less. "How do you tell the hours?" you ask, well it's pretty simple. You can use the sun on the moonphase as a rudimentary hour hand, when it's next to one of the numerals near the top of the dial, you'll be able to figure out what hour it is. It's the same with the side with the moon on. One other thing is that if you aren't sure whether it's 9 AM or 9 PM you could always look outside (this doesn't apply to those in certain climates like the Arctic. But really, why are you taking such a fine piece there? Those panthers on the dial will get cold.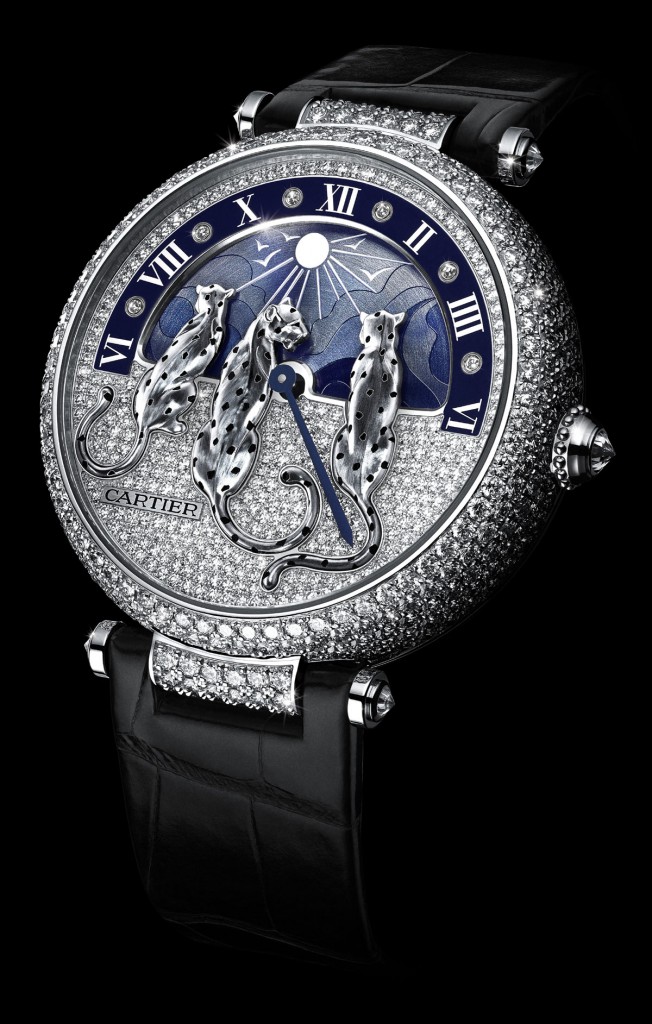 Speaking of, this is one of the first watches from Cartier where there's more than one panther on the dial. Now there's a trio of them, all sat pretty happily on what could be imagined as a snowy Parisian rooftop. Either way, it's probably a good idea to watch some of Cartier's advertising footage with the panther running around the streets of Paris if you didn't quite twig on that reference. They sit there all day, every day, watching the sun and the moon as they move silently across the sky on their merry way. And you thought cats had an easy life.
Inside this diamond encrusted beauty is an automatic 9916 MC calibre by Cartier. It's not highly decorated, but because of the angles the official shots are taken I cannot tell you for sure whether there is an open caseback to this piece. In which case (sorry, another terrible pun. Aren't I evil?), it won't really matter anyway.
This piece is an artful masterpiece and it's definitely showcasing how much Cartier can flex their design muscles when they want to. Art such as this is reserved for companies such as Cartier, Vacheron Constantin and many others because only they have the correct know how to make a watch design come to life. The price hasn't been revealed but over EUR190,000 wouldn't surprise me at all. For more info, please visit cartier.com
Harlan Chapman-Green – Contributing Editor
First introduced to horology with the Patek Philippe Calibre 89 by his father two years ago, Harlan enjoys his passion for fine horology. He prefers to spend his time in the boutiques of upmarket brands, trying out new pieces constantly. His preferred 3 brands are A. Lange & Söhne, Breguet and Vacheron Constantin. Although not much for the smaller brands, he still finds the complications intriguing and wishes to own one watch from each of his three favourites. Read his articles here.