By now, I am sure most of our readers have heard of HYT and their one-of-a-kind hydro-mechanically powered time machines leading the forefront of innovation in the world of watch manufacturing. Everything they have produced so far, ranging from the H1, H2, H3 and all the way to H4 are highly technical, modern and bold, with slight twists to every release of its new series (e.g. the aviator-styled H2 vs the lighting system in H4).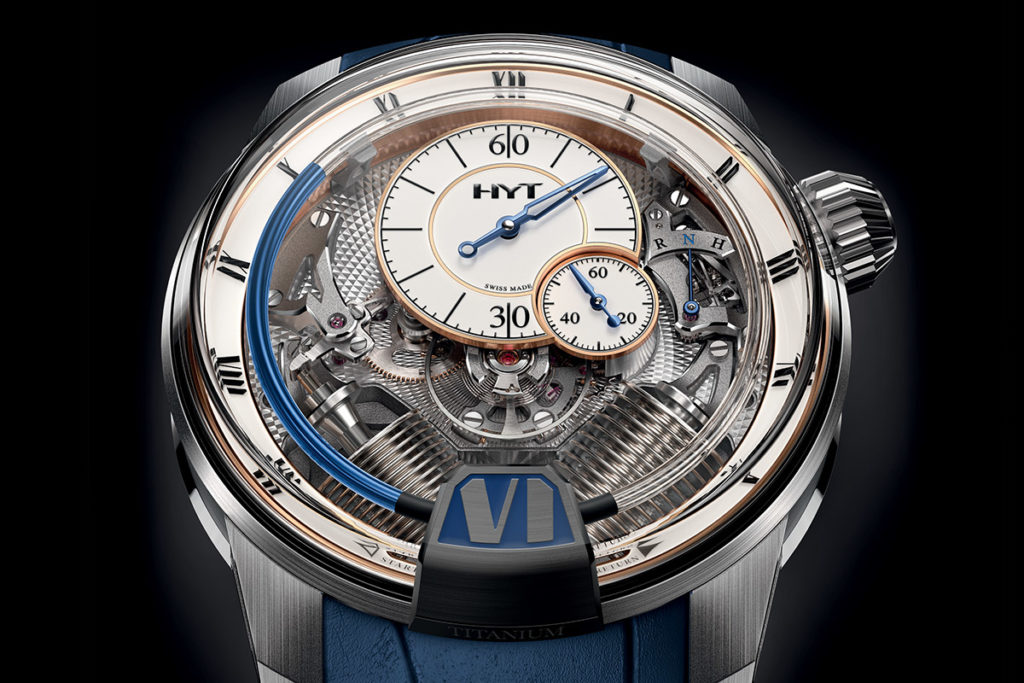 As part of their grand introduction at the SIHH – also as part of joining the highly esteemed "Carré des Horologers" along with 8 other independent brands – HYT decided to revisit their roots and take on a more traditional approach with the launch of its HYT H2 Tradition." In essence, the HYT still retains its signature hydro-mechanics powered display but has incorporated several visual elements which rely on the traditional codes of watchmaking.
Let's first start with what features are similar when contrasting the H2 Tradition vis-à-vis the H2. The titanium case still measures 48.8mm in size, with a slight modification in that it now features a light anthracite grey PVD coating on the central container. The technical specifications of its movement remain identical for the large part, without any changes made to the 8 days power reserve and crown position indication. The display and the use of bellows and capillary filled with 2 liquids are still also here to stay. There I've said it, the main features are still there – so what's changed?
Moving on to the differences, the H2 has introduced a sub-dial for a seconds counter, whereas the original version featured only a central hand to display the minutes, via a sapphire ring just next to the liquid-filed tube. Due to the new display, the movement had to be tweaked as well to make "room" for the sub-dial – the balance wheel which used to be located at the 12 o-clock position has been re-centred and the gear train also has to be re-designed. Also, the finishing had to be changed to make it more "classic", thus the shift from its original sandblasted and blackened features to more traditional features such as lacquered dials with 4N gold treatment, Roman numerals and blued hands for the indications of time and a diamond guilloche finishing for the main plates on both the dial and movement side.
With an introductory pricing of $189,000 which is closely benchmarked to its siblings, the apple sure does not fall far from the tree. Will such an iteration garner a lot of interest among the HYT fans? Well, it remains to be seen, and we will find out soon enough during the 2016 edition of the SIHH).
For more info, please visit hytwatches.com
JAMES PHANG – CONTRIBUTING WRITER
James Phang is a young watch enthusiast from Singapore and is a self-professed fanatic of independent brands for their unique avant-garde designs. Some of his favourite brands include MB&F, Urwerk, Romain Jerome, Sarpaneva, Peter Speake-Marin and Azimuth. His love for art extends out to all things handmade, and he has made it his personal mission to find the best handmade straps and buckles worldwide for his humble collection. Read his articles here