Rolex has an interesting methodology behind its business choices, especially when it comes to timing the releases of models. This year is the 60th anniversary of the Daytona, as you'll undoubtedly have read from our article on it. It's also the release year of a brand new YachtMaster in a brand new size and a brand new metal, and we'll have coverage on that soon enough. And yet, 2023 is also the debut year of a brand new model line, which is something we don't see from Rolex very often, but this wasn't shouted from the rooftop of the huge Rolex booth at Watches & Wonders Geneva this year.
Perhaps the reason for not going all out on the marketing of the new 1908 is that it isn't a part of the core group of watches that gets Rolex the most attention: stainless steel sports watches. No, the brand-new-for-2023 1908 caters to a much quieter section of Rolex's audience, which is fans of classical dress watches.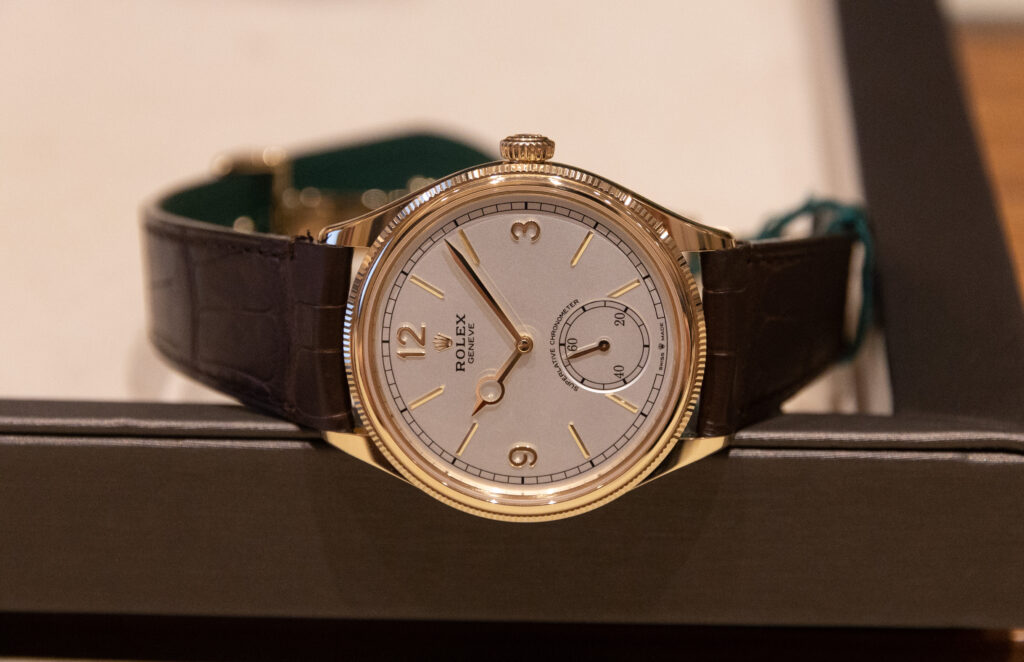 I, along with most, would consider the DateJust and Day-Date models to be perfect dress watches, thanks to their elegant finishes and bracelets that offer both classy looks and daily practicality. There are some, however, who lean away whenever a dress watch on a bracelet is presented to them. These people tend to favour subtle watches like the Patek Philippe Calatrava, Vacheron Constantin Patrimony or Breguet Classique, which all come with a case made of solid precious metal and a strap from a dead animal or two.
The 1908 is clearly Rolex's attempt to capitalise on that market, and in doing so, replaces the Cellini line, which was officially decommissioned on Monday morning. I happened to like the Cellini watches, too, although it was hard to see why someone would buy a Cellini for a similar price to the above-mentioned competitors.
One of the details people missed most on a Cellini, compared to the others, was a display caseback. Fear not, that's been added to the new 1908, and the movement seems to be finished well with clear Côtes de Genève markings. For a true summary of how the movement looks, I'd need a longer chance to photograph and collect my thoughts than the mere minutes I got with it at Watches & Wonders. Nevertheless, no specific issues stood out for me. I hope that it lives up to buyers' expectations too.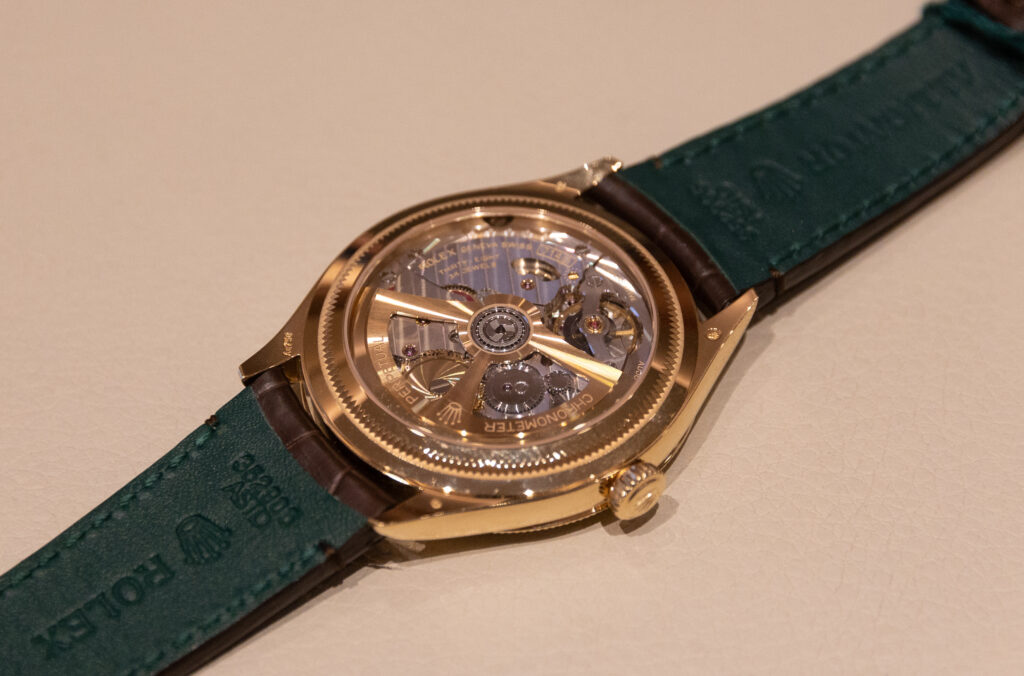 The calibre 7140, made in-house by Rolex, features a Syloxi hairspring. Syloxi, a portmanteau of silicone and silicone, is not reactive to magnetism or temperature changes. Combined with a specialised geometry (which is patented), the Syloxi hairspring is more accurate than a regular spring and remains that way no matter what position the movement is in. The movement is a certified Superlative Chronometer, accurate to within +/- 2 seconds per day, and has a 66-hour power reserve.
The 39mm case comes in either 18k white gold or 18k yellow gold with a white or black dial; as you can see, I got the most time with the yellow gold, white dial variant, which is a beautiful watch. The combination of the smooth and fluted bezel is a particular highlight, but I also like the Breguet-style hour hand, which is an indicator of this watch's classy aspirations while still being familiar to someone who has a sports Rolex with a 'Mercedes' hour hand.
The combination of Arabic and stick markers is classy, as is the sub-seconds dial, and the lack of a date indicator is also pleasing to the dress-watch lover within me. The clasp on the alligator leather strap is called a Dualclasp, essentially a butterfly clasp which folds in two motions rather than one like on a Submariner. There are no security clips with awkward pushers. The clasp holds itself open or closed similarly to the clasp on a Blancpain Villeret, another competitor of the 1908's.
I was very pleased with the new 1908. Although I got pictures of the yellow gold version, I also saw the white gold one, which was classy too. Having said that, because this watch is very understated, it's easier to get away with yellow gold on it, and I think it could be a worthwhile contender for those seeking a classical dress watch on a leather strap. The Perpetual 1908 will cost $22,000 in yellow gold and $23,300 in white gold, with availability beginning in October.