The new addition from Romain Jerome Tetris DNA joins the already iconic space invaders and Pac-Man watches with its homage to 80's video games. I'm sure some of you will know but for the readers that don't Tetris was actually invented in the Soviet Union in the early 1980's and upon its release in June 1984 quickly became a huge success and with it, it became the first ever computer game to be exported to the west. Tetris to this day remains one of the most popular pay to download games with more than 170 million copies. In celebration of its 30th anniversary Romain Jerome have released a special edition limited to only 84 pieces called Tetris DNA, Romain Jerome's DNA edition is a concept which includes watches which are limited editions to celebrate a time, era, game or lifestyle. So far these have included iconic games including Pac-Man and Space-Invaders plus the Titanic DNA which included an actual piece from the iconic ship.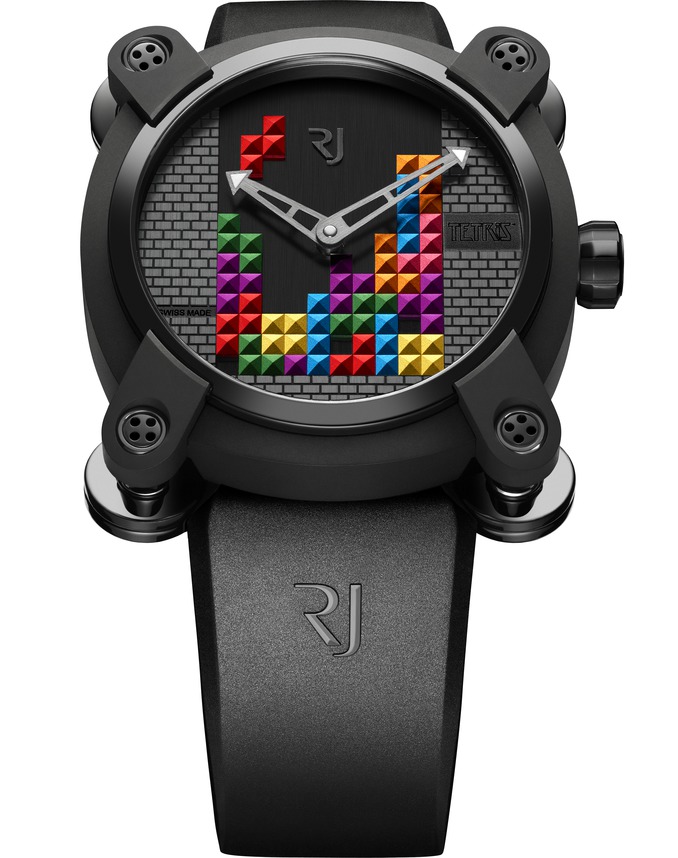 The case is Romain Jerome's extremely characteristic Moon invader case measuring 46mm, made from titanium but coated in black PVD giving it a smooth matte look and feel to it. With normal cases, the lugs protrude out to house the strap, but the lugs on the moon invader case sit perfectly at every corner which vaguely symbolises the moon lander. This case also has intergraded ball and socket joints with safety screws for optimal wrist adjustment and perfect comfort.
The dial is two-handed piece so as not to obscure the main purpose of this piece, the dial bricks, even though Romain Jerome have added some fun to the hands by adding a blue lume to the satin brushed finish. Each Tetris block or "Tetrimino" block as they are called, is produced from coloured anodised aluminium and hand-brushed and then set by hand. The Tetrimino blocks are three-dimensional so as to be as realistic as possible, especially as they are framed by real looking bricks in keeping with the original hand-held game.
Turning the piece over you are greeted to a solid case-bask featuring a special Tetris Medallion showing the number of each limited edition piece in the form of level and lines as if you had just finished the game. Limited to only 84 pieces in homage to the year Tetris was created: 1984.
Inside the case, the mechanical self-winding RJ001-A in-house movement beats away at 28,800 vibrations per hour with a respectable power reserve of 42 hours.
Water resistance of this watch is only 30 meters so no diving with it, BUT I'm not sure whether it would be practical for that anyway. Finishing of the piece and further emphasising the modern looks the piece is mounted on a thick rubber strap. The Romain Jerome Tetris DNA is priced at €17,500.
Conclusion
I do like this piece with its large case size, excellent lugs, and the very bold colours with 80's theme BUT a small part of me can't help but wonder is this the end, has the game concept run its course or are we likely to see many more limited edition featuring games like "Mario Brothers" or even "OutRun"?
For more info, please visit romainjerome.ch 
JOHN GALT – CONTRIBUTING EDITOR
John Galt caught the horology bug back in 2010 on his first visit to a London watch show and has snowballed since; John has become an avid writer and blogger of timepieces of all kinds, from everyday timepieces to modern Luxury HauteHorology, his favorite brands being HYT and GreubelForsey that push the boundaries of modern watch-making. John keeps a keen interest in the UK watch scene with their many emerging brands and timepieces. John Galt currently contributes watch related articles for online publications in the UK and USA. You can follow John on Twitter @johng73 Read his articles here.