A new re-interpretation watch is on the horizon, and I think it's fair to say that its maker – Seiko – has clearly been inspired by our recent Top 10 Anniversary Watches of 2022 article. While the new watch isn't marking the anniversary of anything, it does combine historical design cues with modern watchmaking technology. Allow me to introduce the Seiko Prospex Save the Ocean 1965 Modern Re-interpretation SLA065 in all of its terribly-named glory.
To be clear, Seiko hasn't treated the SLA065 as a vintage re-interpretation of its original scuba diving watch, the 62MAS. Instead, it's a more modern take on that timeless design, which I guess is their way of saying "we've changed it to become unrecognisable", I say that like it's a bad thing, but it's really not. The dial of the watch, for instance, is blue with a pretty engraving on it. The pattern symbolises something called an astrolabe, a piece of equipment often used by astronomers in ancient times and still sometimes used today to perform various calculations, which often involve measuring angles between the horizon and a celestial body. It's needless to say, you can't use the dial of the SLA065 for this purpose, although it looks nice nonetheless. There is the usual complement of date window and lume on the hands and markers, as you'd expect from any diver.
The case of the watch is indicative of its place as a 'modern re-interpretation as well, as it's 41.3mm x 13.1mm, not as large as some diving watches with a 200m depth rating like this one, but large enough. The stainless steel case features brushing and polishing appliqué, and Seiko has given it a super-hard coating too. The holes in the side of the lugs mean removing the textured rubber strap is easy, even if they do spoil the otherwise classy case a little.
Inside is an automatically-wound 8L35 calibre, which shares its underpinnings with the 9S55 Grand Seiko calibre. It's a bit like the Toyota Mirai, which is cool and clever but also shares its chassis underpinnings with a Lexus. The movement has a 4Hz beat rate with a 50-hour power reserve, although I'm not sure if the caseback allows for a view of it or not.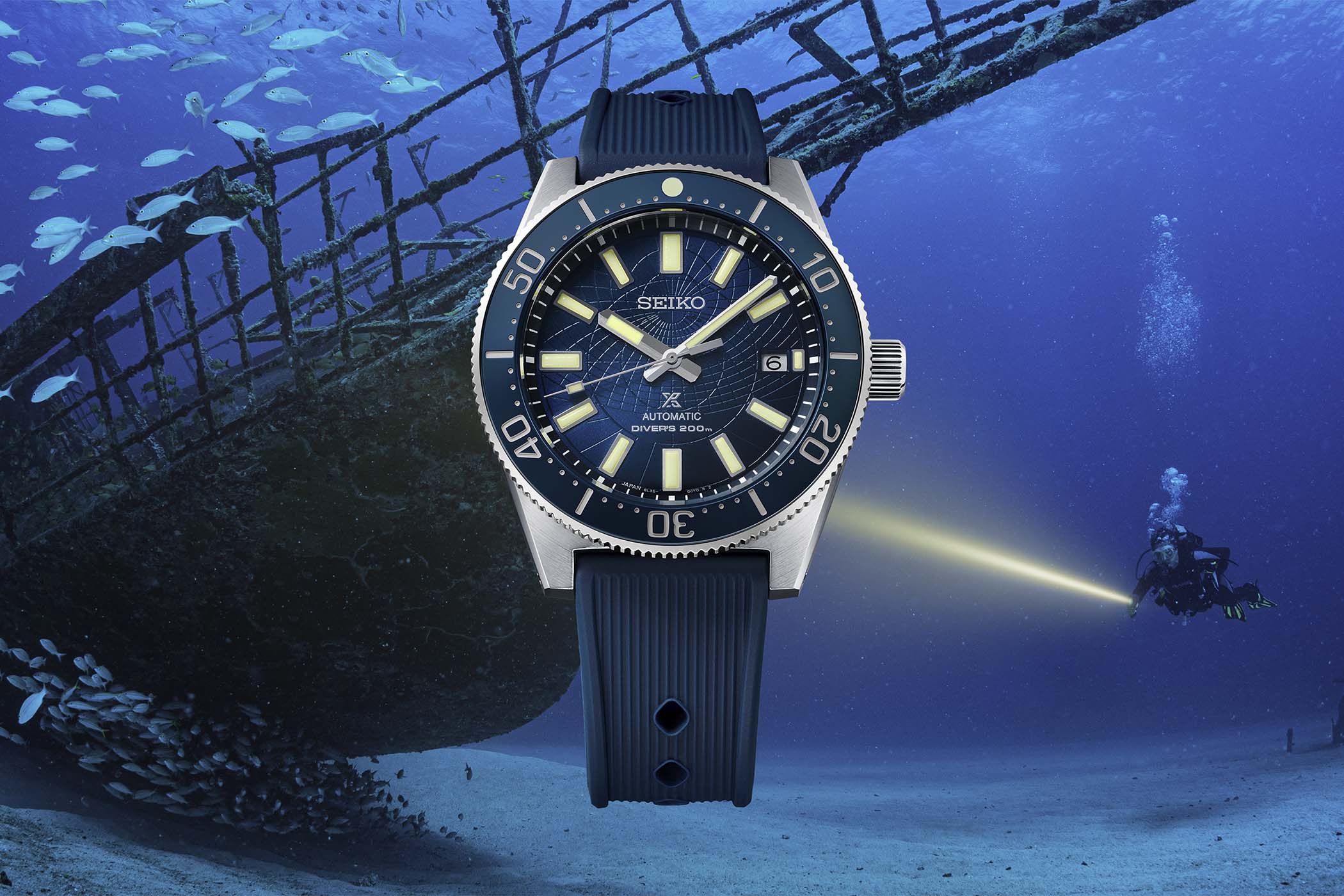 Seiko doesn't just remake its watches these days, well, it does, but it usually also ties them in with something. In this case, this version of Seiko's "Save the Ocean" programme allows Seiko to provide funding and other support to marine charities which are playing a vital role in cleaning the world's seas so we may all benefit from them, including the animals that call them home.
With a price of $2,900, this watch will be available in Seiko boutiques and retailers worldwide, but it's limited to 1300 examples.
Visit Seiko here.