Well, I'll admit, I like what I'm going to talk about for this article so there might be a little bias but what the heck, I'm pretty sure when it comes to award-winning watches, you'd probably feel the same. So without further ado, here comes the very nice Grönefeld 1941 Remontoire now with Bespoke Dials and a New Case Material introduced just this SIHH 2017. The GPHG Award Winning Grönefeld 1941 Remontoire is a marvelous artwork and this is not only because they come in such a limited number but because they're truly time-consuming to produce. Bart and Tim Grönefeld otherwise known as the Horological Brothers in the horology world just introduced new variants to the watch in collaboration with Kari Voutilainen which was revealed as their watchmaking friend. The latter's expertise on bespoke engine turned dials is very important for this new model for the Grönefeld 1941 Remontoire.
For us folks, the partnership between these two watchmakers only means good tidings since we can now see more options for the Grönefeld watches like vast choices of colored and patterned dials. It is said that the dials are made on a century old machine requiring the skillful precision of a well-trained craftsman. To make one guilloché dial, the craftsman needs several days just to complete the painstaking process of every decorative line. After this, there is also the enameling process which is then applied to the dial surface to enhance the guilloché patterns adding a profound depth and luster. This means that the dial never fades even if it gets exposed in the sun like painted dials.
Another exciting news is that the 1941 Remontoire now comes in stainless steel model. This is not just your typical steel since the 316L stainless steel alloy is treated with a secret stuff, of course, that results in a finish with a fine molecular structure giving off a bright color and a glossier finish than ordinary steel. Moreover, it is also good to mention that there are only 25 Remontoire watches in stainless steel to be made, so let's expect renowned collectors to be scrambling for a piece of this model. Besides these will be on sale with the original dials plus the latest bespoke engine turned and enamel dials.
So what exactly makes the 1941 Remontoire watch special? On the technical side, a remontoire timepiece winds naturally to charge a small power source near the escapement, this translates to a superior precision. Basically, inside the Grönefeld 1941 Remontoire is a release system that gets activated every 8 seconds and winds a small hairspring located below the dial. On any given day, the watch winds itself 10,800 times, let that sink in. There is also a historical side to the watch which is said to be inspired by Saint Plechelmus church 1913 clock movement equipped with a remontoire mechanism.
Moving forward, the sculpted case design is also named after their father's birth year. At 39.5 mm they look very classy. The design speaks for itself, I kind of really dig its discreet and very graceful lines. The case comes in multiple variants but topping the list is an 18k white gold alloyed with Palladium 150. There are also a 5N red gold and a 316L stainless steel case version, I like the last one.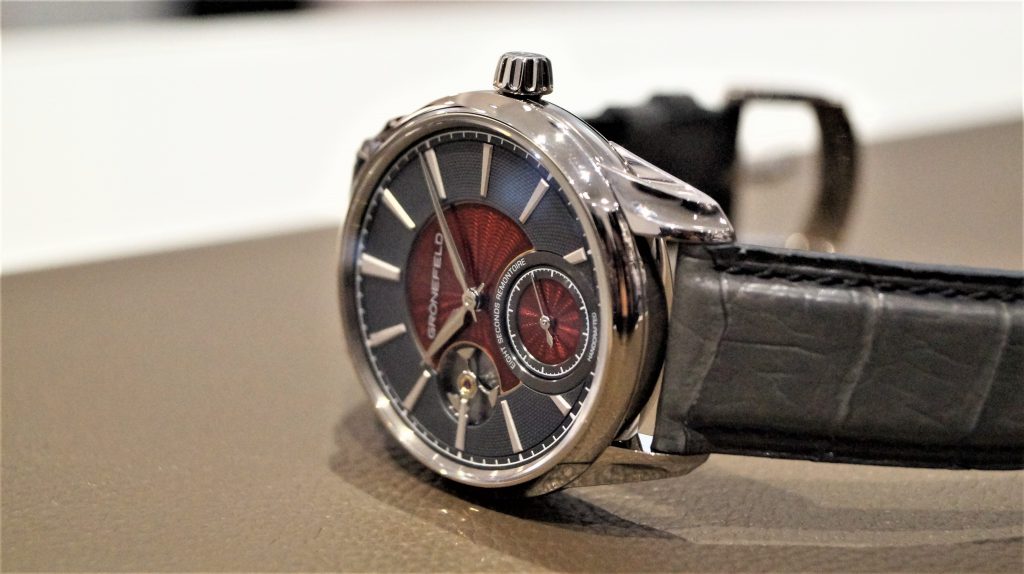 The flame-blued steel extended Lancette hour and minute hands sport hand polished centers. Just like the church version, the hour circle is higher than the central dial area which is kind of eye-catching. The applied index for the hours are faceted and diamond cut somewhat descending towards the center. The small seconds display is no less appealing, it sports perfectly polished beveled edge playing smoothly with ambient light.
The movement which is gracefully displayed on the visible caseback is nothing but a purist choice. We're talking about gold chatons, mirror polished screws with chamfered rims and slots, and surfaces that feature mirror-polished elements. With stuff snailed, grained, spotted and frosted what more could you ask for. The new 5-arm, double spoke gear train wheels are contemporary yet their circular grained surfaces pay reverence to fine watchmaking tradition. The design of the movement is also historically inspired since the stainless-steel bridges replicate the facades of the Dutch houses that Bart and Tim are fond of.
Note that only 188 Remontoire movements will be created and offered in a variety of choices for the case materials and dial variants. For more info, please visit gronefeld.com