To many of us, Cartier is known for its fashionable timepieces. I always think of classic yet chic enough timepieces that you can get by for occasional dressy meet ups. Since 1847 there have been many Cartier watches released in the wild most notable the iconic Tank which is approaching its 100th anniversary in September. Among Cartier's great releases are the Ballon Bleu, the Santos, Roadster, and the Panthère de Cartier which is going to be reintroduced this year. This collection includes various timepieces in a range of rare metals and beautiful finishes.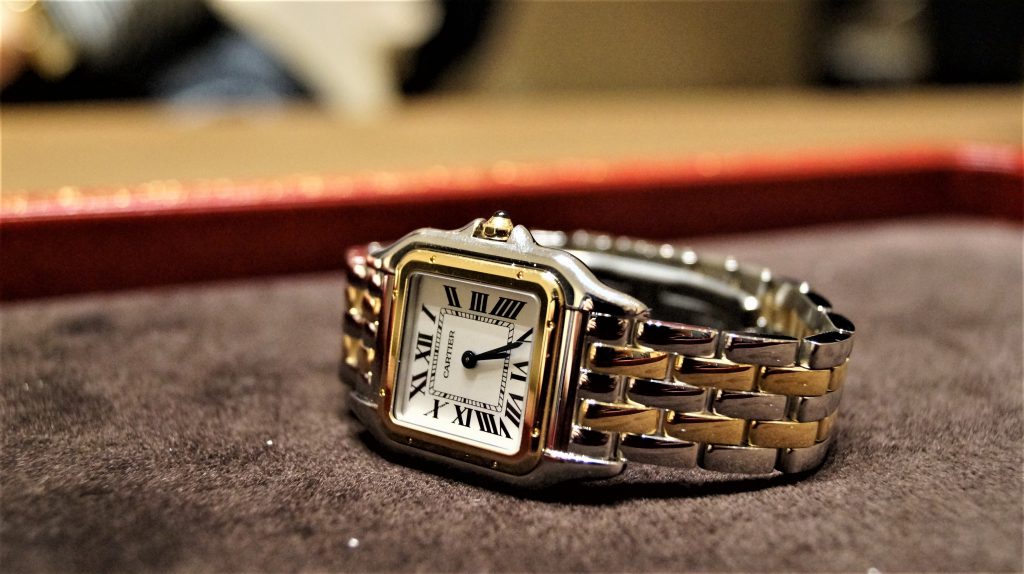 A bit of trivia, the panther was originally used in a watercolor painting by Louis Cartier in 1914 called the "Woman With A Panther", by George Barbier. Mr. Cartier became so fond of the painting that it became the symbol for the 1914 (the very first) Panther watch. The original watch featured a bracelet set with onyx and diamonds. 1983 was the initial launch of the Panthère de Cartier watch collection which continued production until the early 2000s. After a long while, it's now going to be revived by the company in two sizes sporting nine metals and/or finishes.
The 2 sizes of the reintroduced Panthère which are small and medium measures 22 mm and 27 mm respectively. They both have the same square case with screwed-down bezel and linked brick-lay bracelet equipped with concealed folding clasp. Contrary to what you may think since this is a reintroduction, the watches are still quartz. Nowadays automatic watches reign supreme but anyways Cartier is not really after technological prowess, it is more about style which is good enough for every discerning buyer.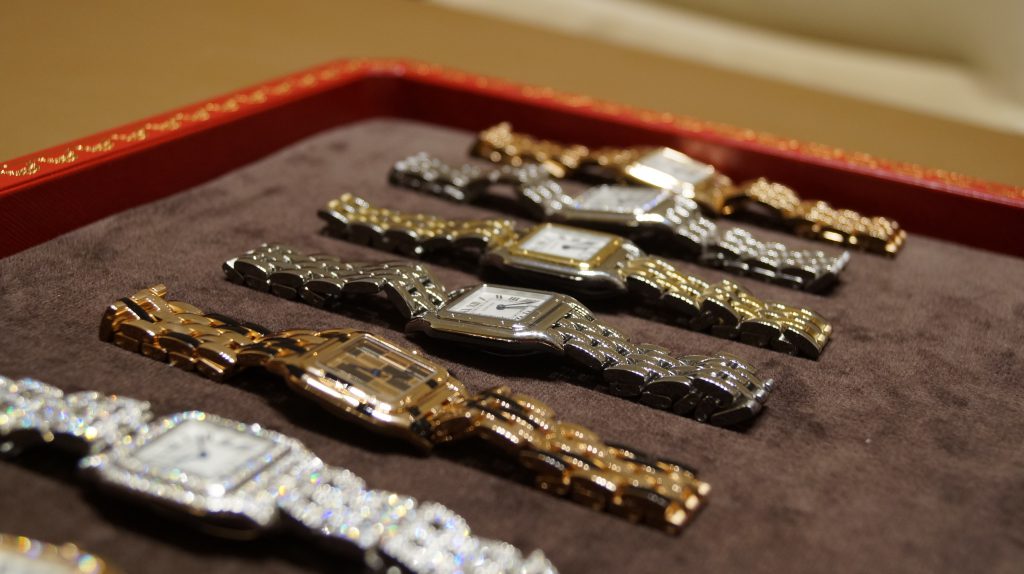 The colors available for the Panthère are yellow gold, rose gold with diamond bezel, rose gold, white gold with diamond bezel, white gold covered in diamonds, white gold covered in diamonds with black enamel animal spots, two-tone steel and yellow gold, plain steel, and a limited edition rose gold with black lacquered links. Price ranges from affordable steel variants to higher end models sporting full gem-set high jewelry elements.
Moreover, there are also chic versions closely resembling the spotted panther motif that was extensively explored by Cartier's legendary and charismatic design director, Jeanne Toussaint. When it comes to being chic, the Tank which is arguably the most iconic ladies' watch from Cartier sees a re-edition. The Tank is popular for its smaller frame and very lean look. Being a ladies' watch, its case and dial designs exude marvelous clean presentation.
As for the price points, be guided by the following list.
Medium Rose Gold, $23,000
Medium Yellow Gold, $23,000
Panther motif Medium, white gold, and diamonds, $141,000
Small Model, white gold, and diamonds, $81,000
Small Stainless Steel, $4,000
Small Two-Tone Steel and Yellow Gold, $7,350
Medium, Rose Gold and Black Lacquer, $28,900
If you noticed the absence of seconds hand on all the watches, that is because The Cartier Panthère De Cartier Collection watches are all battery powered. If you ask why the hefty price for less technologically advanced timepieces, well this is Cartier we're talking about and to some, everything is fine with this collection.
For more info, please visit cartier.com