Limited editions usually entail some historical inspirations or just a showcase of a watchmaker's craftsmanship. Anyway you put it, a limited edition is always interesting but the new Jaeger-LeCoultre timepiece goes far beyond expectations. This watch appears to some in many different ways like a mosaic of metallic elements or perhaps a skeletonized classic with a touch of stained glass machining technique. As for me, I'd like to think of it as a watch that truly reproduces the mystery of time. With only five pieces of this marvel, I'm pretty sure most renowned collectors scurried across the globe to get a piece of this timepiece. By the way, this was just introduced this year's SIHH event.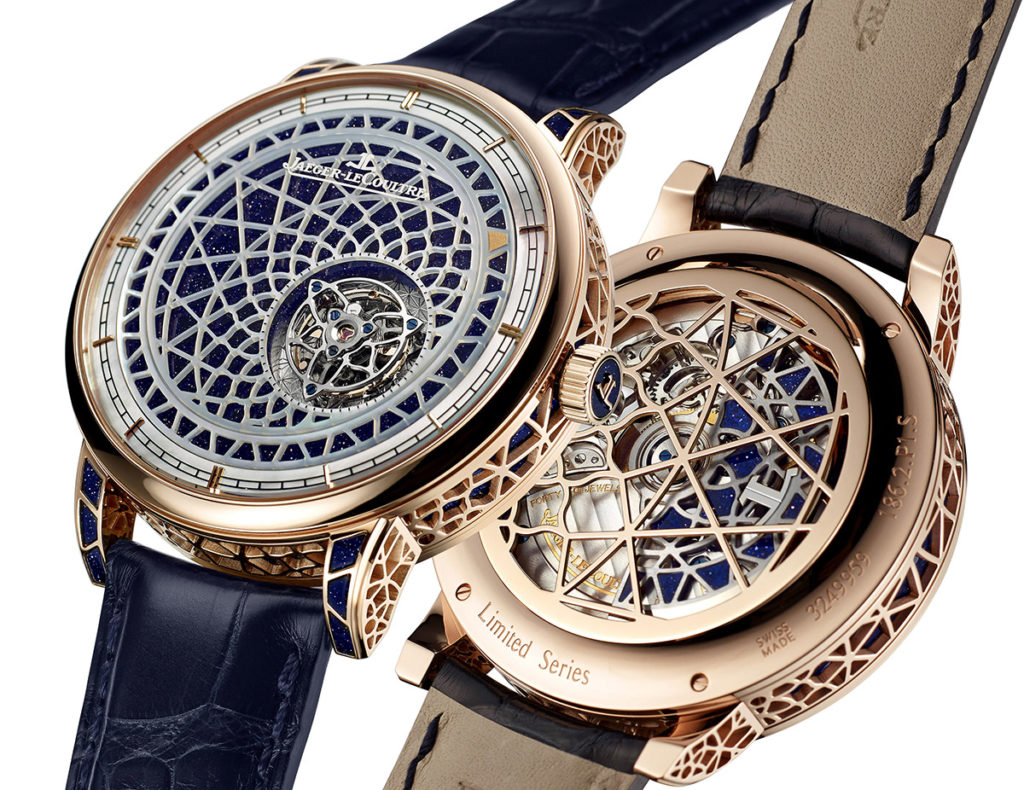 The pink gold case and the screwed lugs of the Jaeger-LeCoultre Hybris Artistica Mystérieuse LE Watch is a work of art, period. I don't know if I'd ever go past the presentation but darn, it's kind of hypnotic. Inside the case is the Jaeger-LeCoultre Calibre 941, a very very fine movement. However, the magical enchantment if ever there is to the watch happens on its architectural dial. Its gothic design, viewed from front to back or even the side showcases absolute fine watchmaking.
This is a highly skeletonized watch no doubt and if you look at its blue aventurine dial with an overlay of skeletonized mother-of-pearl lace, you'll understand why I'm rumbling so much. We can even see the flying tourbillon and pointed arch-shaped carriage of the movement which are all hand decorated, such precision in machining.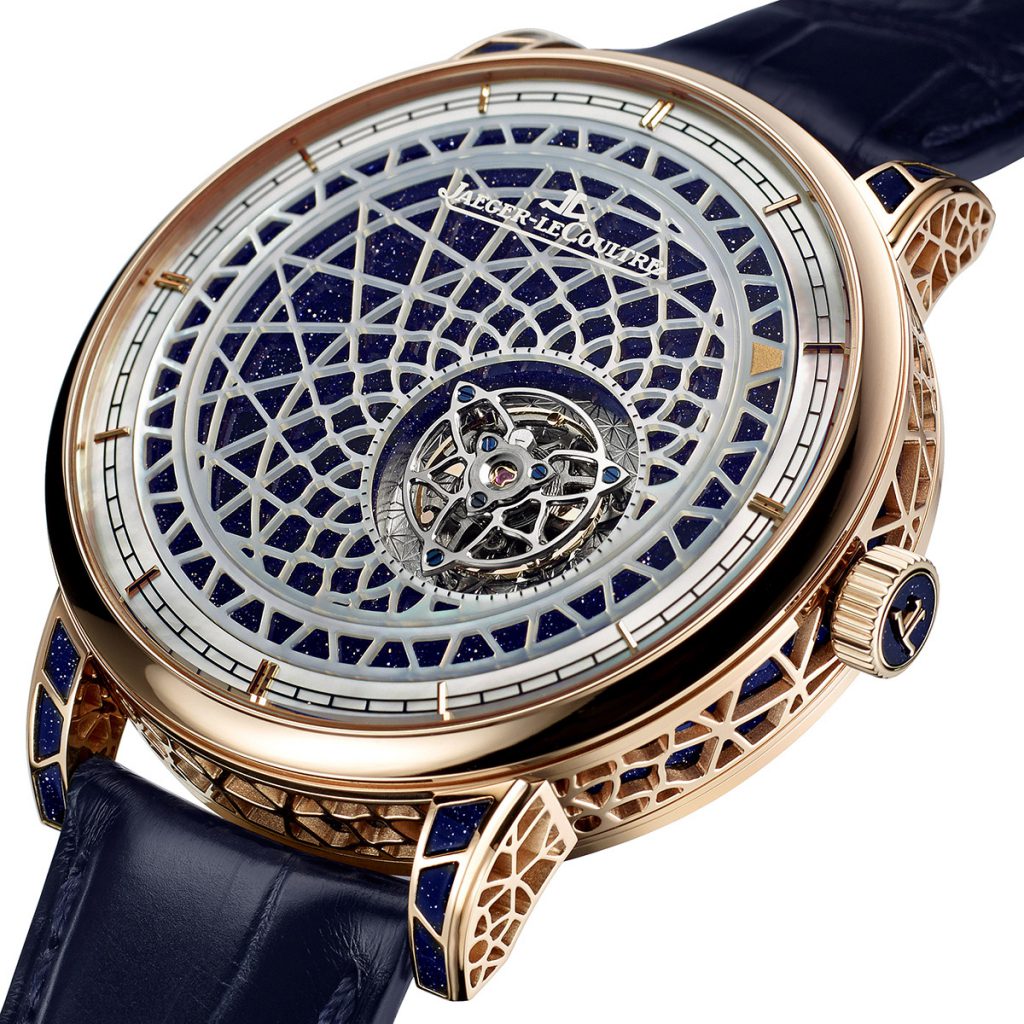 As for reading time, well you have to think of it in the most mystical way. There are no hands so to the untrained eye, it's just a very expensive complication with poor time read-up. However, the embroidery of skeletonized mother-of-pearl that produces a stunning pattern of symmetrical arabesques across the dial tells more story to time rather than tell it. The dial is also a bit elevated by a few millimeters allowing more substantial display to the movement that powers it.
The orbital flying tourbillon is darn crazy, in fact, it's the most prestigious of its kind. Technically you read the hour by the position of the orbital flying tourbillon on the dial then you follow a tiny arrow to pinpoint the minutes on the flange. It's a simple reading and for me, it's very precise and rather very fast.
It is said that the skeletonization of the watch is done by hand with a precision to the 100th of a millimeter. Countless hours are spent on each unit like the filing down, chamfering, polishing, chiseling, assembling of the multiple pieces of the movement.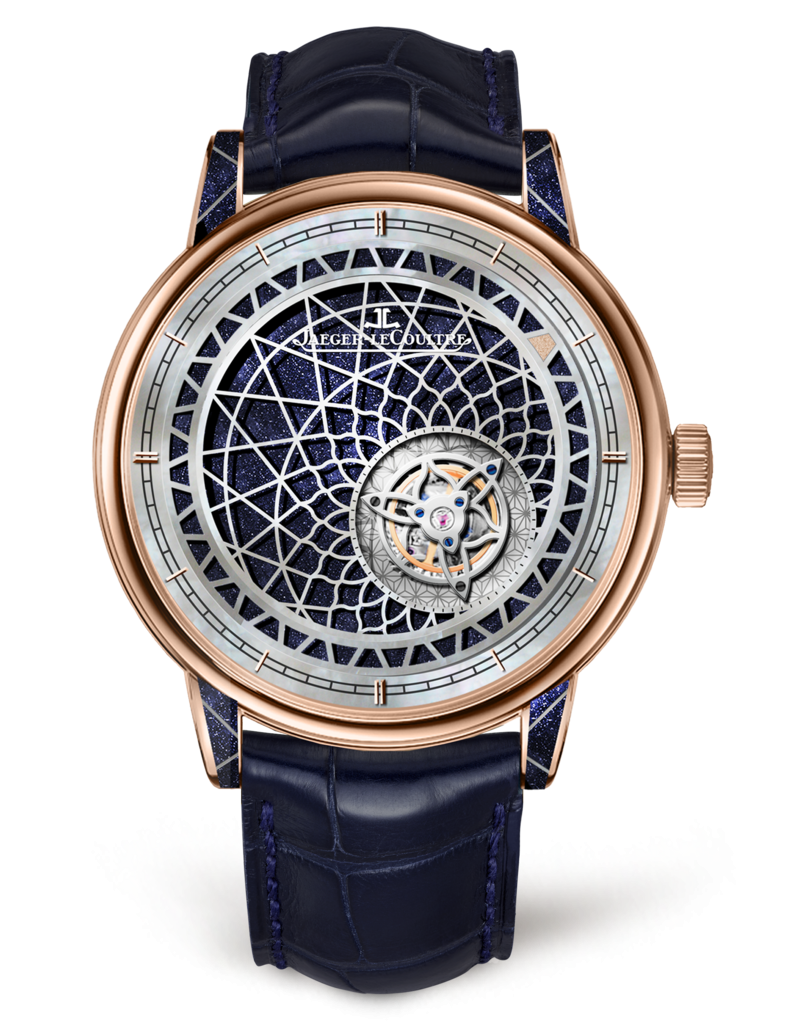 The Hybris Artistica Mystérieuse watch is unisex and comes on a leather strap. I can say more colorful words about the watch but I'd let you be the judge. Moreover, this timepiece truly belongs to the realm of rare and precious objects in one's collection. Just think about its twinkling patterned lacework, a mosaic perhaps or maybe just an over-decorated skeletonized watch, up to you. For more info, please visit jaeger-lecoultre.com