One of the most popular watch brands on Instagram is Richard Mille, the intricacies of their watches have become one of their biggest selling points alongside their futuristic, technical cases. This year their watches took a delicious turn into the world of sweets, or for our American readers, candy.
RM 07-03 Marshmallow and Cupcake
Marshmallow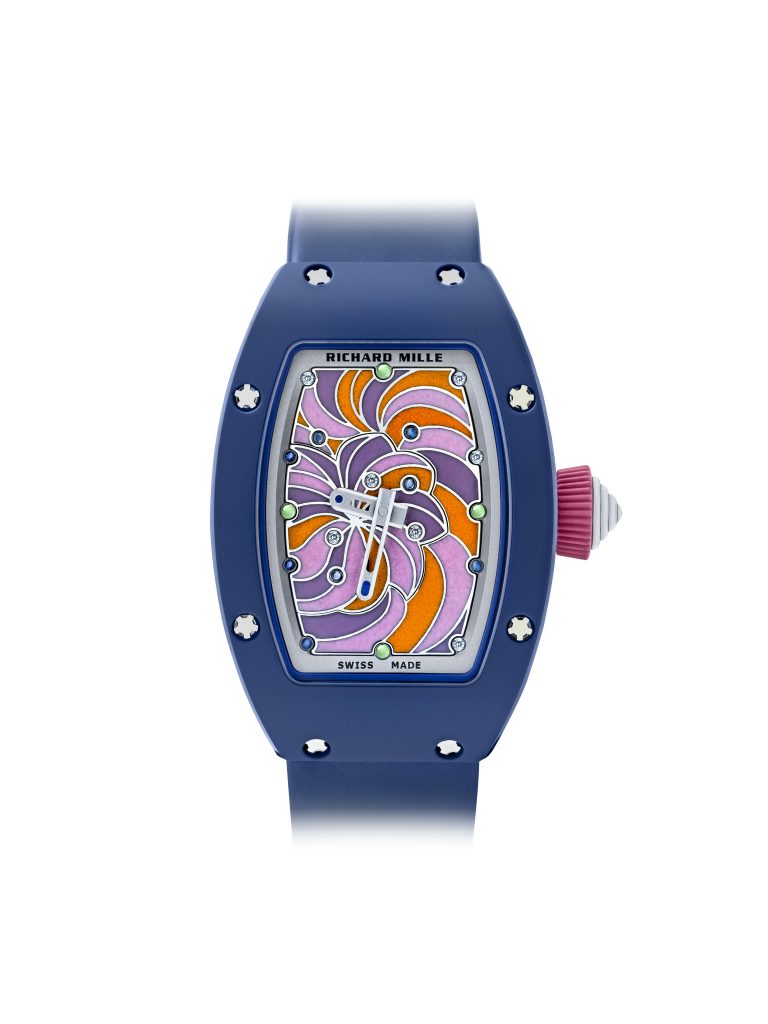 Cupcake
One of the most delicious forms of ca-sweets is the soft and chewy marshmallow, effortlessly portrayed on the RM 07-03. The soft swirling colours blend well with the white case of this automatic time only timepiece. If marshmallows aren't your thing, there's also the blue cupcake version with blue and oranges in there making it even more tempting. I'd imagine you would have trouble digesting the TZP ceramic case, though. The dimensions of these watches are: 45.32 x 32.30 x 11.93 mm
RM 37-01 Sucette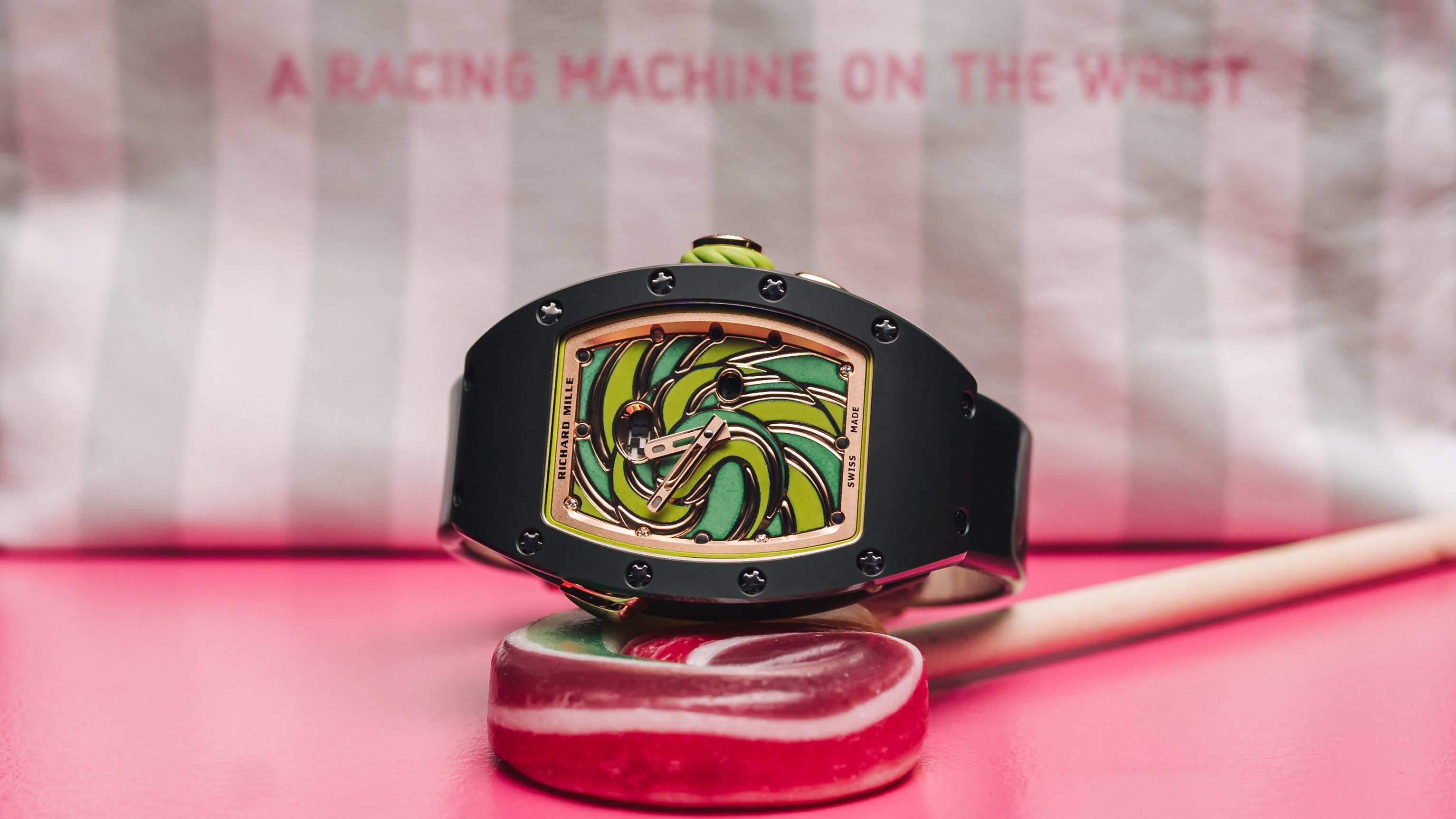 Sucette is French for lollipop, arguably one of the favourite treats of everyone ever. This one steps up the complications though, a push button mounted on the side of the case is used to change the crown setting. For daily wear, it'll be left in 'N' mode for neutral, but you can also set it to 'W' for winding or 'H' for hand setting. There's also an extra pusher for the date window too. This system ingeniously removes the extra stresses caused by having both functions possible at the same time, like in a car's gearbox, you only select what you need.
RM 16-01 Réglisse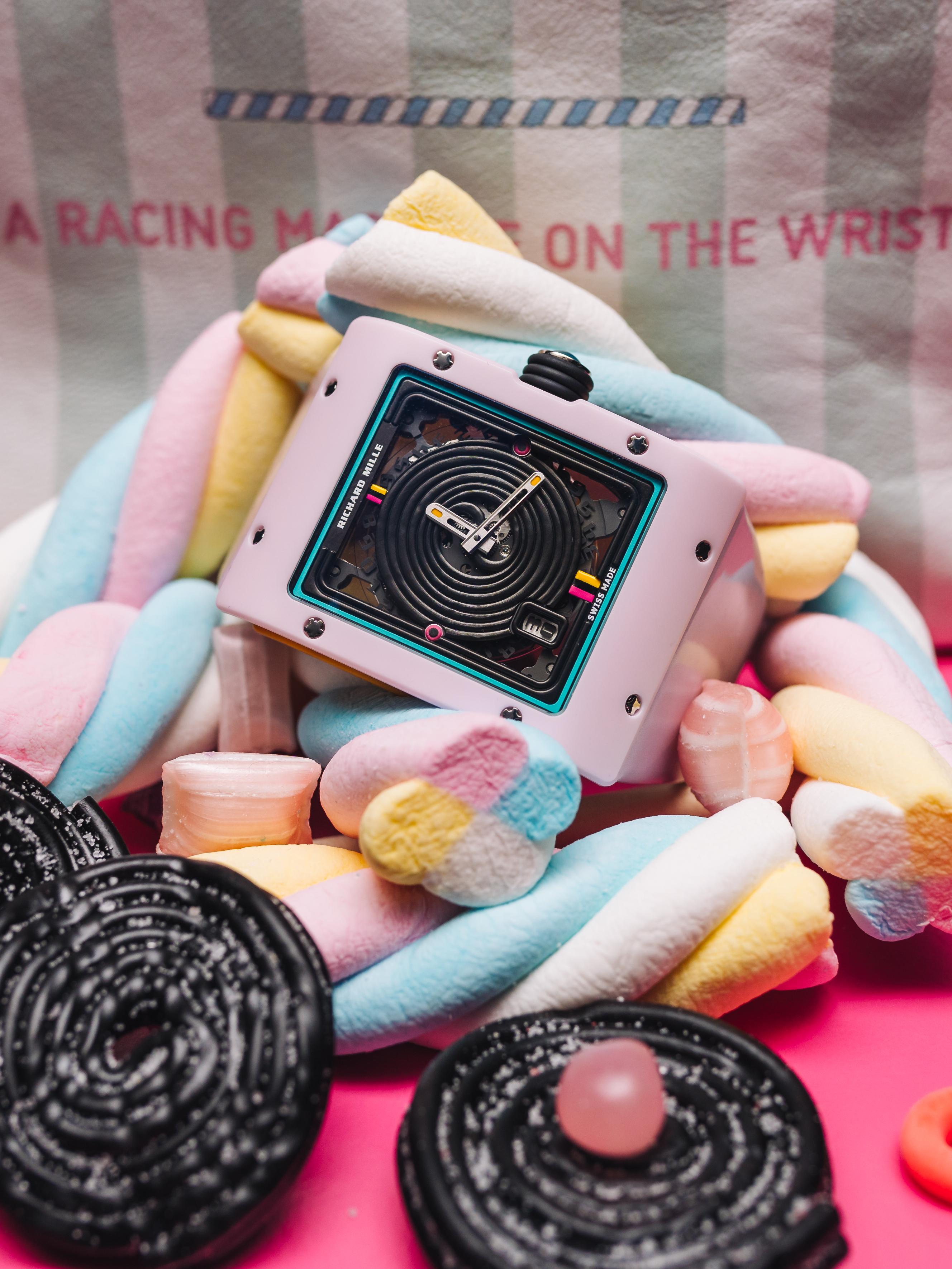 Moving from one of my favourite sweets to possibly my least favourite now, réglisse in English is liquorice, as is evident by the liquorice Catherine wheel which takes up most of the square dial. Like the other watches we've seen, the movement features a free-sprung balance as well as a variable geometry winding rotor, so, depending on how active you plan on being, you inform Richard Mille who will set it up accordingly. This means you are less likely to damage your rather expensive timepiece. Cool, eh?
RM 16-01 Fraise and Citron
Fraise
Citron
If your new year's resolutions haven't crumbled to dust by now then perhaps you'll be more tempted by the fruity watches coming up. Starting with the same base as the liquorice watch we looked at earlier, the Fraise (strawberry) and Citron (no connection to French cars, a citron is a fragrant yellow fruit with a thick rind and is supposedly a precursor to the lemon) watches take a decidedly fresh turn. You can have either orange or yellow colouring depending on which summer fruit you go for. The strawberry has a warming orange strap while the citron a cool summer's afternoon yellow, these have to be the ultimate summer party watches.
RM 37-01 Kiwi, Cerise and Litchi
Kiwi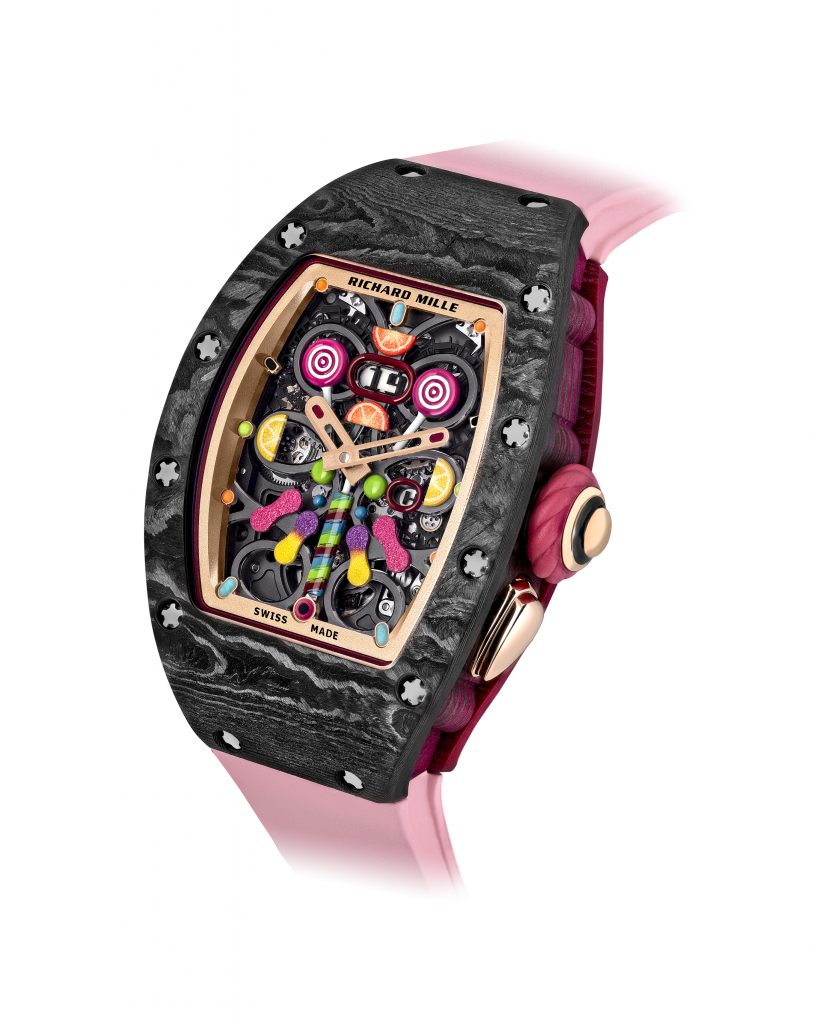 Cerise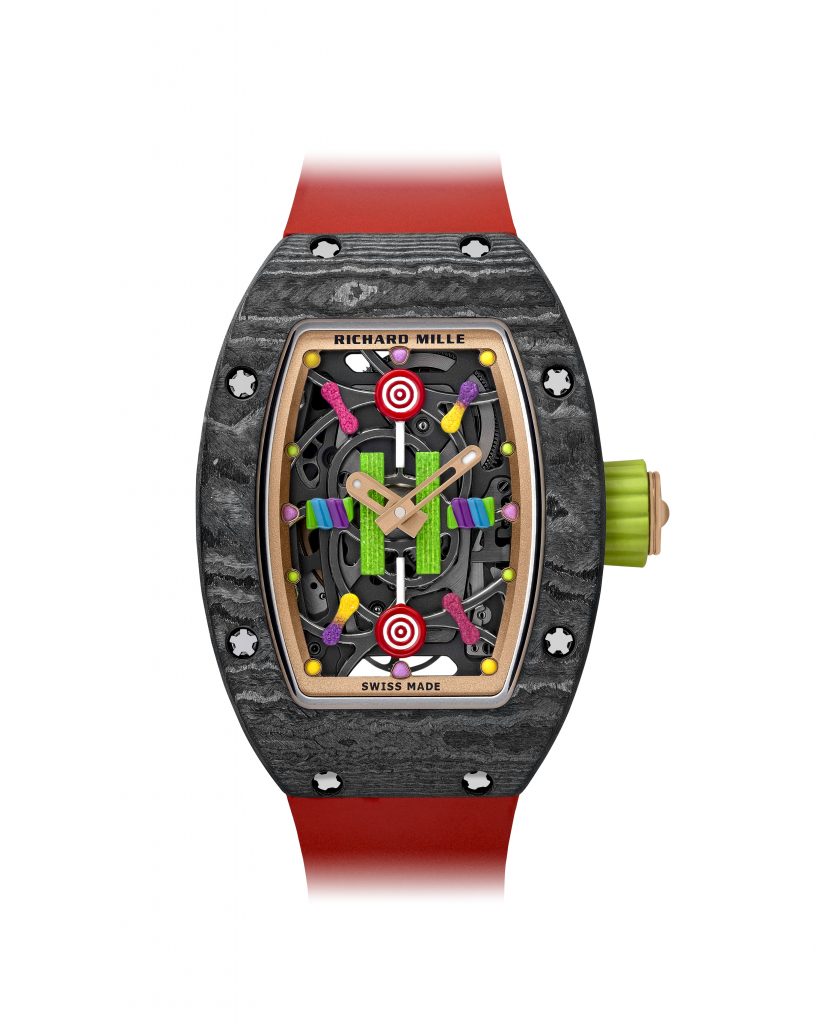 Litchi
Perhaps the big square cases aren't for you, in which case we return to the 37-01 which also received the summer fruits treatment. In this case, the fruits are a little more exotic, with Kiwi, Cerise (cherries) and Litchi (lychee) being available. The 37-01 platform provides all the mod cons of the other watches such as free-sprung balance and such. The power reserve on these watches is around 50 hours, and the cases are made of Carbon TPT, which is sheets of carbon fibre pressed together, similar to Panerai's Carbotech in a way. The case is made for Richard Mille by North Thin Ply Technology, and each case has a unique pattern.
RM 07-03 Myrtille
The last watch from Richard Mille is the RM 07-03 Myrtille (blueberry). The base watch itself is the same as the first editions we looked at in the article, except now the Carbon TPT case is made blue, and the back of the watch is made of a unique substance called Quartz TPT where threads of silica are used instead of carbon, the other models also have Quartz TPT casebacks. The watch also has all of Richard Mille's polishing and brushing decoration as you'd expect on the movement, so every piece is both technical and beautiful at the same time.
Imagine having all of these in one collection. You could pick one out each day like you pick Starburst from a bag and guess what you'd got. Just, don't eat them, please, we're not responsible if you try. Visit Richard Mille here.