One of the creative independents invited to Richemont's SIHH was Ulysse Nardin which always surprises us with something new and different. Be it their crazy Freak watches or the madhouse Grand Deck Marine Tourbillon. So it's quite surprising to see them release something more, shall we say, mundane? But, what their watches may lack in tourbillons left, right and centre and exploding minute repeaters, the attention to detail in these watches more than makes up for their appearance.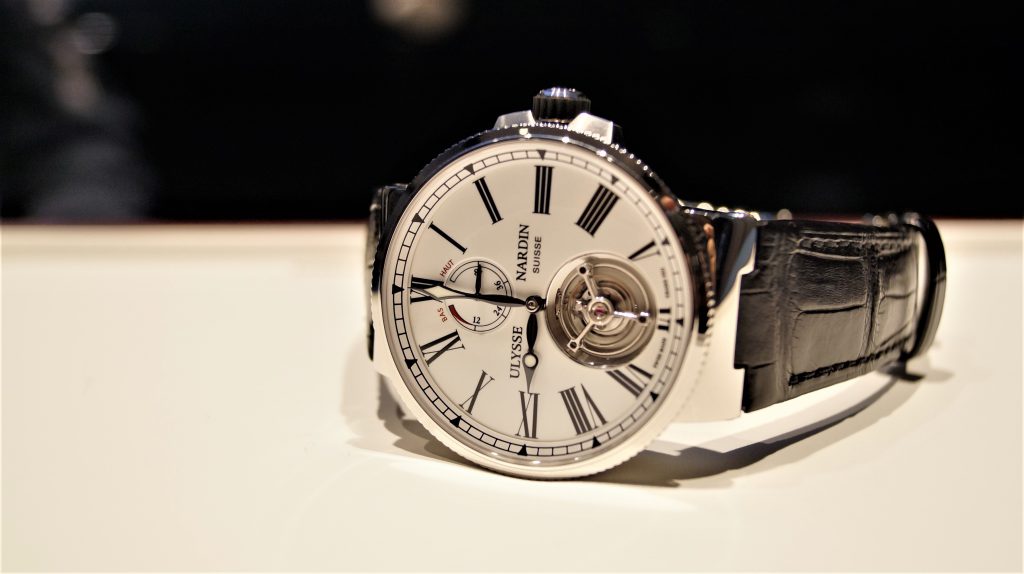 Marine Tourbillon Grand Feu
Going against what I just said, the first watch is, in fact, a tourbillon! Only, this one stays in its place like those other boring tourbillons ever turning in place… Hmm? What? Right, sorry, a little backstory on this one first. Ulysse Nardin started out by making deck mounted marine chronometers, super accurate timepieces designed to make sure ships would make it on time and safely by using the chronometer as a navigation tool. You can have that history on your wrist in the form of the UN-128 powered Marine Tourbillon Grand Feu. Interestingly, all components of the tourbillon are made in house by Ulysse Nardin, as well as the enamel dial which is treated by a 17th-century method to give it a slightly milky colour. This 60-hour power reserve watch has a water resistance of 100m and a surprisingly attractive price of 28,000 Swiss Francs, not a lot of money considering the costing of other tourbillon watches these days.
Regatta
The Regatta is one of those rare gems in horology which happens to be extremely complicated to operate that still sells well. A traditional regatta watch offers a countdown mechanism to the start of a race by moving the timing hand backwards at first. On any other regatta watch when the timer hits zero, the race starts and the watch is no longer required. However, Ulysse Nardin's new Regatta watch is actually able to then move this chronograph hand forwards and the watch can be used as a conventional chronograph. This made it perfect for their America's Cup partner, Artemis Racing, which made handy use of this watch. It's an amazing piece, to be honest, there are very few watches which take my breath away like this, but the Regatta manages. The watch is powered by a UN-154 automatic winding calibre made in house with a 3-day power reserve and a column wheel. Not to mention that kooky strap which you need to cut down to size and hope that whoever you sell it to (if you decide) has smaller wrists than you. The price for one of these is a fair 15,900 Swiss Francs in steel or 25,800 in black enamel limited edition.
Classico Maufacture Bleu Grand Feu
Enamel is clearly a theme here, I can't be the only one that noticed it, right? It seems Ulysse Nardin is really picking up the pace with their enamel dial production which shows they're willing to allow us access to their fine watches now in different combinations. The enamel dial is made by Donzé Cadrans, a Ulysse Nardin owned company which specialises in enamel art. The techniques used to make the Marine Tourbillon's enamel dial are also present here, producing a rather restrained yet attractive blue dial. The 40mm case is also more conservative when compared to the 44mm wide Regatta case too, making sure that Ulysse Nardin does indeed present a watch which fits the boundaries of 'sensible'. The in-house made calibre UN-320 of this watch has a silicium hairspring and runs for a total of 48 hours. The pricing is expected to be around €9,000.
Marine Annual Calendar Chronometer
We began with a Marine watch, and so we'll end SIHH 2017 with a Marine watch too (well, our coverage of Ulysse Nardin anyway, there's loads more to come!). I believe we may have saved the best until the end with this, Ulysse Nardin presents to us a new Marine Annual Calendar watch with chronometer rating, that only has an additional 12 parts to it. That's right, they've somehow shrunk an annual calendar into 12 extra components on the movement. Don't ask me how, it's a trade secret! The watch is 43mm in diameter and made of stainless steel and is based on the UN-113 calibre. An in-house made calibre, the UN-113 has been finished well on both sides with painstaking engraving on the open caseback (with an anchor style rotor) and blue grand feu enamel on the dial. The price is 12,900 Swiss Francs, a surprisingly affordable one too, this seems to be a theme in this year's releases from Ulysse Nardin, I'm not complaining, mind. You'd be a fool not to at least have a good look at these watches! For more info, please visit ulysse-nardin.com