Sinn is one of those manufacturers we don't often write about here at WristReview, I do wonder why that is to be honest with you. Sinn itself is a German company that is well regarded and recommended by those who buy their watches. Not only this but from the 1990s to the early 2000s every watch sold under the name Bell & Ross was actually a Sinn piece. The new T1 & T2 models have a lot to live up to, I'm pretty sure they can cope with the pressure, though.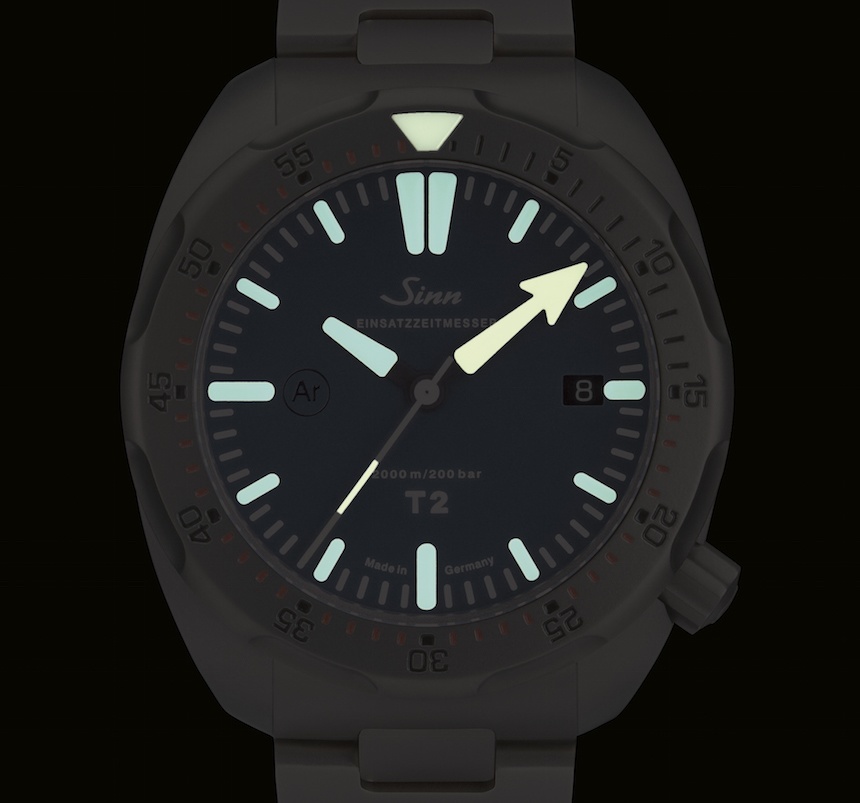 T2 B lume shoot
The T1 and T2 models came about during Baselworld 2013 in a move that made the U series more prepared for the rigours of the deep blue by making the case out of titanium which as we all know is not only more expensive than stainless steel, it's tougher and lighter as well. The new update brings an interesting colour of blue that we don't see very much on watches, it's more earthy than the blue used on other sports diving watches such as the Omega Seamaster Professional series and the Rolex Submariner watches. The hands and indices on this watch have been coated in lume as well as the 60-minute marker on the diving bezel.
T2 B
The T1 B watch is 45mm in diameter while the T2 B is 41mm and are both using the ETA alternative Soprod A10-2 automatic calibre that's been produced in Switzerland, for those who like dive watches with open case-backs, this isn't one of them unfortunately. The cases they are mounted into have been bead blasted to give them the unique matte paint look. The bezels of the watches have been subjected to Sinn's TEGIMENT treatment to make it more scratch resistant. This specially treated bezel also has to be pressed down to make it rotate which is used by scuba divers.
T1 B
The treatment and special depress-lock bezel aren't the only clever technologies Sinn has put onto this piece. During manufacture, they use their own Ar-Dehumidifying technology on the watch. What this means to the user is that the watch can survive being moved from an area of up to 80C to -45C and there won't be any fogging of the crystal. The watch is also backed by a three-year warranty. To further prove to use that this watch is very much a dive ready tool it's been certified by a company called DNV-GL which tests for compliance in the maritime industry which includes diving. The watch meets 4 European diving standards which are: DIN 8306, DIN 8310, EN 250 and EN 14143.
T2 B with black rubber strap
The T1 B will cost you $3240 and the T2 B will set you back $3060. With Sinn constantly adding exciting new features to their watches, will the technical prowess of their watches overtake the current brands we know and love? Only time will tell, but whether you take this watch on the rubber strap or the metal bracelet, you'll have a piece that's designed to be as future proof as possible. For more info, please visit sinn.de
HARLAN CHAPMAN-GREEN – CONTRIBUTING EDITOR
First introduced to horology with the Patek Philippe Calibre 89 by his father few years ago, Harlan enjoys his passion for fine horology. He prefers to spend his time in the boutiques of upmarket brands, trying out new pieces constantly. His preferred 3 brands are A. Lange & Söhne, Breguet and Vacheron Constantin. Although not much for the smaller brands, he still finds the complications intriguing and wishes to own one watch from each of his three favourites. Read his articles here.