One of the most important things to remember when making yourself a dive watch is the enormous amount of criteria your finished product has to meet. There are so many regulations that need to be in place to ensure safety these days it's untrue, scuba diving is the one place where you cannot afford to joke around with safety because otherwise death is guaranteed. Surprisingly there are many many regulations for pilot watches as well. Manufacturers must treat their watches as if they are going to be the soul instrument a professional will use (this obviously isn't the case anymore, but imagine being in an ancient plane with only a map, a compass and your wristwatch to tell you where to go, scary huh?).
DIN 8330 – Low pressure test
In 2012 Sinn developed TeStaF which stands for 'Technischer Standard Fliegeruhren' but we can translate that to mean Technical Standard for Pilot's Watches. Together with the University of Aachen in Germany and EuroCopter, they devised a certification for pilots watches which Sinn still uses. Now they have been working hard in tandem with other German watch companies to create the DIN 8330 Horology – Aviator Watches certification which up until March of 2016 was still in the testing phase.
DIN 8330 – magnetic field test
There are many many requirements for these watches to meet in order to gain DIN 8330 certification, this includes having a legible dial during any light situation, have an operable chronograph in temperatures ranging from -15 degrees Centigrade to 55 degrees Centigrade, the chronograph must also be operable while the user is wearing pilot gloves and must work in low-pressure environments that can rapidly change (when landing for example), combined with shock resistance it must perform all the time without fault. There is also testing for resistance of gaskets to hazardous substances such as kerosene, oil, and antifreeze. The watch needs to be proved that it can perform in these circumstances time and time again if it wants to have DIN 8330 awarded to it.
DIN 8330 – impacts and vibrations test
Sinn offers us three new watches which all have the DIN 8330 certificate right from the get-go and all three also offer date windows, which is nice. The three versions include a four-hander (three-time hands and a UTC function) with a clear orange 24-hour ring on it. A Chronograph and a Chronograph UTC are also in the lineup. The Sinn 103 Ti IFR chronograph watch (one of our favourites) has been modified a bit to meet the new criteria and has a matt titanium case which is 41mm in diameter and 17mm thick. The movement is based on a Valjoux 7750 calibre and is visible through the back, this one costs €2380 on leather. The similar Sinn 103 Ti UTC IFR has the addition of the UTC hand added to it which is really handy for long haul flights. Apart from that, it's pretty much the same legible chronograph we know and love, it costs €2880.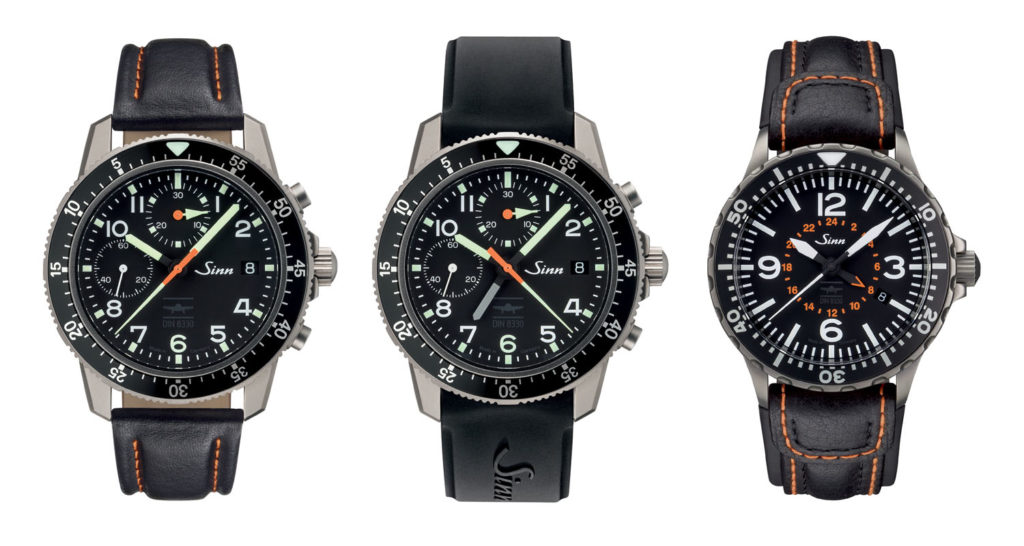 The 857 UTC VFR is the last watch to get the DIN 8330 merits and has a clear dial with rotating bezel and a TEGIMENT treated steel case which boosts the hardness of the steel to no end. This watch is 43mm in diameter and 12mm thick thanks to the lack of a chronograph module added to it. This is based on an ETA-2893-2 automatic winding movement and will cost €1990. You can order yourself one of these new Sinn watches from their website, expect deliveries to begin in the 4th quarter of 2016. For more info, please visit sinn.de