It's been a long time coming but the predicted recovery in the Swiss watch market is indeed showing distinct signs of recovery, and that recovery is coming from the long-predicted Asia market. Exports kicked off 2018 with the strongest growth seen over the past five year period, benefiting from the dynamic performance that saw exports rise strongly, buoyed by strong demand for high-end timepieces in Asia and a later Chinese New Year.
This meant shipments rose 13% to 1.6 billion francs ($1.7 billion) in January, which is the equivalent to 12.6% growth against January 2017, the Federation of the Swiss Watch Industry said. That's the biggest jump since October 2012 and the ninth consecutive month of gains, making the strongest growth in more than five years.
As we recall, the slump was initially caused by a string of global phenomena that conjured up the perfect storm including a Chinese crackdown on corruption, terrorist attacks in Europe and the rise of the smartwatch, which largely looks like tailing off. Now we see the renewed appetite for luxury watches from China and Hong has led to a strong rebirth from the longest slump ever recorded.
What About The Numbers
The strong growth in January, saw the Hong Kong market post its highest monthly increase for over five years at +21.3%, China climbed up to second place reporting +44.3%, Japan reported gains of +12.9%, easily racing past the United States seeing -1.9% decrease for more than two years now.
Europe is also struggling to catch up with Asia, although there seems to be light at the end of the tunnel with green roots showing in the French market reporting a +19.0% increase, as did the UK all be it a more modest +4.6% upward turn. Not so good for Germany and Italy who report a -4.1% and -4.7% decrease respectively.
Increase in Swiss watch exports driven by Asia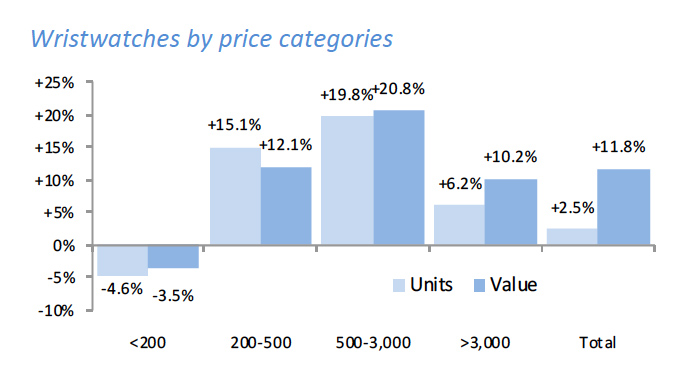 It's interesting to note that following the decline of the market and its subsequent rising from the ashes, the market for certain sectors is still suffering from lack of growth, specifically the sub 200 Franc and over 3000 Franc sector. Meaning the price range between 500 and 3000 franc market is seeing a sustained growth of +20%.
So, in conclusion, the market looks like this:
Shipments to China increased 44%
Shipments to Hong Kong increased 21%
Shipments to Japan increased 13%
Price points 500 francs to 3,000 francs represent a growth of 21%
Shipments to the U.S. slipped 1.9%
Final Word
What happens next is anyone's guess. Perhaps the Asia market will continue to drive the recovery, or maybe Europe comes back into the frame as Brexit is completed and fear of a European collapse fades.
All we know is that we know nothing, so watch this space.
Source: Federation of the Swiss Watch Industry FH
For more info, visit FHS online.