That is a cool name. FastRider, it signals sportiness, manliness, a strong go-anywhere will and dashing looks, much like the watch. It's weird how those went together, but I digress, let's 'ride on' shall we?
The best way I can think of to describe the new FastRider is by saying it's a little more modest and solemn in its presentation than the Heritage Chrono Blue which is in itself a beautiful watch, but it does all the things the Chrono Blue does on top. To be clear, there was a FastRider model before this one that was available in stainless steel with a white or red dial and was a collaboration between Tudor and Ducati motorcycles of Italy, two of the world's most effortlessly cool brands even if there are other and (dare I say it) better options available. If you're into both coolness and motorbikes you'll be glad to hear this watch is also the result of a collaboration between Tudor and Ducati.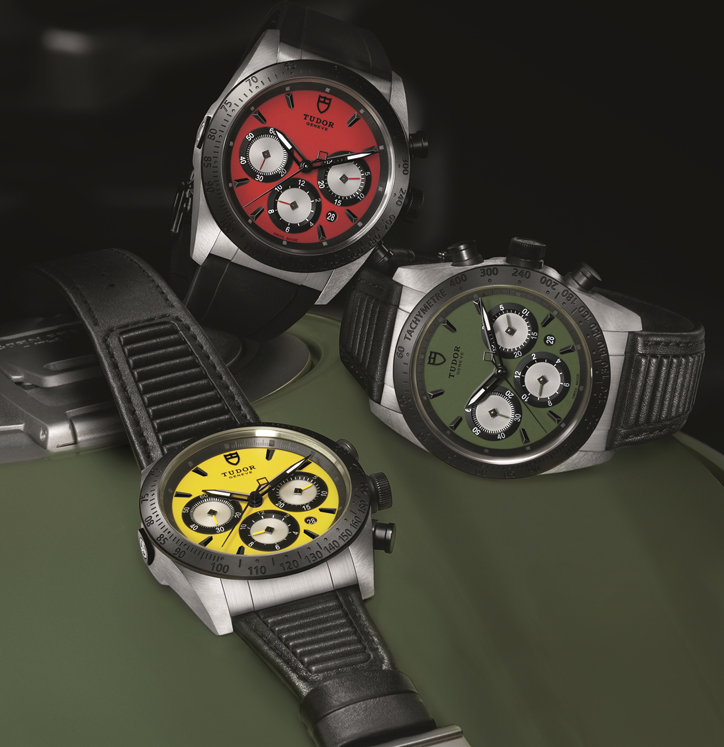 It keeps the same shape as the outgoing model, 42mm across and made of stainless steel, brushed surfaces and integrated angular lugs that make it the edgy piece it deserves to be. The differences include a black ceramic tachymeter scale and black PVD coated pushers and crown. The dial is a choice of either a lovely rich green, a beautiful Italian red or yellow that reminds you of the Italian sunshine on a lovely clear day, keeping to the colours of the Ducati Scrambler that the watch is partnered with. I must however sadly inform you that this model uses a Valjoux 7750 movement instead of the new in house movement, despite being unveiled at the same time. Maybe because all the designers were too busy riding their Ducatis along the Amalfi coast? If so, that's perfectly excusable, besides the 7750 is robust, easy to find parts for and is put to good use in this Tudor. Unusually there's a large button in the case at 9 O'clock that's used to set the date. Handy.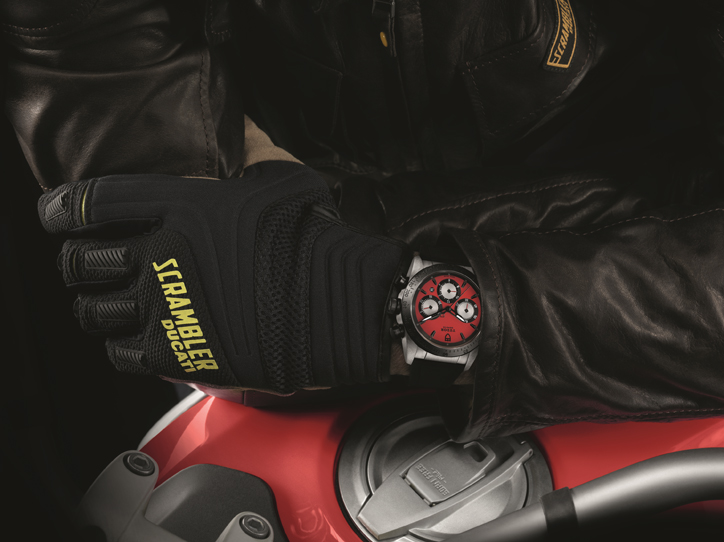 It's a trendy watch to go with a motorbike that's aimed at a younger generation of bikers, maybe around the age of 25 to mid thirties I'd say. That's not to say other age groups can't wear one, and it'd suit their biker lifestyle to a T. This watch also goes well alongside Tudor's FastRider Black Shield which is made of ceramic with splashes of colour here and there. My preference is the new FastRider, simply because there's more colour and the stainless steel case won't shatter. Both watches are beautifully designed though, and both cause us to dream of a big open road with an endless blue sky and nothing better to do than ride simply for the sake of riding. For more info, please visit tudorwatch.com

Harlan Chapman-Green – Contributing Editor
First introduced to horology with the Patek Philippe Calibre 89 by his father few years ago, Harlan enjoys his passion for fine horology. He prefers to spend his time in the boutiques of upmarket brands, trying out new pieces constantly. His preferred 3 brands are A. Lange & Söhne, Breguet and Vacheron Constantin. Although not much for the smaller brands, he still finds the complications intriguing and wishes to own one watch from each of his three favourites. Read his articles here.