You've seen Ulysse Nardin's timepieces. You've heard both the Breguet LaMusicale and the original Ulysse Nardin Stranger from back in 2013. Now meet the Ulysse Nardin Stranger Vivaldi. This piece is the next generation of the original Stranger timepiece. Let's take a look.
This watch has a Ulysse Nardin 690 calibre which is an automatic affair with their Silicium technology in there too. The main draw of this piece is what's displayed on the dial. It's the music box part.
There are two main different types of music box. First there's the disc type (which is what the Stranger is, but we'll come to that in a minute). The disc music box uses large metallic sheets that are circular in shape and have notches stamped in them. The winding mechanism and all the parts that catch these notches and produce the music notes you hear are placed underneath the disc in the music box casing. These boxes tend to generate a louder noise and can play a variety of different discs. A typical example of this is the Olympia model produced by F.G. Otto & Sons in the USA. The second type is the Swiss barrel music box. This system was used in the MB&F | Reuge Music Machines 1 & 2 (as well as all current Reuge pieces).
A drum with teeth catches different lengths of metal which are calibrated to be as sonorous as possible and produce a bright, crisp musical note. These tend to be a little quieter than the disc boxes on their own, but have the advantage of supporting multiple songs on one drum that can cycle through (like an old world iPod) and they can also have many additional music parts such as chiming bells and drums, all powered by one machine.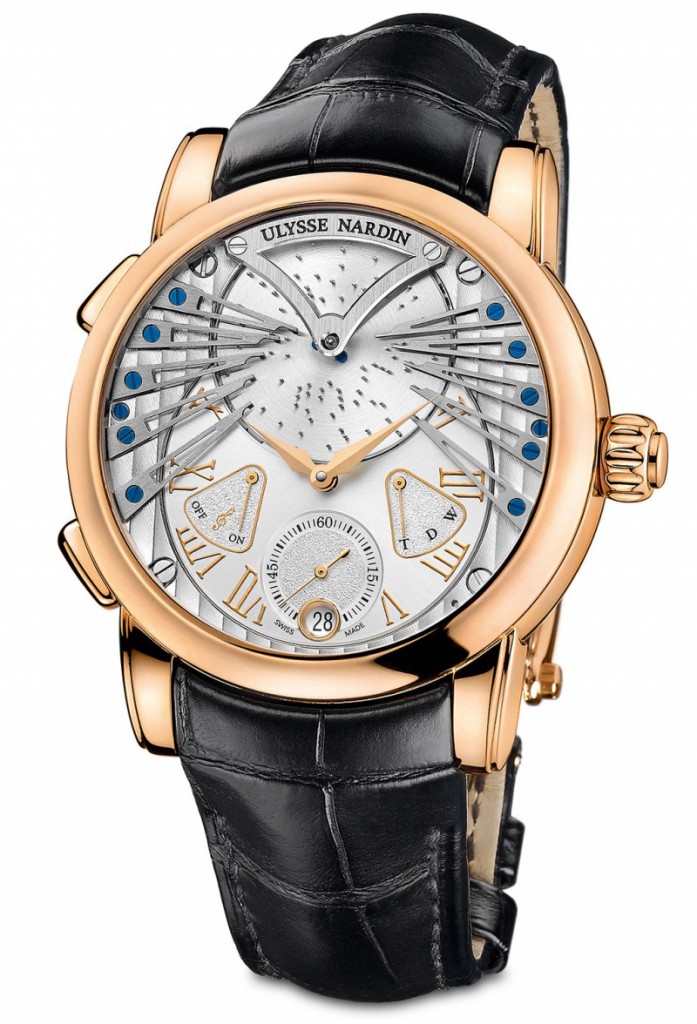 The Stranger uses a disc music box mechanism, however, the parts that the notches catch on are displayed artistically on the dial instead of being hidden away. This means that when you press the music button at 10 O'Clock on the case, the disc springs to life and plays a section of Spring from Antonio Vivaldi's Four Seasons. It's a very charming and very rare complication the music box. It's hard to create one that will sit on a desk and play when requested, but to put it into a watch where the standard type of governor is too large to fit, and where the music must be as clear as possible when the watch is worn on the wrist. That takes some serious skill.
This watch also features a set of beautiful gold roman numerals on the dial which I believe help the wearer to visualise musical notes on a page when the disc mechanism is in action. There's also beautifully shaped hands indicating the hours and minutes, a sub-seconds dial with the date at 6 O'Clock, a music box indicator and a special way of adjusting the time using the pusher at 8 O'Clock in tandem with the crown.
This watch is made of 18k rose gold. There may be other colours of gold coming soon too and maybe even platinum. However, if you want the loudest and clearest Stranger piece, stick with gold as it's more sonorous and helps pronounce musical notes more.
The Stranger Vivaldi with its artistic dial and beautifully engraved caseback helps cement Ulysse Nardin as a watchmaker that produces not only different ways of telling the time, but also different ways on enjoying music too. For more info, please visit ulysse-nardin.com
Technical Specifications
Limited edition: 99 pieces
Reference: 6902-125/VIV
Movement: Caliber UN-690
64 jewels
Escapement, anchor and balance spring in silicium
Power-reserve: Approx. 48 hours
Winding: Self-winding
Functions: Hours, minutes, seconds
Selection of functions by integral pusher crown
Melody played on the hour or on request
On/off selector for the melody function
"Melody-on-call" selector
Case: 18 carat rose gold
Diameter: 45 mm
Water-resistance: 30 m
Dial: Small seconds and date display at 6 o'clock Roman numerals Music box mechanism on rotating disc with 10 blades
Crystal: Anti-reflective sapphire crystal
Crown: with special pusher
Case: back with a medallion
Strap: Leather strap with a folding buckle

Harlan Chapman-Green – Contributing Editor
First introduced to horology with the Patek Philippe Calibre 89 by his father few years ago, Harlan enjoys his passion for fine horology. He prefers to spend his time in the boutiques of upmarket brands, trying out new pieces constantly. His preferred 3 brands are A. Lange & Söhne, Breguet and Vacheron Constantin. Although not much for the smaller brands, he still finds the complications intriguing and wishes to own one watch from each of his three favourites. Read his articles here.