I'm not much of a traditional person but when it comes to classic watches, I love traditions. The Only Watch 2015 charity event has been very good to horology fans, but there are times when we just want to see the uncluttered simplified classics. Fortunately, Blancpain has entered the fray and glad tidings do they bring in the form of a special watch, a truly unique or one-of-a-kind masterpiece. I guess I'll just break the surprise for you — the Blancpain Villeret Traditional Chinese Calendar is all about exotic pleasures. Let me put it this way, it always feels great whenever you find yourself in a foreign land completely isolated from your very own comfort zone making the new Blancpain an oasis of excitement.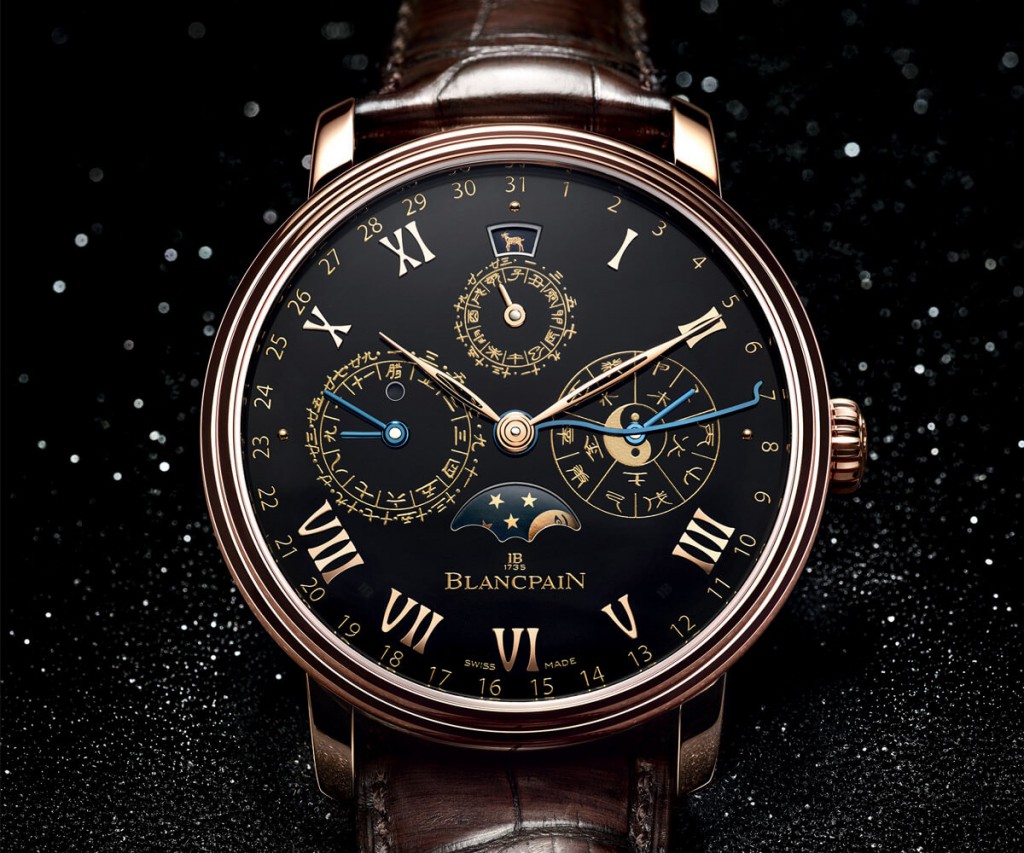 If you believe that the next power country is China, then why the heck not invest on a Chinese calendar, right? Silly as it sounds, there are indeed many Chinese out there who have deep pockets so I guess this Blancpain is trying to reach out to them. Nonetheless, I'm sure that there are those amongst us who simply love particular highlights on their watches, heck we even like alien looking symbols on our watches which don't mean a thing. So yeah, Blancpain's reasonable design doesn't just reach out for a specific audience, it's for everyone provided that you know a little about Chinese culture. So what's in store for us?
The watch is gorgeous, with its enigmatic curves and subtle Grand Feu enamel black dial, you would simply wish that you can have one during the auction. It's a complicated watch and it features several unique elements plus throw in an 18 carat red gold 45 mm case and you have yourself a classic timepiece. It is also based on a classical perpetual calendar but instead of the Gregorian calendar, Blancpain has decided to feature a Chinese calendar thus effectively highlighting the key aspects of Chinese culture. Blancpain's typical signatures are everywhere from the gold case to the gold indications mated to the black enamel dial. There are also plenty of valuable information displayed on the beautiful dial such as the zodiac sign at the 12 o'clock, the five elements indications and the 10 celestial stems just outside of the sub-dial at 3 o'clock. There is also the representation of the combined 12 animals of the zodiac highlighting the sixty-year cycle that is central to the Chinese traditions.
As for the movement, we highly suspect that it's going to be the in-house caliber 3638 since we're basically looking at a classical base plus the complications involved such as the traditional double-hour indication, day, and month including the indication of leap months. Somehow, the exhibition case back allows a glimpse of the specially designed oscillating weight which makes the watch's internals tick. Nonetheless, the watch also comes in a dark brown leather strap.
As for now, we can only see the visible aspects of the watch so stay tuned for the Only Watch charity auction which will be held in Geneva on 7th November 2015. For more info, please visit blancpain.com
JOVAN KRSTEVSKI – FOUNDER, PROPRIETOR & EXECUTIVE EDITOR
Watch collector, aficionado and an Event profile in the Swedish nightlife. He launched Watchgeek back in 2011, which is now known as WristReview and is one of the most widely read watch blogs on the Web. He quotes 'WristReview is a site to help people find, explore, discover and enjoy wristwatches.'  His passion jump started in his early teens when he was given his first mid-range wristwatch which was an Omega Seamaster. Since then he has always been in love with wristwatches! Besides WristReview, he also writes for a number of publications. Read his articles here.