Harry Winston is a world unto itself in jewelry. Founded in 1932 by the company's namesake, Harry Winston has acquired, cut and sold some of the most impressive gemstones ever found. Harry Winston have been crafting timepieces since 1989 and have been part of the Only Watch auction since 2011.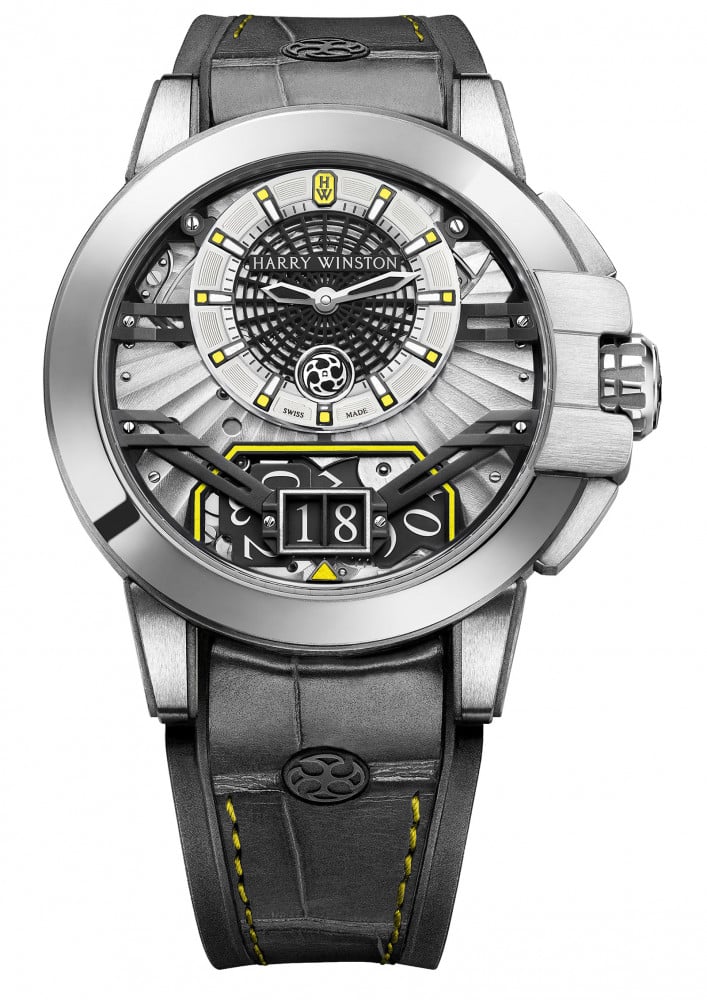 The Ocean Big Date for Only Watch is part of the Harry Winston 'Project Z' collection.
Launched in 2004, Project Z is a technically demanding collection for Harry Winston, as the watches often make use of a wide array of materials and complications. For example, the standard Big Date Z11, available in a series of 300 pieces, is made from Zallium, a proprietary material of Harry Winston's that is lighter than steel but extremely resistant to corrosion. For the Only Watch edition, Harry Winston chose to use 18kt white gold instead. The slight ovular case of the watch is framed by thick lugs and a large crown guard at 3 o'clock, both with a matte finish that contrasts against the polished bezel.
The Project Z collection is a combination of different elements in watchmaking; the heft and functionality of a sports watch, the elegance of a dress watch and the inventiveness of haute horology timepiece. One of the defining features of all Project Z watches is the central seconds, which is designed to look like a shuriken. I don't know what a shuriken has to do with an American jeweler and watchmaker, but it's an interesting visual motif nonetheless that appears on the dial and on the strap.
Yellow is the color of Only Watch 2017 so Harry Winston chose to augment the open-worked dial with a variety of yellow accents. Every marker on the dial is highlighted with a yellow accent, along with the border of the big date at 6 o'clock. These accents are made from phosphorescent material that actually glow blue in low light. The yellow theme continues onto the alligator strap which has yellow contrast stitching along the sides and a yellow rubber protective base.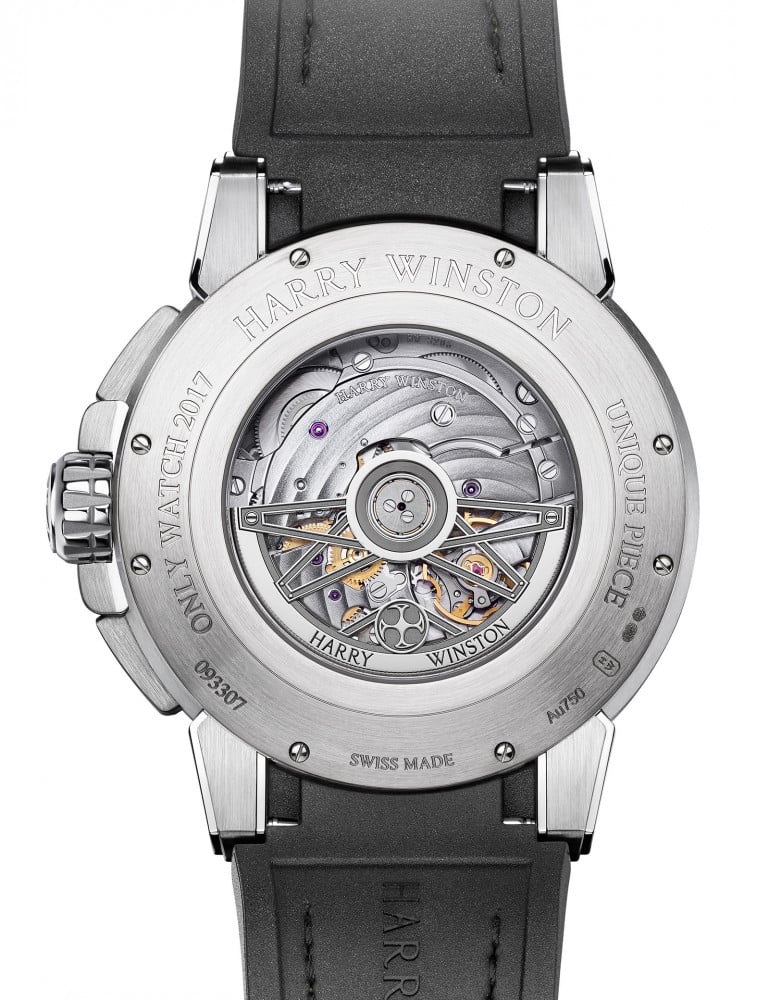 Inside the watch is the in-house Caliber HW3206.
It beats at 28,000bph and has a 72 hour power reserve, thanks to the twin barrels. Swatch Group acquired Harry Winston in 2012 and the HW3206 makes use of the silicon balance spring developed by Breguet and Omega. Silicon is a wonderful material for a balance spring as it is completely impervious to magnetic fields. If you've spent somewhere between 39,000 to 49,000 CHF on a watch, the last thing you want is for it to be magnetized by a hair drier
Given Harry Winston's history of crafting exquisite jewelry, it is no surprise that they have paid careful attention to the aesthetics of the movement. Both sides of the bridges have been finished in a traditional Cotes de Geneve style in a spiral pattern that Harry Winston call snailed trottoir. The open worked dial and rotor ( also made of 18kt white gold) allow the wearer to gaze past the usual obstacles to see the meticulous finishing in even greater detail.
I'm not a fan of traditional skeleton dials as they often hinder the legibility of the watch, but I really like this open-worked dial. The small hour and minute counter, along with the big date, are fantastically easy to read and I love the architectural style arms reaching out from the edges of the dial. They remind me of flying buttresses, a supporting arch used on grand medieval buildings like cathedrals and palaces. Like modern buttresses used today as architectural anachronisms, I doubt these arms serve any real purpose on the Ocean Big Date other than to look good. Yet watchmaking has a history of keeping designs around for purely aesthetic reasons. The claws on a modern Omega Constellation no longer keep the two case halves together and it has been decades since a Rolex fluted bezel was used to keep the crystal in place.
Harry Winston might not mean a lot to you outside of expensive diamond rings, but when given the chance to make fine watches, it's clear they have what it takes.