Watch Geeks Getting Coffee is an interview series. In the series, we sit down over coffee with a watch enthusiast and talk about his/her watch or collection of watches. You don't necessarily have to be famous or a publicly known figure to be featured with us; all you need is a good story and an interesting watch or collection (broadly construed) that you want to share with our readers.
For our first instalment of Watch Geeks Getting Coffee, I'm delighted to introduce our readers to the Danish watch collector and gentleman Claus Nissen. During his decades of collecting, Claus has shared his passion for Jaeger-LeCoultre in particular and written several detailed accounts of his experiences from numerous watch-related events around the globe. Oh, and he also has an almost identical brother who's also collecting watches; together they're affectionately known as Thomson and Thompson, the amicable duo from the Tintin Universe. Today, Claus is on the bench with us having a cup of coffee and a little talk about watches.
The watch community consists of a varied bunch of people coming from all walks of life. Can you tell us something about yourself before we dive into the watch-related questions, Claus?
Of course. First of all, I am happy to be the opening act of what I am sure will be a great series of conversations about watches.
If we leave the watch part for later, I can start at the first angle – family. I am the father of a set of twins, have been married to the same wonderful woman for 26 years now and am the happy owner of a noisy bulldog named Cooper. In the course of my life, I have lived in France (twice), Spain, Belgium, Jutland (another part of Denmark) and the US. If we look at the professional side, I have just embarked on my third career. First, I worked in large corporates, including LEGO. That led me to my second career as a consultant where I have worked for many years in both Denmark and the US. I am now heading out on my own (editor's note: https://fadum.dk/), wanting to teach and do consulting – and pick up other interesting opportunities that might show up. I love reading and gadgets.
Most watch enthusiasts – if not every single one of them – have a specific story as to how their journey of collecting watches began. What event sparked your interest? Do you still feel the same desire or passion as you did a couple of decades ago?
Well, I think mine started at a fairly early age. I distinctly remember sneaking out my father's watch from the drawer in his office desk at home. One day, he caught me in the act and took a picture of me sitting in a tree with one of his watches, a Jaeger-LeCoultre Polaris from 1967, on my arm. I actually inherited this watch when he died back in 2004. It was only a few years later that I realised that the Polaris is a rare watch, maybe even a cult watch.
My watch interest at that point was not as strong as it is today. But with a part of my inheritance, I ended up buying my first piece in Brussels, a pre-owned Jaeger-LeCoultre Master Compressor Memovox, during a visit with my younger brother. That watch certainly started something.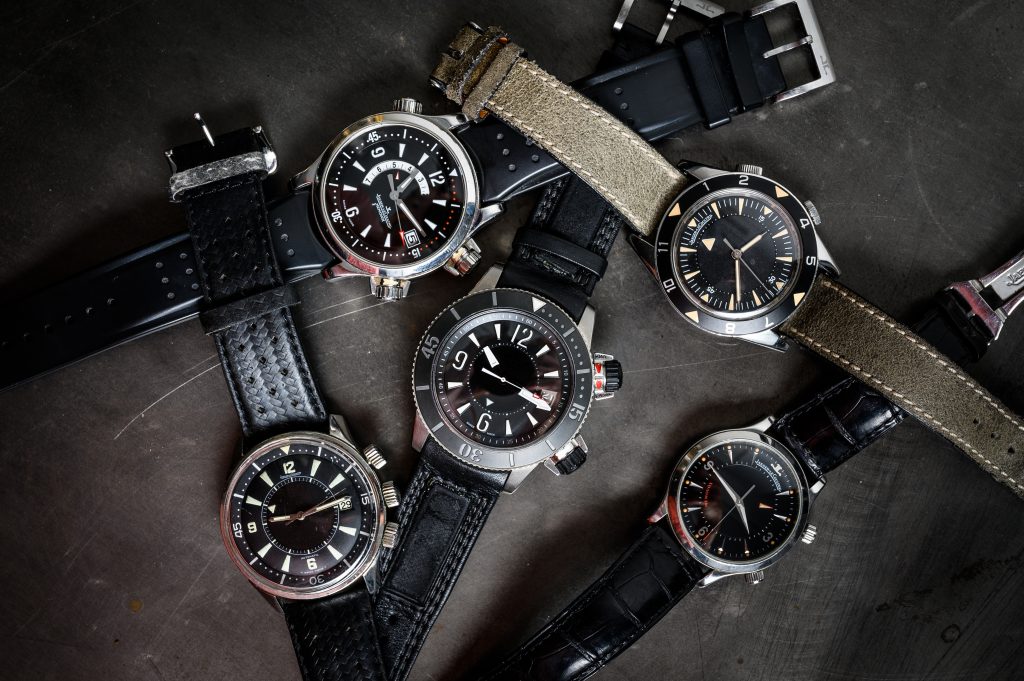 Today, 15 years later, I am more interested in watches than ever – but I have moved (somewhat) from a fascination of the look of the watches to having an understanding and appreciation of how the insides work. In addition, I also very much enjoy meeting other watch fanatics – as it almost always turns out that we have a common mindset even though we don't know each other.
Would you consider selling or trading your 1967 Jaeger-LeCoultre Polaris if you were to receive a truly tempting offer, or are we talking about a Catholic marriage (i.e. till death do you apart)? The interest of vintage watches has – as you are probably aware – increased quite massively over the last decade, and an all original Polaris could fetch a pretty penny.
The short answer: no.
The watch not only carries a lot of personal memories for me, which should be enough to refrain from selling it. In addition, as it turns out, it's even rarer than I thought. During my latest visit with Jaeger-LeCoultre at the manufacturer, they offered to open it up and check it out. It's actually a 1967 version and not the more common 1968 version.
On the other hand, if I ever had a crazy offer on hand, then there's always the thought at the back of my mind: "What else could I get?" My list of grails contains a few quite expensive watches – the 1921 from Vacheron Constantin, the Extreme LAB 2 from JLC, the Octa Sport in aluminium from F.P. Journe and a few others as well – but in the end, I think the personal memories win. "No" is still the answer.
Considering how the majority of your collection consists of simple timepieces (from a functional point of view) – why would you splurge out with such a large and highly complicated piece like JLC's Extreme LAB 2?
Ha ha! Splurge is a loaded word here. To me, that means spending without really considering what you get.
That is not the case with the LAB 2. I still remember getting my hands on this watch at a JLC dinner here in Copenhagen shortly after its introduction. My first impression was that I would not be interested in a large and very 'look-at-me' type of watch like that. Then I started looking at the watch. Just the feel of it is crazy. It is large, but you feel the quality immediately. The three-dimensional look of the dial and all its technical marvels behind the sapphire crystal are crazy. You then realise that you can use the crown to access a number of different settings and functions.
Then you turn the watch around and see a square – not a round – sapphire crystal back with another cool look at the technical insides. That's when you notice the strap which is the coolest strap I have ever seen on a JLC watch with a mix of rubber and leather, again adding to the technical look. Then you take a look at the buckle and realise that it is probably more complicated than your Reverso Tribute to 1931, in the sense that it almost has more moving parts in order to allow you to adjust it just right. Yes, the watch is big, but somehow it still fits my wrist – or at least I think it does – and it sits well on the arm. And all this without even mentioning the crazy levels of watchmaking that have been put together on the inside. Radial power indicator, chronograph with jumping minute counter, GMT function, a lubrication-free escapement, and the list goes on and on.
So, it is true that it is not the typical watch that you'll find in my current collection, but I could get used to it. In my view, basically, it was JLC looking the watch industry in the eye, saying: "What have you guys been up to lately?"
So, would it be wrong to assume that the best behaving twin of yours is most likely to inherit the Polaris once you kick the bucket?
I am a strong believer in 'earning the right' in general, so that might be an idea.
In reality, I hope that they will sit down together and divide the remaining lot between them and have a good laugh and a cry over their shared memories. That's what my brother and I did when we lost our father. I got the Polaris and my E873 Memovox at that time, whereas my brother got a Snowdrop (editor's note: E877 Memovox) and some other good stuff.
Obviously, you're quite fond of Jaeger-LeCoultre, but if you were to step out of your comfort zone and pick another brand – which one would it be, and why?
What, are you telling me that there are other watchmakers out there? Shocking! Joking aside, I would not have to really leave my comfort zone. I have already expanded outside JLC. Let me give you a few examples:
Lange & Söhne is at the top of my list when it comes to alternative brands. I have an 1815 that I love – but I dream of getting a Datograph or one of the Lange 1 models with blue or gray dials. I love the very, very German no-nonsense look of the Lange watches, and – having visited their manufacture – I must admit that I really, really like their no-compromise attitude when it comes to watchmaking, including the fact that all the basic parts (screws etc.) are the same across the models from entry-level to top of the range. No bait and switch here. Also, the people we met – from Mr. Schmidt down – were just so very nice and passionate.
The other brand in first place with me is, of course, F.P. Journe. I have a Chronometre Bleu that I bought in New York when I lived there. I saw it on a Time Zone (a pre-IG/Facebook watch forum) watch walk, and it was love at first sight. That purchase got me invited to some events in the NY boutique where I met – and even spoke with – Mr. Journe a few times, probably because I was the only client in the room who spoke French. That's where the brand hit me. They are all about no-compromise as well but from a more technical point of view. Not only with regards to the 'engines' but also their approach to doing dials, cases etc. They do not take short-cuts in any way, shape or form. This is the guy who built his own tourbillon at the age of 23. This is the guy who chooses to do a case in tantalum because it is difficult. This is the guy who is creating horological history as we speak. I love that attitude.
Omega has always been an outlier for me. They have such a huge business going on. I have never really felt attracted to them – apart from knowing that I just had to have a Speedmaster in my collection at some point. This watch and its Moon history speak to the geek in me, but we'll get to that later.
Living in New York, you get exposed to a level of watch collecting that I have yet to see here in Denmark. Not only when it comes to the level of watches (complications, metals etc.) but also from a brand perspective. Not only have I seen plenty of the big brands – I was also introduced to the so-called independents. I have handled watches from De Bethune, Richard Mille, Laurent Ferrier, Philippe Dufour, to name a few. Some of these have really made their mark. I would not hesitate to strike if I ever get the opportunity (i.e. money) to acquire a Dufour, a Ferrier, a De Bethune, an Akrivia etc.
And I almost forgot to mention Seiko. Look at their Credor and Grand Seiko lines, and you will see perfection – and a look quite different from the German and Swiss watches. I still remember Mr. Dufour talking at a Hodinkee conference back in 2015 on where to find the best watch finishing. He did not point to the usual suspects – he pointed to Credor. Coming from him, that drives home the point of maybe looking to the East.
The last year or two, I have been challenged a bit. I am not a Rolex person, but I have found myself buying two Tudor watches. I thought I had found the best value-for-money brand in JLC, but I think Tudor may be even better. I have a Black Bay Bronze and a Black Bay Fifty-Eight – both amazing watches at crazy good price points.
While talking about the sweet, we can't avoid the opposite end of the spectrum as well. Which brand in the industry do you think has room for improvement?
It's a tricky question. One of the great things in the watch world is that there is something for everybody. What does not speak to me, will certainly speak to lots of other people, which is great. What is also apparent to me is that all, or most, brands actually deliver pretty good quality, great packaging etc. – it may actually be more about personal taste and the size of your wallet.
If I had to put forward my personal views – as they stand at this exact point in time – I would probably call out the following:
Rolex – for their not-so-subtle gaming of the watch market. Running a business where you are not even helping your loyal dealers actually sell your products is weird and maybe even slightly arrogant. But it has turned their very high-quality watches into the equivalent of gold in the Western US in the 1840s. As a consumer, you should remind yourself that there are so many other great brands to spend your money on.
Patek – to me personally, seems to be on the way to becoming more about (perceived) rarity and fast/easy return on investment rather than about the love of watches. That being said, they run a tight ship, manufacture some beautiful watches, and their museum in Geneva is second to none if you have just the slightest of a watch geek hiding inside you. I was once very close to going for a reference 5196 at the Patek salon at Tiffany in New York – with the Tiffany stamp – but just thinking of the crazy small size of the calibre 215 PS hidden inside made me pass on that watch. I went with my F.P. Journe instead from the boutique further down the street on Madison Avenue.
And then there are the things that go across brands.
Why do you have to explicitly write 'Annual Calendar', 'Tourbillon' or similar boastful words on the dials of otherwise beautiful watches?
I feel the same way with regards to the explicit mentioning of obvious details on the dial, so we're on the same page in this aspect; but I digress. Please go on, Claus.
Why is it faster and cheaper to build a new rocket destined for Mars than it is to have a watch serviced with its manufacturer? That is – for sure – the worst part of the mechanical watch experience. I don't understand how that can still be the case.
Now, I do know that it is being worked on by quite a few manufacturers, and I do realise that it's a question of scarce resources, e.g. skilled watchmakers. But I still think the process could be made so much better and more transparent. There are so many other things you could do to make it an enjoyable process for the customer. The problem for the brands is that customers are being trained to expect much better service by many other providers of luxury goods, and most of us have no knowledge about or interest in the complexities of watchmaking behind the scenes.
Considering your decades of collecting, I'm surprised to see that you just recently got your very first chronograph. Why did it take you so long? Secondly, what made you buy this particular watch compared to any other chronograph available on the market?
Ha ha! I know what you are alluding to – but I also know that you are wrong.
Well, you can hardly blame me for being a little too enthusiastic when there's an interesting Speedmaster present in the room.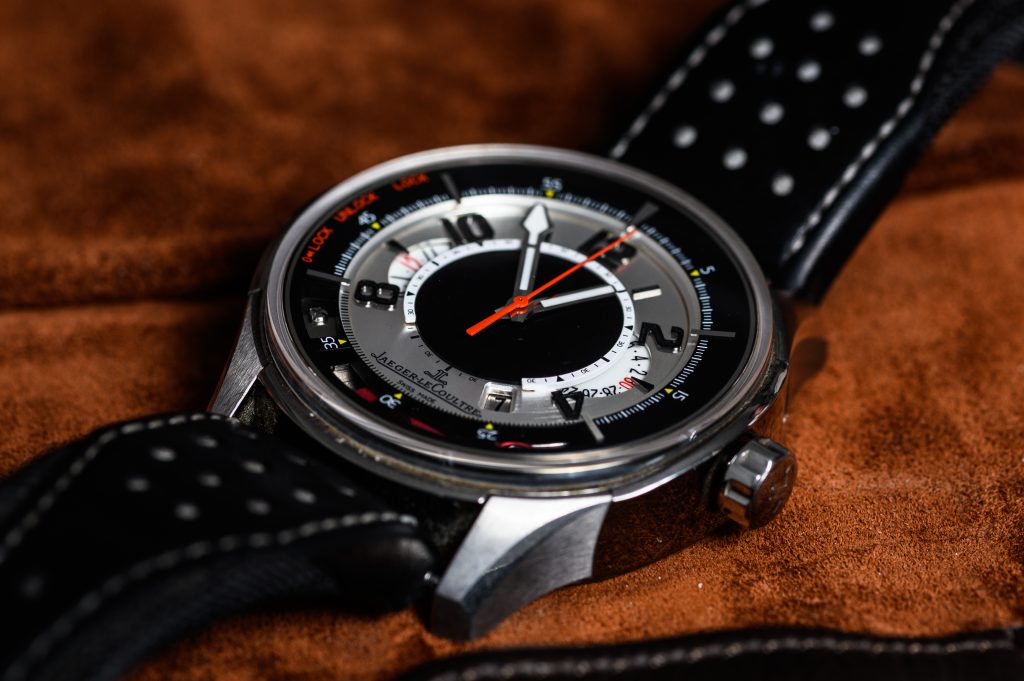 I actually bought my first chronograph around 2010. It is a rather special watch as it does not have any pushers to start/stop the chronograph. I am, of course, speaking of the Jaeger-LeCoultre Amvox 2 where you press the crystal to start, stop and reset the chronograph. This model is a collaboration with Aston Martin, which is clearly seen in the look that mimics Aston Martin speedometers and brake calipers. The watch is based on the JLC calibre 751 – a tried and trusted movement – and the case is made of a mix of steel and titanium which makes the 44mm watch much lighter than it looks. The same model was also made in platinum and later in quite a number of limited editions, including a couple that could remotely lock and unlock your Aston Martin car.
The watch you're alluding to is my most recent acquisition. An Omega Speedmaster – specifically the Hodinkee 10th anniversary edition. This model can be considered as a mix of the dial of the Mk 40 (i.e. Omega Speedmaster Day-Date, reference 3820.53.26) and the case of the FOiS Speedmaster with its characteristic straight lugs and lack of crown guards. I bought it because it reminds me of my three years in New York and the many events I participated in together with the Hodinkee crew.
As mentioned above, my collection just had to include a Speedmaster at some point. What could be better than a classic, manually wound chronograph? I had spent quite a bit of time trying to understand the Speedmaster universe – did I want to go new or pre-owned, hesalite or sapphire, professional or not and so forth? Then one day I received an e-mail from Hodinkee introducing the H10. That made it an easy choice.
Some have in particular criticised Omega, Hublot and Hodinkee for their more or less frequent use of limited editions. How do you feel about this phenomenon, especially considering your ownership of the H10 and Tudor's Black Bay Bucherer Blue?
That's an interesting question. I am certainly not able to put forward one all-encompassing point-of-view on this.
On the one hand, you have the brands that seem to be exclusively living off the idea of the limited edition. Omega, Hublot, AP and others come to mind. At some point, you start thinking something along the lines of "Is there no end to what can generate a limited edition?", and another question could be "How can it be a limited edition if you're making 10,007 pieces?"
My current take is that they have a business to run, and we, the customers, like the idea of getting something special. That is not so bad – as long as you don't fall too hard for the story about exclusivity and long-term retained value. Some of these watches are actually pretty cool and tell a good story or support good causes by generating money for the cause or by creating awareness – or they are just plain fun. For example, if a watch allows you to combine your love of watches in general, your interest in the US Moon programme and your great experiences with a certain watch blog, then get the watch! Omega's latest limited edition is a Speedmaster collaboration with the Metropolitan Museum in New York (editor's note: The Met Edition) that is currently hosting a Moon exhibit. If it pushes your buttons, go get it (and only 100 will be made).
I see what Hodinkee – and other blogs, e.g. The Rake, Revolution and Fratello – is doing that is a bit different. Hodinkee's limited editions have been about bringing forward specific themes from the history of watchmaking. I have wanted to buy quite a few of the Hodinkee editions – but they were either way too expensive or way too gone when I looked for them.
Taking a step back, I think we are also seeing the industry experimenting. The brands are in the process of working out what speaks to consumers these days – and how to recruit new generations that have different priorities and different ways of finding and buying things. One major trend is that of individualism. We all want things 'our size' not 'one size fits all'. Buying a limited edition watch meets that trend almost head-on. I would not be surprised to see some of the higher-end brands offering even more bespoke watches in the near future. Look at some of the new microbrands! One example of a new wave of microbrands is Undone, where you can design your own watch based on a good choice of dials, hands and even straps. This will come to the larger brands as well, I am sure.
Limited editions also allow a brand to tell other stories that are more relevant to modern consumers than the story about the Swiss farmers that needed something to do during the winter season. The other half of this challenge is that of distribution. How can a brand control its story in the best possible way? By opening brand-owned boutiques? By selling directly over the Internet – based on Instagram stories? We will see much more of this going forward. OK, I could probably go on and on here – let's leave that for another day.
What advice would you give to someone considering starting a collection?
That's a good question. I did not specifically set out to build a collection – and I certainly did not have a theme in mind. So, my first piece of advice would be – don't stress it.
Be curious and find ways to try on as many different watches as you can to work out what speaks to you. I have spent quite a lot of time in watch shops trying out watches, I have gone to watch events hosted by brands or dealers that gave me an opportunity to try stuff, and I have gone to a lot of get-togethers with other watch nerds. My other piece of advice is that it is OK to look beyond the usual suspects, e.g. Rolex, Omega and Patek. There are so many brands and so many stories out there – you are most likely to find something that speaks to you. In this respect, the get-togethers also work – because you will meet other enthusiasts who will infect you with their love of a particular model or brand.
If you could change anything about your collection – what would that be?
Nothing. It is perfect.
Joking aside, I have this recurring dream of consolidating and upgrading in the sense that maybe I could take a few of the more basic watches I have, sell them off and buy one of my grails instead, e.g. the Vacheron Historiques 1921, the JLC Extreme LAB2 or one of the F.P. Journe models that I am lusting for.
The only problem is that when I sit down and try to select the watches that will need to go, I end up realising that I can't let go of them as they still speak to me. Let's see; it may still happen one day.
Considering the number of watches in your collection – how do you decide on which one to wear? Do you match it with your outfit, or is it based on your mood?
First of all, I have to do some planning as I – for security reasons – only have a small selection at home. It's a pain, but you need to be able to sleep at night. Bank vaults are quite good as sleeping aids in that sense.
The upside is that it forces me to think ahead, e.g. "Which watch haven't I worn for some time?" and "Wow, I have that particular watch with that particular twist on complications, looks etc. – it's time to wear it" and, of course, "I am going to an important meeting, I'll wear one of my lucky watches".
Of course, whenever I get a new watch, that's the one that I will want to wear exclusively, just like everybody else.
I do realise that what we are talking about here is truly and utterly a #firstworldproblem, hashtags and all. I feel so lucky to be able to have the choice at all.
Lastly, we can't avoid speaking about the elephant in the room, Claus. What's up with the gadget from Apple that some people mistake for a watch, especially considering your collection of timepieces from the brand that's commonly known as the watchmaker's watch?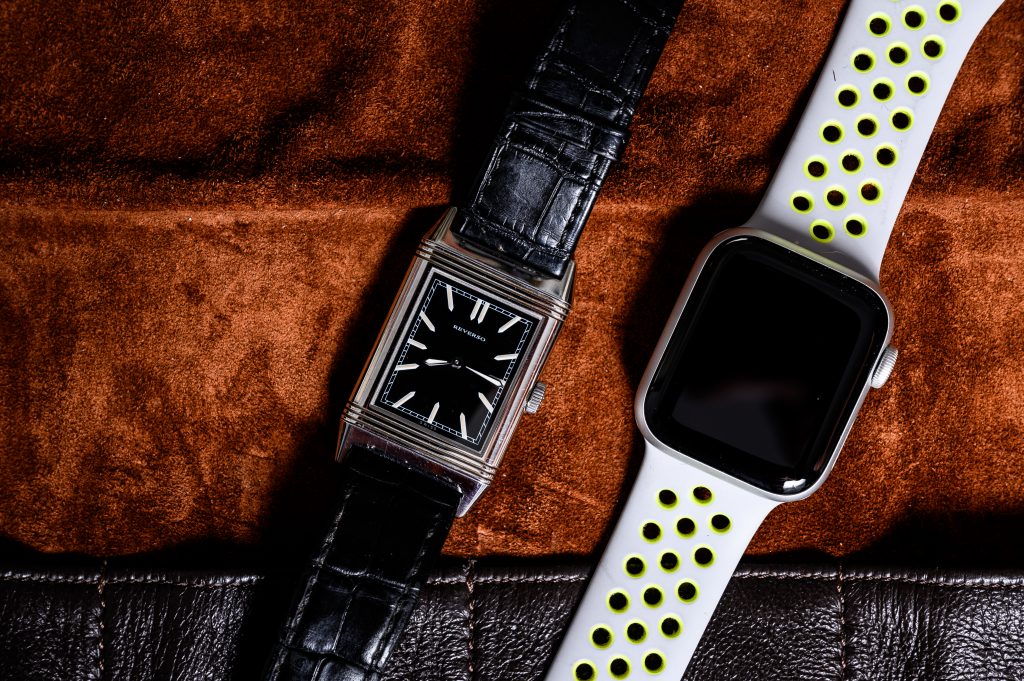 Another good question, thanks.
No matter what you think of it, the Apple Watch is a competitor to the mechanical timepiece. I know it is like comparing apples with oranges – but they are competing for the same limited space, your wrist. Most of us only want to wear something on one of our wrists so as not to come across as Grade 1 Nerds. So, for that reason only, there is a huge element of competition between the Apple Watch and a traditional (mechanical) watch.
This also gives me hope that the Apple Watch will raise awareness of the alternatives. I think that for the many people who haven't been wearing a watch, getting an Apple Watch will be a kind of gateway drug. This means that eventually, they will start looking at 'real watches'. It is not going to happen all by itself – considering the gap in price, perceived snobbishness etc. – but there are opportunities there for the brands that don't rely solely on 300 years of Swiss mountain history and the feeling that nothing can touch them.
The other good thing about the Apple Watch is that it has forced the industry to up its game. Some have stepped into smartwatches (Montblanc, TAG and Louis Vuitton), and others have started thinking a bit harder about value for money, quality and so forth in their offerings. This is also where I realised that the service process needed an upgrade for the traditional brands. If you have a problem with an Apple Watch and you live near an Apple Store, you walk in and get it fixed or exchanged on the spot. I do, of course, realise that the complexities of a mechanical watch make that experience difficult to compete with – but the gap in the customer experience is so big that something can be done to close it. Competition is good – as long as you're not competing head to head in Apple's price range – look at how Fossil is doing, for instance.
I have an Apple Watch Series 4. I find it totally cool, and I use it to keep track of fitness-related activity. Some days I shamelessly double-wrist, not caring what other people think, and some days I stick to my mechanical watch.
Thank you very much for having us over for coffee and a little talk about watches, Claus. It was a pleasure. We hope that you enjoyed it too!
Thank you for the opportunity to share some of my watch-related experiences and thoughts. I hope it gave you some ideas for your next watch – because I know you're already thinking about it. I know I am.
If you've read this interview and want to participate in a future instalment, feel free to shoot our masthead an e-mail, and we'll get back to you as soon as possible. If you want to know what Claus is up to in the future, you might follow him on Instagram.
A special thank you to the professional photographer, J. F. Sørensen, for the superb images.