As well as covering all the latest news in horology and offering reviews and critiques, WristReview often reports on the current status of parts of the industry or as a whole in order to keep you, the reader, up-to-date on the latest events. So, if you were wondering what was happening between Watchismo and watches.com then have no fear as we are here to explain and analyze all.
Andrew Greenblatt , Co-CEO
Watchismo was founded in 1998 by Mitch and Andrew Greenblatt and focuses on discovering and providing interesting timepieces to watch lovers the world over. Watchismo has been contributing to the online market for watches for some time now and will continue to do as such under their new domain name which is watches.com. The online store aims to offer products that have been carefully selected timepieces which have been checked to meet the store's high standards. To quote the co-founder, Mitch Greenblatt, "We believe that the modern watch represents more than just a functional mechanism to tell the time. [The watch] is a unique form of art, design and personal expression".
Watchismo (now watches.com) is an authorized dealer of a lot of wristwatch brands that you might well recognize from your travels around the various local shopping districts. Brands such as DEVON, Diesel, Nixon and Shinola often have popular watch designs and have gained quite the reputation in the watch community in recent years. However, simply being curators for some fine wristwatches simply wasn't enough for the company and they recently took the time to launch their own watch company, Xeric. This launch gained a larger audience for them as they raised some $2M across three different watch campaigns on the crowdfunding website Kickstarter for their Xeric company.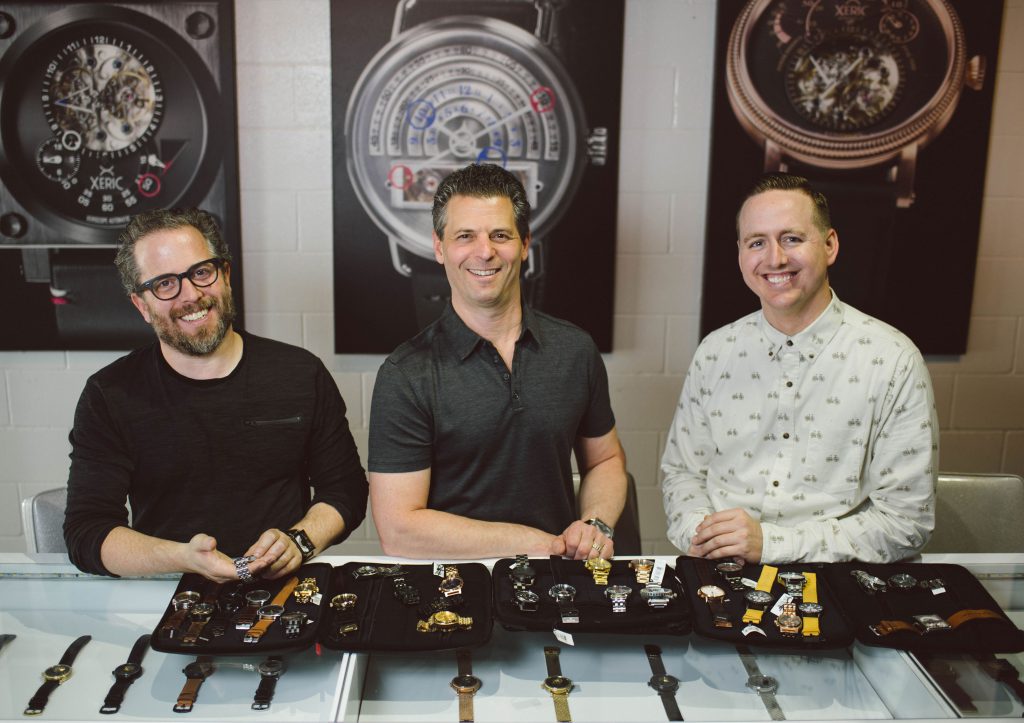 Executive Team of Watches.com
Mitch Greenblatt, Co-CEO, Andrew Greenblatt , Co-CEO and Danny Hunsaker, Vice President
A lot of people simply cannot afford to get 'into' the wristwatch game like some others can. Your basic Rolex Submariner Date is $8,550 new, that lovely Omega Speedmaster Dark Side of the Moon you like so much? That's $12,000 new. This is no doubt a hell of a lot of money for some people to spend, luckily, enter Xeric watches, being able to offer very interesting and unique watches for a low low price, in fact, at the moment the most expensive models are priced at $499 a piece. That's not only just for one watch and the others are more expensive, you can have many different options just for that one price. For example, you can buy a Xeriscope Mesh Automatic watch in rose gold for $499 and that's the same for the steel ones or the all black Xeriscope. Things forward type of thinking for the company is what earned them over $3M in sales revenue from the first two years of Xeric's operations and has seen them shift hundreds of thousands of units worldwide.
Mitch Greenblatt, Co-CEO
watches.com was founded in 1999 by the same brothers, Andrew and Mitch Greenblatt and also sourced and sold unique watches the world over, so it only seemed right to have the two companies merge into one. This creates a unique opportunity to earn a lot more money altogether, currently watches.com is the world's largest independent online watch store and has had over $30M in sales since 2008, that's not bad going at all for 8 years! For more info, please visit watches.com