Can you hear the sleigh bells jingling yet? Do you have your Christmas presents sorted and the decorations up yet? If your answer to all these questions is a definite 'no' then you're like most of the population right now! To help kick start the yuletide joy WristReview has once again compiled a list of all the watches that we think would give you the ultimate joy if you took them from your stocking this Christmas. So whether your year has been out of this world or just ho-ho-horrible, just remember it's almost over now. Sit back, relax, pour a little Brandy or Advocaat and let us give you some inspiration.
Note: the order of our list is not preferential.
Timeless Classics
This is a big one, it's one of the most popular categories in the wristwatch market. Robust, elegant with a  very strong history too, the essential part of a collection. In fact, can you really have a collection without a solid performer with a bit of history to it?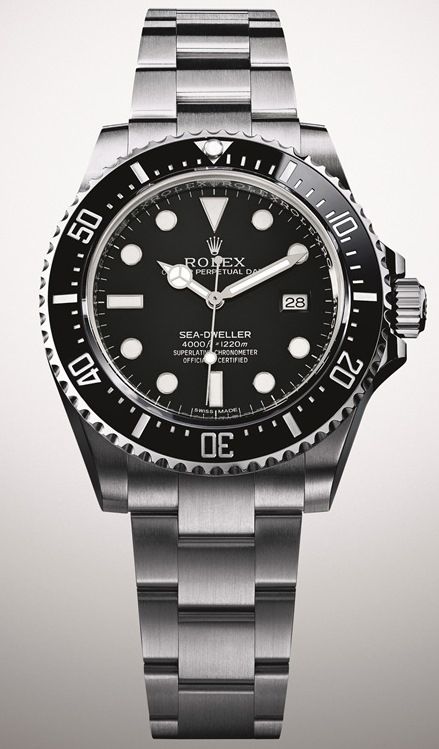 Rolex Sea Dweller 4000 116600
"Why the Sea Dweller and not the fantastic Submariner?" I hear you ask. It's all a matter of choice, particularly with Rolex and the frankly huge range of watches they make. The Submariner is the classic, yes, but this one will make him feel just a little more special. It's rarer than the Submariner and can go to a much deeper 1200m as well. If the cyclops is undesirable but you still value a date then there is a date window that remains unmagnified. $10,400

Omega Seamaster 300M Titanium 233.90.41.21.03.001
This one may be a little-left field, considering there's the equally fantastic Diver 300m, Planet Ocean and the even the Speedmaster Moonwatch. We think this will be a strong model for Omega in the future even if it may have not got the mass reaction expected. The absolute peach of a movement inside it, the calibre 8400, has a free sprung balance (the same found in those oh-so-durable Rolex watches) with a Master Co-Axial certification as well. Display case? Check. $9000

Jaeger-LeCoultre Grande Ultra-Thin Reverso Tribute to 1931 Steel 2788570
The Reverso, the ultimate watch to show style, sophistication as well as ruggedness. Remember the Reverso watches started out as a sports watch for elegant gentlemen. This, the Tribute to 1931 version takes inspiration from that watch in the dial design and the ultra thin case with the reversing mechanism. The hand-wound calibre 822 has a 45-hour power reserve and is made of 145 of the finest watch parts around. JLC is known affectionately as the watchmakers' watchmaker, and for good reason too. $7750 (excluding sales tax)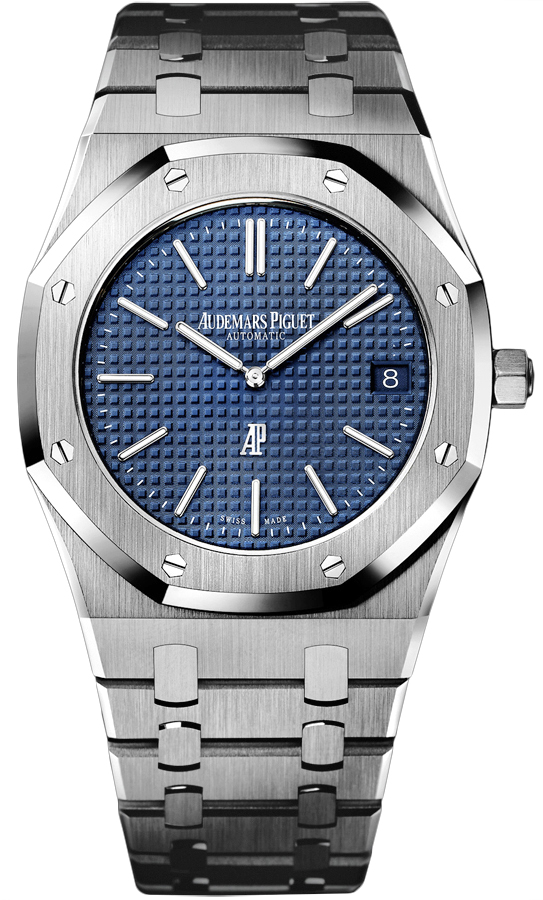 Audemars Piguet Royal Oak Extra Thin 39mm 15202ST.OO.1240ST.01
The Royal Oak is the watch that saved AP from certain doom in the early 70s, but did you know that Gérald Genta only had one night to design it all? Audemars needed a watch to show to the world the following day, with only designs to show they really impressed the public who loved it, despite the fact that a steel watch costed ten times as much as a Rolex at the time. This one, affectionately named the Jumbo is only 8.1mm thick, comes with a display case and the iconic "petite tapisserie" dial and the AP logo at 6 O'clock (the correct place for this watch). $22,700
A. Lange & Söhne Lange 1 Ref 191.021
The classic, the new, the traditional are all blended into one sweet sweet package for this German masterpiece. This is truly the beginning of return to form for Saxon watchmaking and serves as the archetype for a watch from this area. The Lange 1 is a different type of dress watch that still has the same aura as a Calatrava or some such. The dial is of a different layout though, a small offset seconds, an up/down power reserve indicator and Lange's characteristic outsize date made from two separate disks. $34,700
The Alternative Segment
Want to be a cool watch person that takes a different approach to their collection? These are some highlights we've collected for you to view. They may not always hold well if you are buying brand new, but they are worth it on the wrist and show you to be edgy and one that loves to think outside the box.
Grand Seiko SBGH001
Nowadays the Grand Seiko is pretty much the go to if you like your watches to be top kek quality at a damned good price. The stainless steel case on this is given a slightly similar appearance to the Omega Seamaster Aqua Terra, which is great because they're handsome pieces. 55 hours of power reserve come from the Hi-Beat calibre in which has a nice look to it from under the sapphire crystal on the back of the watch, coupled with Japanese precision and there's one serious watch here. $5500
Oris Diver Sixty-Five 73377074065MB
Oris has come a long way in recent years and we really appreciate the serious approach they are taking with their watches. The no-nonsense approach reminds of Sinn Spezialuhren, the German watches used by the fierce GSG-9. The multi-coloured faux patina look to this particular Diver Sixty Five watch makes it an attractive piece both in pictures and on the wrist. Not to mention it bears a lot of similarities to the original as well. $2200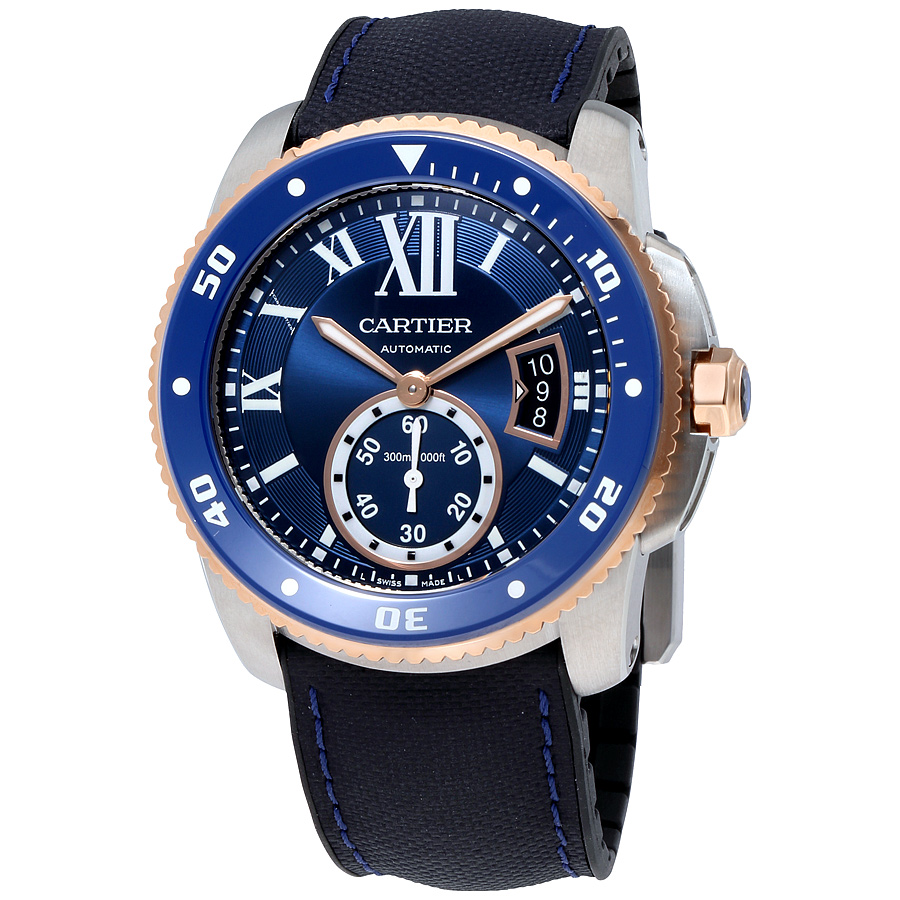 Cartier Calibre de Cartier Diver Two Tone Blue
I found this one to be extremely handsome. One of Cartier's most popular models is the Calibre, so  Cartier decided to push it that little bit extra and make it into a diving watch. It makes sense, it's one of, if not, the biggest market at the moment. The 42mm case is a perfect size and is sure to fit well with it's special rubberised strap and blue stitching. Yes, the colours are pretty out there, but the richness of the blue just pops on the case and the two tone makes it just a little warmer. $10,200
Nomos Zürich Weltzeit
You know full well we just love our German watches here at WristReview. We loved our visit to the small city of Glashütte, particularly the close-knit feel of the whole community. Nomos is a newer company that's been coming forward in leaps and bounds. The Zürich Weltzeit watch is a world timer inside a minimalist 39.9mm steel case. With a pretty automatic movement on display, the watch will last for around 45 hours, most of which may be spent gazing at the less-is-more beauty of it. $6100
"The Smart Money"
Not got time for the flimflam of modern day life? Want something that simply goes, is reliable and no-nonsense? The smart money category is for those looking to invest in a watch that'll keep them going without being too unreliable or costly to maintain. Sometimes they're tricky to get hold of in the first place. The thrill is in the chase, not in the capture, right?
Rolex GMT-Master II Blue/Noir (BLNR)
Let me spell it out in words of one syllable. This. Is. The. Hot. Watch. Right. Now. Get it? The GMT BLNR watch is really the hardest one to find new right now, boutiques and ADs have waiting lists over a year for these things and they may only get two or three of them. Not even the steel Daytona watches have a waiting list like that at the moment and they almost always have had the longest lists. You can get it in steel (known as the Pepsi) or, my favourite, a slightly warmer white gold. $9895
Panerai Luminor Marina PAM00104
Panerai watches are well regarded in the watch industry after they first came to attention on the wrist of Sylvester Stallone, they've pretty much stayed there ever since and even joined the the likes of Jason Statham. They are tough and a great alternative to Rolex watches. The Luminor Marina line of watches is a particularly handsome line in our eyes, with a muscular 44mm size cushion case and classic crown guard. $7000
Patek Philippe Nautilus 5711/1A-010
Patek watches are always high up on the investment tree and the Nautilus range has been the spearhead of that for a while now. Originally introduced in the mid-seventies to compete with Audemars Piguet's runaway success, the Royal Oak, the Nautilus never quite got there. It's adopted a very relaxed approach to a sports watch, indeed, you cannot take it to the places you'd take a Rolex. However, nothing sits on the wrist quite like a Nautilus. $24,836
Maurice Lacroix Masterpiece Gravity
Slightly weird one coming in now. The Maurice Lacroix Masterpiece Gravity watches are a unique set of timepieces. The Gravity is one of the first watches around to use a fully silicon escapement setup, it's also fully in-house for that movement-snob among us (I'll admit I do like a good in-house motor). Even the crystal is set so that it magnifies the exposed balance wheel on the front, let's also not forget they contributed a unique blue model for OnlyWatch back in 2015. Limited to 250 pieces, it's expected to go up in the future because of those innovations. $13,900
Tuxedo Attire
It's no surprise that there's a lot of fashion blogs these days that include watches in their lists of ideas, but maybe not all of them have the inside knowledge that an actual watch blog has? Here's some of the watches you need if you want to wear any kind of suit and not look strange (a Submariner with black tie? Really?).
Patek Philippe Calatrava 5227G-001
Patek is the first to come to mind, for obvious reasons of course. This company is seen as the very top in the watch industry, with a grand history and a while library of rare watches that sold for millions. The 5227G is a gorgeous simple dress watch. In white gold it's understated, the black strap makes it perfect for the boardroom or the wedding reception and the hunter caseback with those cleverly hidden hinges adds drama that previous incarnations were lacking. Truly the top of the top. $34,702
Vacheron Constantin Patrimony 85180/000R-9166 (Rose Gold)
With a black dial and a super slim and sexy case, there's very few that could beat out a Vacheron Constantin Patrimony. This one caught my eye as it really fitted well and made use of darker colours to blend in, allowing it to wear the rose gold just as well as the Calatrava mentioned above wears the white gold. The Geneva Seal movement is guaranteed to be one of the best on this list and certainly one to make him smile when he gazes at it for the first time. Can you afford not to get one? $25,600
Breguet Classique 5177BA/29/9V6
I was wondering when Breguet would turn up on this list. The Classique 5177 watch is a true work of art. Whereas Patek and Vacheron focus heavily on clean and simple designs, Breguet just can't help but go with their art nouveau styling, we wouldn't have it any other way. You can choose either the guilloché dial or a rarer fired enamel variant (my personal favourite) which shows off the styling. Just because there isn't something in every spot, that doesn't mean they don't add up to give a refined look that blows most others out of the water. $22,700
Jaeger-LeCoultre Master Grande Ultra Thin Small Second 1358420
This watch is a special one to WristReview, the Masthead particularly enjoys wearing his one after all. The Master Grande Ultra Thin Small Second watches serve up elegance aplenty and do so with the utmost dedication to formal wear. It can be dressed down of course, but you really want to pair it with a nice black suit and just get on with life. Simple no-nonsense elegance is what this watch is about, the steel case makes it a much more attractive option than the others as well. If there's one watch which isn't a Reverso that JLC shouldn't drop, it's this one. $8650
Rolex Oyster Perpetual Day-Date 40 Ref 228239 (White Gold)
It's a different approach to the idea of a dress watch. While one may argue that the yellow gold is the more classical variant of the DD, and they're right, however the WG just slides in as more discreet. Remember, high dress requires a certain level of 'blending in', it's not good standing out like poo on an ice rink, if you'll pardon the simile, because you just look ridiculous. The fluted bezel is gorgeous, the President bracelet is to die for and this really is one of the best dress watches on a bracelet. $37,550
"Left Field" Ideas
Have you ever come across something that seems completely bizarre, but you just love it? Compare it to cars and you'll find yourself looking straight at Citroën, particularly things like the strange SM or completely out of this world DS. The term some folks here in the British would be "well that's just a little bit left field isn't it old chap?" or something along those lines.
Breguet Classique Complications La Musicale
This marvel is presented in the form of a unique music box on your wrist. While yes, there are many different watches which can make sounds or even some that can perform the Westminster Chime on gong springs, but few are like this. On-demand the dial spins, teeth underneath it pluck a comb which has been acoustically perfect inside the case to create one of many different tunes. There's also a lot of technology, like Breguet's patented silent governor which uses magnets to control speed. $90,100
HYT H1 Titanium Black DLC148-DL-21-GF-RU
If you haven't come across this one yet prepare to be amazed. HYT watches are focused around this mad idea that liquid can be used to measure time. HYT watches use an in-house mechanical movement to power bellows which are clearly put on display at front and centre stage. These push the colours liquid around the bezel which indicates the hours, leaving a seconds wheel to spin lazily around on its own with a regulator style miniature minutes dial as well. These things are simply fantastic and the oddness of it just works. $59,000
Jaeger-LeCoultre Duomètre Sphérotourbillon Q6052520
Take the idea of sticking two watches together into one unique case. Add a tourbillon, then for fun add a few extra bits and bobs to that tourbillon. Stick it in the oven for 45 minutes at Gas Mark 5 and you'll get one weird cake. The Sphérotourbillon is a creative way of overcoming the problem faced by the more regular tourbillons. The tourbillon in this watch can protect from inaccuracies caused by having the watch in any position using a sinusoidal motion to eliminate the effects of gravity on the wrist. Also, it's really cool to look at. $236,000
Ulysse Nardin Grand Deck Marine Tourbillon
Oh the oddity of this one! Designed with the aid of Christophe Claret, the Grand Deck Marine Tourbillon really is a unique watch. It makes use of a pulley system which moves the regulator minutes hand around to sweep around the dial. The hours are displayed in a Lange-esque manner thanks to a jumping window at the centre of the dial. There's also a lovely tourbillon with the Ulysse Nardin logo on the top. Did I mention that the case is waterproof to over 100m? Or that the wires are 0.0357mm thick? $280,000
Something for Her
It's all well and good strutting around these fine timepieces like nobody's business, but you wouldn't half look like a crap partner if you splashed all that money on your wrist and just gave her a soap hamper. Here are some suggestions to keep her happy this Christmas, you never know, if you're having trouble in the relationship one of these may just save your bacon!
Chanel J12 Soft Blue H4341
Who honestly, hasn't heard of Chanel? There will no doubt be a few whom are unfamiliar with the works of Coco herself, but Chanel is pretty much the top of the top when it comes to fashion. From jewellery to dresses to Frasier's sofa, they do it all. This smart and elegant is a 38mm gem with an automatic winding movement that'll last her a full 42 hours. Not to mention the special feature of the watch, the ceramic case, and bracelet. These make for an ultra-light watch that's pretty much scratch proof, just don't drop it! $5400
Omega De Ville Ladymatic 425.30.34.20.01.001
A favourite of one's own mother, the De Ville Ladymatic from Omega is a treat for the eyes. The supple bracelet has more flowing curves on the links, making for a much more relaxed yet refined look than the straight, sharp, edges on the gent's watches. The circular design of the dial makes for a fantastic play on light, if you take away the markers and go for the one without any you'll be able to appreciate this even more. Not to mention the calibre 8521 makes an appearance in this 34mm watch. It's elegant, supple and oh so under-the-radar. Perfect. $6600
Bell & Ross BR-S White Ceramic
Another ceramic watch! I think it may be possible there might be a slight tendency towards ceramic in the female's market. This is likely due to the lightness and hardness of the material, coupled with the fact that it can be made into different colours. This 39mm quartz powered B&R watch takes the masculine square aviation inspired look we've come to know and love from Bell and Ross and then add in a very elegant strap. This one is priced with the white rubber strap, but a white ceramic bracelet is available. $2900
Breguet Reine de Naples 8968 8968BR/X1/986 0D0D
On the other hand, maybe it was her that got you into watches, rather than the other way around? Sure, it's pretty uncommon but anything's possible, right? The Reine de Naples is the opposite end of the scale compared to the other watches in this category. The elegant rose gold egg shaped case will fit in just the right fashion to her wrist and once it's there I guarantee she won't want it off. Powered by an automatic winding movement with display caseback, this is truly the ultimate watch for a female. Make her smile the way the Queen of Naples smiled when she saw her Breguet commission. $27,200
Well wasn't that a long ol' list hm? I'm surprised you made it to the end, I think I got lost somewhere around the dress watches to be honest. Despite this, we have endeavoured to find some of the most attractive watches around and have added them to the list. We know it's a completely different approach to how we usually write the Christmas guides (price categories). If you have any feedback we'd love to hear it so we can improve for next time!
From myself, the Managing Editor of WristReview, and all of the staff that makes this fantastic website stay afloat, I wish you a safe and happy holiday season.