Well, the holiday season is nearly upon us. Festive music should now be playing in every retail centre, and undoubtedly Santa's elves are currently hard at work for the final stages before the big day. Hopefully, you've been good this year, and you might end up with one of these under your tree. Booze is also good, though.
10. Seiko Prospex LX SNR033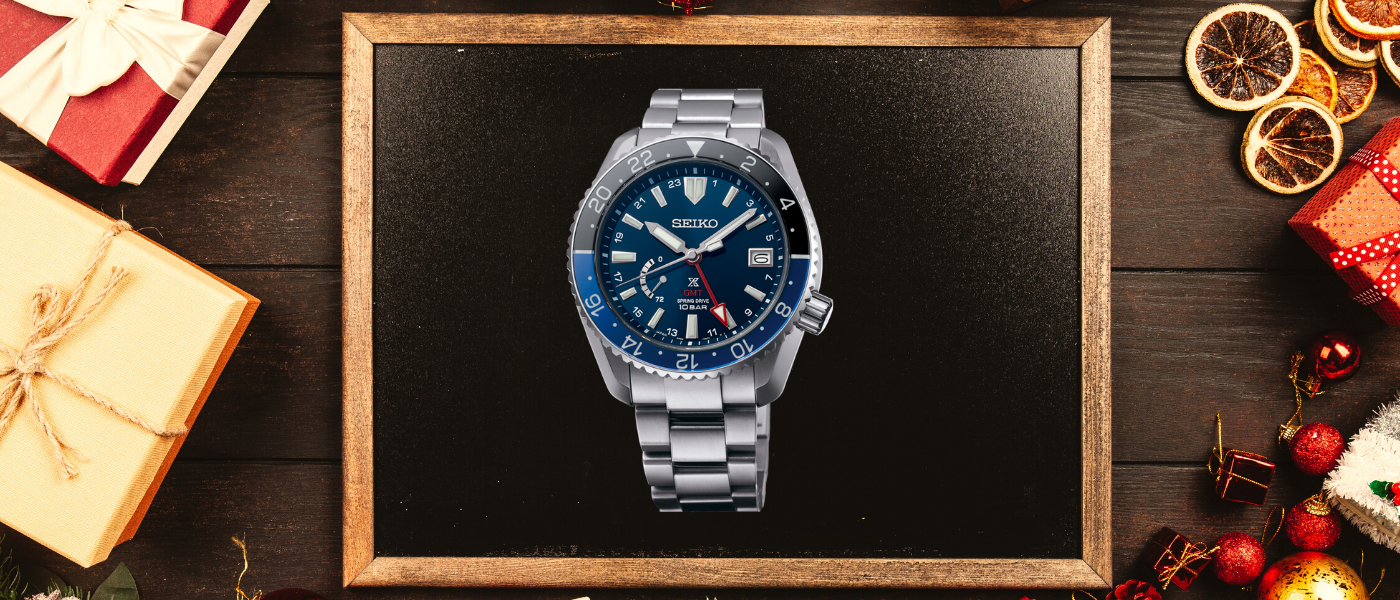 The Prospex LX SNR033 kicks off our buyer's guide with its good looks and GMT function. Back in March, the new Prospex LX line caused quite a stir, especially the SNR033, because it has a black and blue bezel just like the new Rolex GMT Master 2 126710BLNR. The Seiko features a power reserve on the dial as well as a big red GMT hand, and inside the 44.8mm case is the famed Spring Drive movement, which does away with the traditional balance wheel and instead uses the accuracy of the quartz crystal while keeping an automatic rotor and mainspring. That means it's accurate to within one second per day, but it still has a 72-hour power reserve. The price for one of these is €5600, and you can probably get one today.
[button color="black" size="normal" alignment="center" rel="follow" openin="newwindow" url="https://www.exquisitetimepieces.com/seiko-prospex-snr033.html"]Buy your Seiko here.[/button]
9. Omega Seamaster Diver 300 Chronograph 210.30.44.51.03.001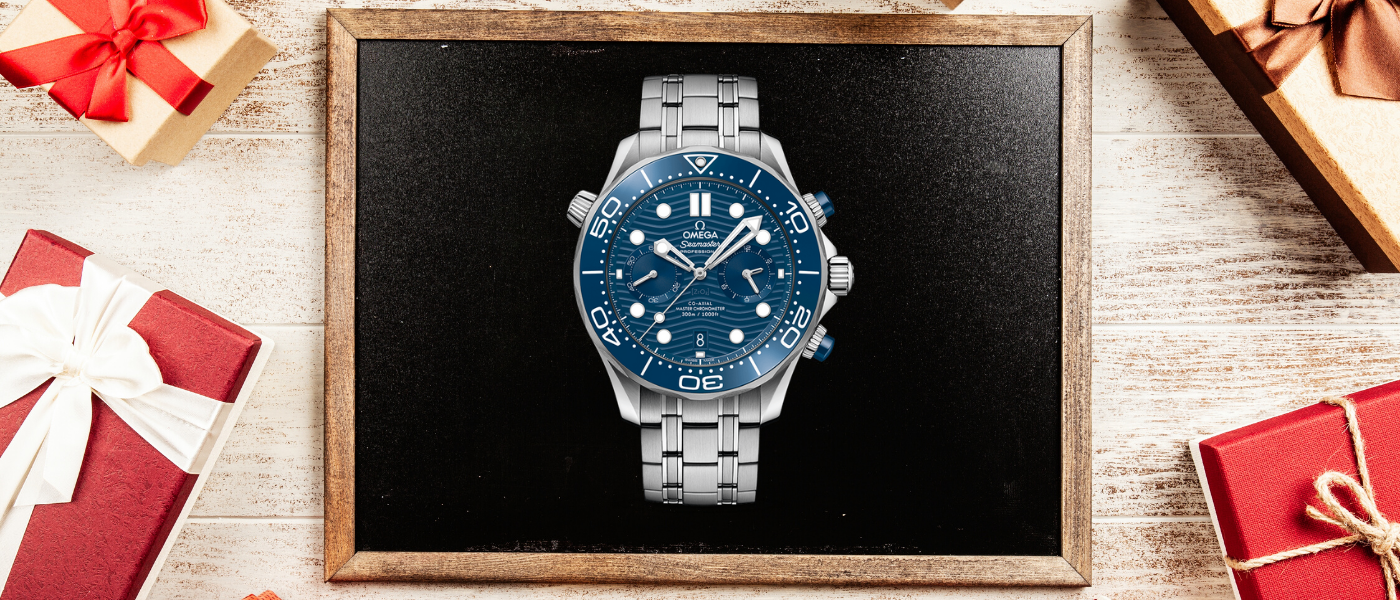 There's a lot to like about the new Diver 300 Chronograph watch, chief among which is the return of the wave dial that we all loved on the original Bond Seamaster watches. Now, though, it comes back with an in-house made movement that has a column wheel, twin barrels and a Master Chronometer certificate verifying the accuracy and performance of the movement. Better yet, you can see the movement through the caseback on this one while the watch's water resistance remains unchanged. With classic good looks thanks to the twin-subdial layout, a plethora of strap and bracelet options and the high-tech movement inside it, it's hard to go wrong with this one. The price is $7450.
[button color="black" size="normal" alignment="center" rel="follow" openin="newwindow" url="https://www.exquisitetimepieces.com/omega-seamaster-diver-300m-master-chronometer-chronograph-21030445103001.html"]Buy your Omega here.[/button]
8. Zenith Chronomaster 2
One of the only non-serially produced watches on this list, the Zenith Chronomaster 2 might prove something of a challenge to track down, but that makes it even better in our opinion. The thrill of watches like this is most definitely trying to find them, worrying about whether every little detail will be correct, agonising that it might be just out of your budget and then eventually finding one and immediately slamming your hand on the table in the shop. The Chronomaster 2 also happens to be a very cool looking watch and features a new movement by Zenith which keeps the legendary El Primero's 5Hz beat rate but adds good looks and easier modularity options. Granted, that last one's not much use to you, but it will be exciting to see what Zenith can do with it down the road. The price is quite high at €9600, and it's limited to 250 pieces in total.
7. Urban Jürgensen One GMT 5541
Bit of a puzzler this one, it's quite sporty in appearance and features an excellent looking blue dial with guilloché and is a healthy 41mm in diameter, but Urban Jürgensen? Well, let's say you're the kind of person who likes the Patek Philippe Nautilus, but you don't like the fact that it's mega-popular right now, you want something smart/casual that is both interesting and under the radar. You could have gone with a Piaget Polo S, and no one would blame you for it, but even that's too well known. Step in the surprisingly awesome Urban Jürgensen One GMT 5541. The in-house made P5 movement is very good looking and fits the subtle and relaxed nature of the watch; there's no need to rush here. The only one with this watch is the price, it's high it costs CHF 33,500, but they'll never forget it.
[button color="black" size="normal" alignment="center" rel="follow" openin="newwindow" url="https://www.exquisitetimepieces.com/urban-jurgensen-one-gmt.html"]Buy your Urban Jürgensen here.[/button]
6. Grand Seiko Spring Drive SBGA405 Godzilla 65th Anniversary
With a name as big as that one, this watch is imposing. And so it should be, it pays tribute to one of the most iconic monsters of the 20th century: Godzilla. The atomic-breath red dial features shimmering sunburst guilloché, thick hands and a date window too, powered by a Spring Drive calibre that's obscured by a print of Godzilla terrorising Tokyo. The titanium case, measuring in at a meaty 44.5mm x 14.3mm feature Zaratsu polishing and is presented on an extraordinarily thick burgundy strap which may or may not come from the actual monster, we tried to ask Grand Seiko about this, but they politely requested that we stop asking them if we fancied seeing London again sometime soon. The price for this 650 limited production watch is €12,700.
[button color="black" size="normal" alignment="center" rel="follow" openin="newwindow" url="https://www.exquisitetimepieces.com/grand-seiko-godzilla-65th-anniversary-sbga405.html"]Buy your Grand Seiko here.[/button]
5. Vacheron Constantin Traditionelle Manual-Winding Excellence Platine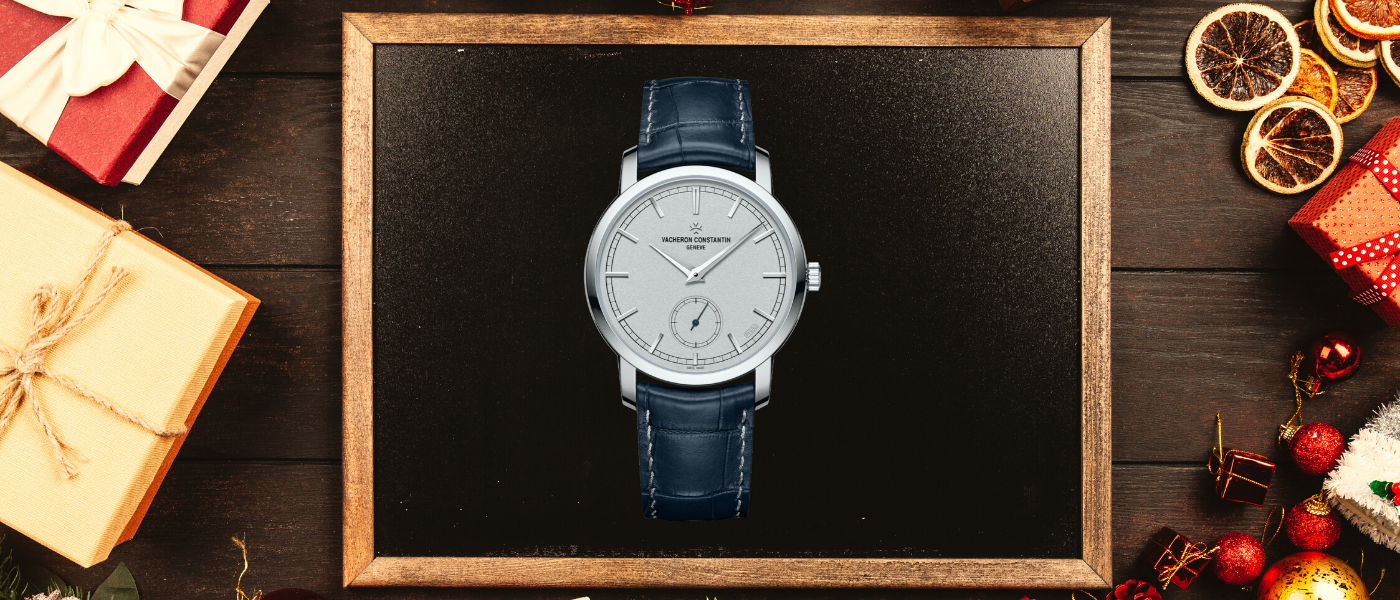 There's only one more limited production watch on this list, I swear. But, how could we have a buyer's guide without a traditional Swiss dress watch? Now, if this limited-to-75-examples watch is too much of a hassle to get your hands on, fear not, as Vacheron Constantin makes the manually-wound Traditionelle watch in several variations. We chose this one as its limited production will once again make you agonise over every single detail. Call us sadists, if you will, but it makes the end prize that much better. Not that this 38mm platinum-cased manual-winding Geneva-Seal bearing Vacheron Constantin dress watch can genuinely get much better. The price is a cool €35,600 retail, but whether there are any left in the retailers remains to be seen.
4. Nomos Autobahn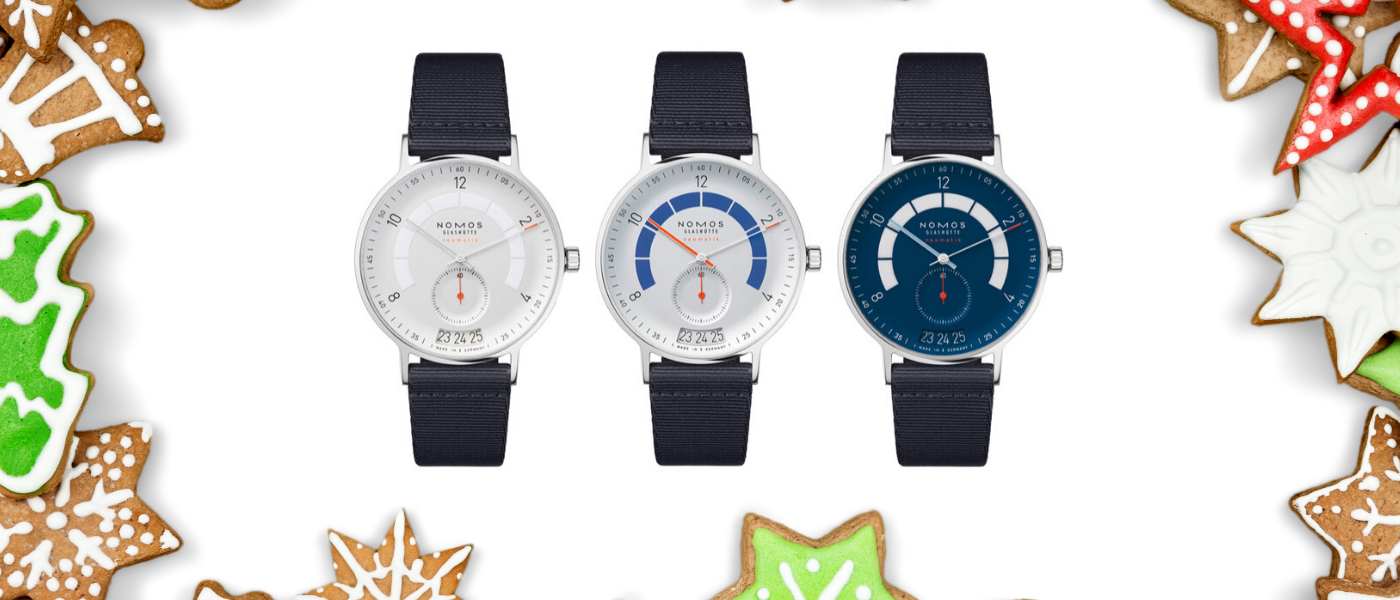 The Nomos Autobahn is an undoubtedly attractive timepiece and offers the buyer a fantastic deal. For a price that's under €4000, you get a watch with subtle Bauhaus aesthetics, a variety of straps and an in-house made movement, a movement made not just in any old place, but in Glashütte, the beating heart of the German watch industry. The Autobahn has been on our radar for quite some time, despite being introduced at Baselworld in 2018 and finally making its way to us for a Fortnight Review in 2019, the Autobahn has been one of the front runners for the title of 'Most Popular Article on WristReview for 2019' for a while. In the restaurant business, people vote with their feet, if they don't come back you've done something wrong, for us, they vote with their cursor, and given that the Nomos has been so popular we figured it deserves to be on our buyer's guide.
[button color="black" size="normal" alignment="center" rel="follow" openin="newwindow" url="https://www.exquisitetimepieces.com/watch-brands/nomos-glashutte-watches/autobahn.html"]Buy your Nomos here.[/button]
3. Panerai Submersible 42mm PAM00683
Introduced at SIHH this year alongside a slew of arguably more attention-grabbing Submersibles, the PAM00683 quietly shines out amongst the crowd partly due to its case size. At 42mm, it's more accessible to most people, who wouldn't even consider going for a 47mm watch, as most of the Submersible range is. Someone who is lusting after a Submariner but doesn't want to wait and can't quite afford the lofty grey-market price would do well to check out this Panerai instead. You still get a steel case, a ceramic bezel and an in-house made calibre XXXIV inside the watch, there's even a blue one too with the reference PAM00959, the price for either reference is $9500.
2. Longines Heritage Military 1938
Arguably one of the most intriguing designs of the year, the Heritage Military 1938 watch from Longines is a great looking piece and a tasteful remake as well. Most watch companies would try to reinvent their old models, adding little details here and there, one of the most common ones is adding a date feature where it wasn't on the original. Not Longines, though, they have become adept at remastering their vintage models without going overboard, and the limited-production Heritage Military 1938 is no exception to this rule. It still features a large and open dial, with only a sub-seconds display to instantly remind you it's still running. As a watch with a manually wound movement inside, that's quite helpful. The price of one of these is $2600, and it's limited to 1938 examples, who saw that coming.
[button color="black" size="normal" alignment="center" rel="follow" openin="newwindow" url="https://www.exquisitetimepieces.com/longines-heritage-l28264532.html"]Buy your Longines here.[/button]
1. Rolex GMT Master 2 126710BLNR
Arguably the hottest watch of the year, the second generation of Rolex' now-iconic Batman variant of the GMT master is something of a paradox. It's so popular and yet so hard to get hold of that most people don't even consider it. They get afraid of the waiting list, which can be anywhere up to eighteen months. People who want these watches instantly can have them, of course, for over double their retail price. Remember how we said that the waiting made the watch more special? There is no greater example on this list than the BLNR. With the new calibre 3285 and the Jubilee bracelet, this watch is a dressy watch suitable for use as a daily timepiece. Even if you can only give the gift of the receipt to prove you're on the waiting list, it's something to get excited about this year. And, if you're still not convinced and you've just denounced WristReview forever, why not stick around? We'll be showing you why we think the BLNR is so good very soon.
[button color="black" size="normal" alignment="center" rel="follow" openin="newwindow" url="https://www.exquisitetimepieces.com/rolex-gmt-master-ii-batman-126710blnr.html"]Buy your Rolex here.[/button]
That's all from us for now, what watches are you going to buy as gifts this year? 
From all of the staff at WristReview, we wish you a happy holiday season.