The Equation of Time is a fascinating thing. It is usually reserved for the most complex and most elite of watches, and yet, it's nearly completely pointless to almost all of us. The equation of time complication shows us the difference between mean solar time (as people measure it) and true solar time (as it's measured by nature). Our clocks, watches, computers, phones and ovens (among other things) all time a day as precisely 24 hours, but when measured using the time it takes for the sun to complete one cycle in the sky, the time ends up being slightly different. This is because the Earth's orbit around the sun is not a perfect circle despite what our school science books showed us.
These slight differences mean that there are only four days in a year which are exactly 24 hours long; the rest end up being off by up to 16 minutes. The equation of time complication tracks this and displays it. Nowadays, outside of people interested in astronavigation, there isn't much of a need to know the true solar time, but it's something for us to put into our complex watches, which is cool. Here are five of them.
5 – Panerai Luminor Equation of Time PAM00670
It's rare to see Panerai making a watch with an haute horlogerie complication in it (they do make them, but not many). It's also rare to see a Panerai be the cheapest watch on a list, but that's what this is. If you're fascinated by this unusual complication, then the Panerai Luminor is one of the most affordable ways of getting into it (even if it has a five-figure retail price). This watch also comes with calendar indications, GMT indication, the date and a power reserve, but the slider above 6 O'clock is the main one we're interested in. It's a very neat way of showing the equation of time.
4 – Audemars Piguet Royal Oak Equation of Time 26603OR.OO.D092CR.01
A rarity in the Royal Oak collection, the Equation of Time version was a watch for the horological connoisseur rather than someone who wanted to show off their shiny bling. As cool and golden as it is, very few of the ladies at high-profile parties will be getting uncomfortably warm in their trousers at the thought of the Royal Oak Equation of time, but that doesn't stop this one being a damned gorgeous thing. It shows the equation of time on the blue hand pointing to the inner bezel, but it also has a moonphase, perpetual calendar and sunrise/sunset time displays. There was also a Jules Audemars version of this if it's not dressy enough, but the Royal Oak is only 10.45mm thick, so it's quite dressy.
3 – Breguet Marine Tourbillon Équation Marchante 5887PT/Y2/9WV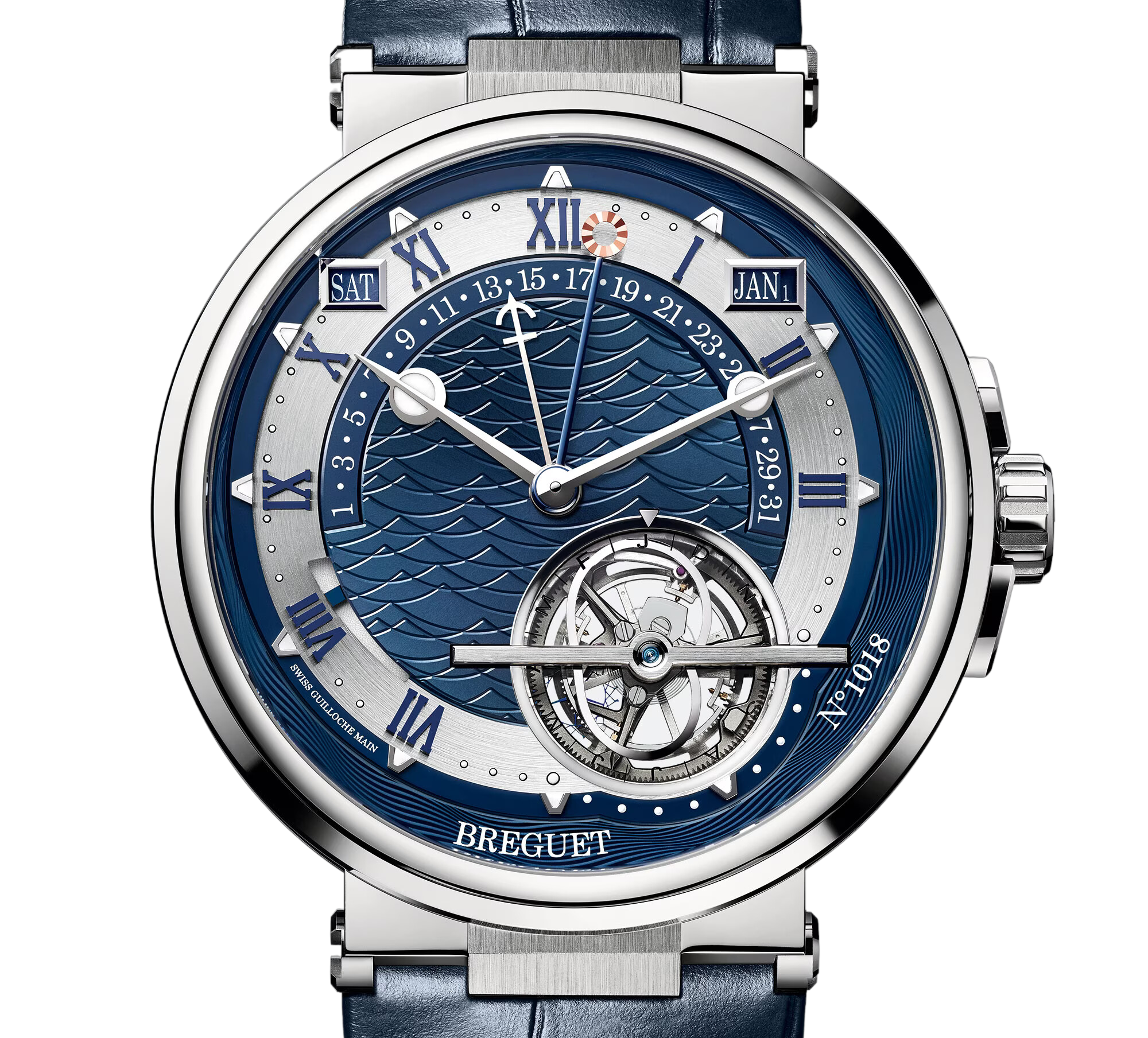 The arrival of the Marine Tourbillon Équation Marchante hailed the slow and steady update of Breguet's Marine sports watches, although this is definitely the least sporty. These things are enormous at 43.9mm and weighty; the reference I chose is solid platinum. This watch has a tourbillon and a perpetual calendar using both a retrograde date indicator and various windows, and a power reserve as well as the equation of time. This is the only watch on the list to use the more complex method of displaying the equation of time as the watch displays it on the central hand shaft, the round-ended hand can be up to 15 minutes ahead or behind the minutes hand, it is always keeping track rather than being on a subdial. This watch is also one of the thinnest on the list at 11.75mm thick.
2 – Chopard LUC All-in-One 161925-9003
Of all of Chopard's most complex and most coveted watches from the LUC range, there's surely none that can top the LUC All-in-One. Sure, they have the minute repeaters, but those just don't have enough complications in them. This watch has 14 indications spread across its two dials, one of which is the equation of time that's been carefully integrated into the case back next to the moon phase, sunrise/sunset, day/night and power reserve indicators. The LUC All-in-One is all about displaying how much Chopard can do, and they do it by themselves, so it's really easy to believe that all ten versions of this watch they made have sold out. Shame, really.
1 – Vacheron Constantin Les Cabinotiers Grande Complication Bacchus
Every watch on this list has something going for it, be it its price or its design or its decoration, maybe the mechanics inside etcetera. The Bacchus watch from Vacheron Constantin has all of that in bucketfuls. This watch also has more functions than the LUC All-in-One, it has no less than 16 spread across its two dials, and that also includes a tourbillon. Whereas the Royal Oak is under 10.5mm thick, this one is 19.1mm thick, though that does mean there's lots of space for a fantastical hand-engraved and coloured scene of grapevine garland dedicated to the Roman god Bacchus. I never did get an answer from Vacheron Constantin as to whether this would be changed to Dionysus in Greece, but there we are.
So then, the equation of time, it's relatively pointless, but it ends up on some of the world's best mechanical watches. I think that makes it alright, but which is your favourite equation of time watch?