In this instalment of the ever-popular WristReview Top 5, we cover GMT watches. GMT watches are defined by their extra hand which makes one rotation in 24 hours, using this and moving the regular hands allows the owner to tell the time in two different timezones provided they know how many hours forwards or backwards the target timezone is from the reference. Some GMT watches have a rotating bezel as well, which allows them to tell the time in yet another timezone.
For this list we only include watches which feature the GMT function, a date is allowable, but other complications such as a power reserve or chronograph are not. The watches can be dressy or sporty, but they must feature a central 24 hour hand for this list, we will make a separate list for the more quirky GMT watches in the future. The 24-hour bezel does not need to rotate, but it must be present to qualify the watch for our list.
5. Panerai Luminor GMT Automatic Acciaio PAM01088
The Luminor from Panerai has been one of our favourite watches for a long time now. In fact, I think it's been one of everyone's favourites for a while. The Luminor represents the essence of what Panerai is, simplistic design with top of the line engineering behind it. Panerais were always built to survive pretty much anything life and conflict could throw at them and still bounce back. While they aren't needed for this reason so much any more, they always offer a taste of the past. This Luminor GMT features a sub seconds dial and a magnified date. The GMT bezel is under the crystal on this watch to keep the clean cushion shaped design Panerai is known for. Inside is an ETA based calibre for rugged reliability. The reason we chose this watch over the current range is because of its GMT bezel which the current lineup lacks. Also, it looks really cool.
4. Grand Seiko Heritage GMT SBGJ213
"Wait a minute. This watch doesn't have a GMT bezel!". Without wishing to sound like a pantomime performance, oh yes it does. The GMT bezel on this Grand Seiko has been hidden inside the edge of the dial. Because of this, the watch can only display the time in two different timezones, but it does that excellently well with a classy and restrained titanium case design. The dial on this one is a bit more standout, and I appreciate the bright colour of the GMT hand which adds some contrast to the lustrous faceted dial. Grand Seiko is also renowned for its movements, inside this one is the 9S86 calibre and has a 55-hour power reserve and is accurate to +5/-3 seconds per day when the watch is static, or +8/-1 seconds when the watch is being worn daily.
[button color="black" size="big" alignment="center" rel="follow" openin="newwindow" url="https://www.exquisitetimepieces.com/watch-brands/grand-seiko-watches/heritage.html"]BUY YOUR GRAND SEIKO HERE[/button]
3. Omega Seamaster Planet Ocean 600m GMT Deep Black Ref.215.92.46.22.01.002
The Planet Ocean range from Omega is one of the most versatile collections of watches around. Every model features something interesting about it, whether it's a complication like a chronograph or the GMT seen here, or a new material such as ceramic which we also see on this watch. There are several variants of the GMT Deep Black; I've chosen the black and blue option purely based on my colour preference. There's also full black, black and red, black+blue and red and black and gold too. One thing that annoys me when companies add GMTs to their diving watches is when they replace the uni-directional diving bezel with a GMT one that rotates both ways. This defeats the purpose of the diving part of said watch, as it is no longer safe to use for timing. Luckily, an internally mounted bezel on this model means the diving bezel remains, so the owner gets the best of both worlds. This is a seriously cool looking watch as well, and the ceramic is the cherry on top.
[button color="black" size="big" alignment="center" rel="follow" openin="newwindow" url="https://www.exquisitetimepieces.com/watch-brands/omega-watches/planet-ocean-600m.html"]BUY YOUR OMEGA HERE[/button]
2. Chopard L.U.C Pro One GMT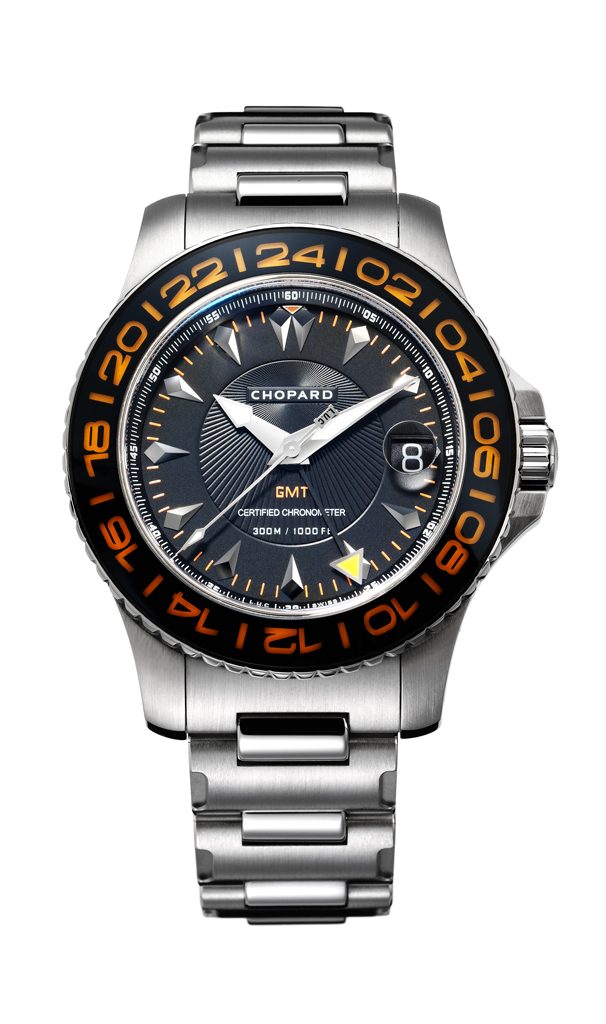 Back in the early 2000s, Chopard was busy working on its L.U.C line of watches. Dedicated to the works of the company founder and namesake, Louis Ulysse Chopard, L.U.C watches were made to be the best of the best. Their first one was a hit, garnering international attention from world-renowned experts with its movement the Calibre 1.96. However, the brand was still at a bit of a loss as to what its new high-end range should be, enter the Pro One GMT. This watch accompanied a diver model and has become a collector's item as well. The watch offers some serious bang per buck, the dial features an attractive sunburst guilloché and is easy to read. The rotating GMT bezel is sapphire crystal and luminescent, and inside the stainless steel case beats an L.U.C micro-rotor calibre 1.96, the very same movement that caught the appreciation of the likes of Philippe Dufour no less.
1. Rolex GMT Master II 126710 BLNR 'Batman'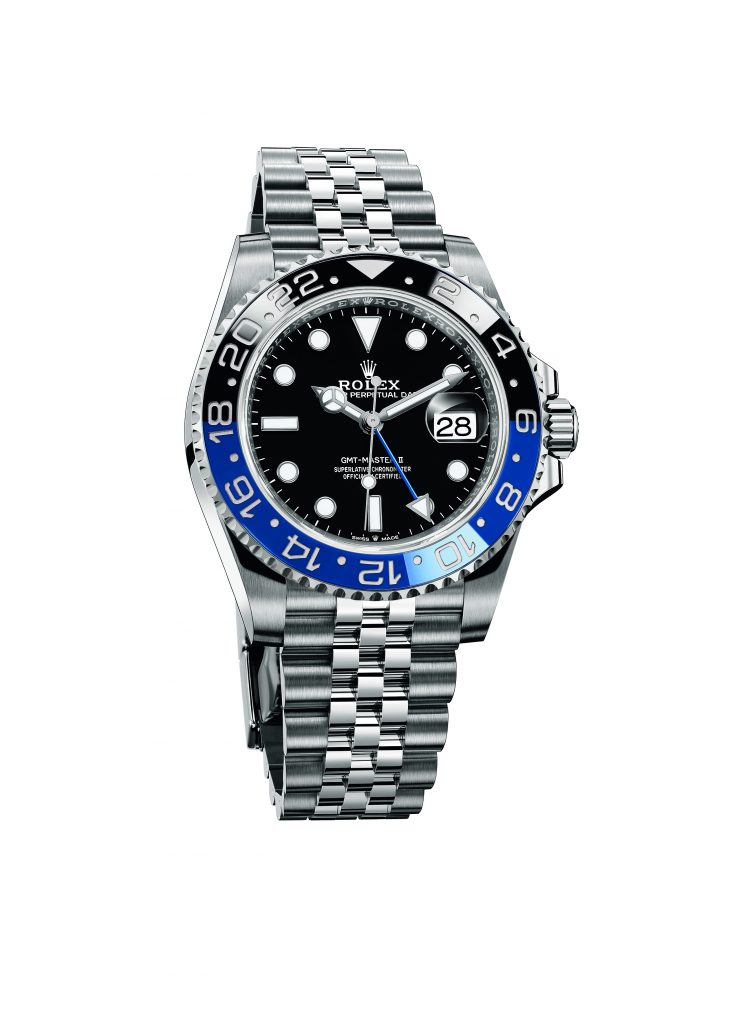 The Rolex GMT Master line of watches dates back to 1954 with the release of the original GMT Master reference 6542, it was intended for staff of Pan-Am, so they could travel the world and work out the time in different places they were flying to. Thanks to the advancement if computers and digital navigation tools, reliable timepieces became less of a necessity and more of a luxury. The prime example of this is the 2019 Rolex GMT Master 2 BLNR. Despite being perfectly equipped to fly the world, its rarity and extreme market values combined with long waits at the dealership mean people are less likely to own one, let alone risk damaging it. Still, the replacement for the old Batman lives up to the legend of its predecessor with a fantastic Jubilee bracelet and a new movement in it too. Say what you will about Rolex, but the crown is still the one to beat.
[button color="black" size="big" alignment="center" rel="follow" openin="newwindow" url="https://www.exquisitetimepieces.com/search?q=rolex"]BUY YOUR ROLEX HERE[/button]