When I was tasked to write a piece for the brief history series I immediately thought of the Omega Seamaster and its association with a famous fictional super spy, but that idea soon faded as I realized just how prosaic the idea really was.
No, as I'm in the enviable position of choosing my own 'fave rave' I decided on the Bremont limited edition MBI because of its unique position and back story, so, welcome to the fascinating world of Bremont.
To fully appreciate what we're dealing with we have to start at the beginning when Nick & Giles English embarked on the creation of Bremont Watches just 15 years ago in 2002. It's hard to believe in such a short time the name of Bremont has become synonymous with beautifully crafted pilot's watches of exceptional quality tested beyond the endurance of many other products.
Their inspiration came from their own love of flying and engineering that saw the two brothers take on the challenge of designing and engineering mechanical watches built for precision, reliability, and durability. So confident are they with the build quality all watches which incidentally have a COSC-certification, carry a 3-year warranty.
The Bremont Name
Before I can get into the birth of the MBI you need to know why a British watch maker carries a French name, and it's not because they're attempting to hide their genesis, but it's all down to a flying adventure that ending in an emergency landing in a French field. It's true, you couldn't make this stuff up!
It was the late 1990s when the two brothers were flying across France in their 1930's biplane with bad weather closing in and a rough running engine forced an emergency landing. As luck would have it the farmer whose field they landed in had flown aircraft during the war and offered his barn to the brothers for repairs and avoidance of the French authorities. If that wasn't lucky enough, the farmer was a gifted engineer and an amateur watch restorer who went by the name of Antoine Bremont. As gesture of thanks the brothers told Monsieur Bremont they would never forget his kindness, and subsequently named their watch company in his honor.
The MBI is Born
As recently as 2007 Martin Baker, the British aviation company responsible for supplying 70% of the world's Air Forces with fighter ejection seat technology approached Bremont to create the definitive aviation watch. The criteria was clear. The watch would need to undergo and survive the same rigorous testing program as the ejection seats themselves.
A tall order perhaps, but Bremont was never just going to stick a logo on an existing model but design a completely new watch designed to withstand the rigors of ejection, and just two years later the Bremont BMI was born.
What is the MBI
The Bremont MBI unique, bespoke, super exclusive aviation watch that carries not only the mark of engineering excellence with enviable features such Anti-magnetic Faraday cage, anti-shock movement mount and a water resistant to 10 ATM, but the 43mm case is hardened stainless steel Trip-Tick® unique to Bremont.
Housed in the this technically advanced case is the BE-36AE automatic chronometer with 38-hour power reserve, but most importantly, the red aluminum barrel identifies the wearer as Martin-Baker ejectee, who are the only people officially permitted to wear the BMI. The final touches to the piece are the personal engraving of up to 10 digits consisting of their call sign, name, or date, and the individual's Martin-Baker Tie Club membership number.
A Closer Look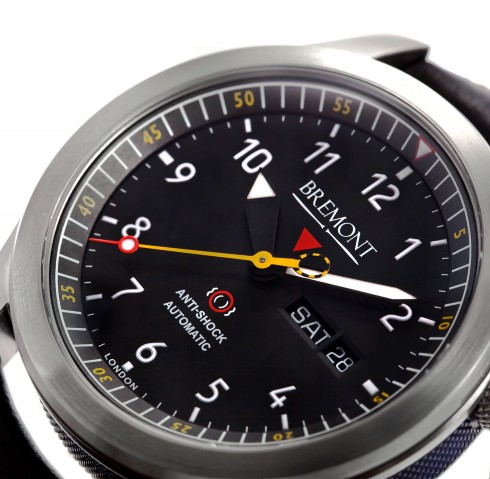 The technical stuff reads like this, the movement is a modified caliber 11 ½"' BE-36AE automatic chronometer, 25 jewels, glucydur balance, glucydur being the trade name of a metal alloy with a low coefficient of thermal expansion, which is nice. The mainspring is Nivaflex alloy made from iron, nickel, chrome, cobalt and beryllium, operating at 28,800 bph with a 38 hour power reserve, the case Hardened stainless steel Trip-Tick® red aluminum barrel. This piece has a patented anti-shock movement mount and bi-directional Roto-Click® bezel operated by crown at 4 o'clock.
Oh, and there is a choice of calfskin leather strap or canvas NATO strap.
The Rigors of Testing
The Take Away
The interesting thing here is the brief history of the Bremont MBI is, in reality, a very brief history indeed, I mean how often have we seen such an established and respected brand with so little history to its name? In short, Bremont burst onto the market and stunned everyone with their passion for horology and engineering, so much so Martin Baker commissioned them to design and build the quintessential aviation watch built to survive ejections.
The MB range is truly a world beater and a must for any collector, although the MBI can only be worn by those elite flyers who've ejected from an aircraft using a Martin-Baker seat. That's quite an exclusive club, but don't be disheartened though because for us mere mortals who never get to 'bale out' the MBII and MBIII are available to all, so happy days, right?
In my parting words, I would just say this. If you thought Breitling were the timepieces of pilots it may be time to think again. bremont.com