If there is one thing that makes the Only Watch 2015 charity auction aside from the feel-good element, it would be the outstanding watches ever to be auctioned for the whole world to experience. We know for sure that this event brings the best from each of us and of course from the great and legendary watchmakers. I am a big fan of unique watches and for this Top 5, I would rather talk about the 5 best pieces that I feel deserve the most attention.
5. Chopard Superfast Chrono Porsche 919 Mark Webber for Only Watch 2015
Who doesn't love racing watches? I don't know about you, but everybody does. The Chopard Only Watch Porsche 919 Mark Webber edition's DNA is absolutely all about speed. Its edges and curves seemingly hug the most exciting part of the race track which is the apex. I've been into apex several times and I can tell you, if your car is loose it'll simply lose. The point is, Chopard makes sure that you don't get to experience any downtime with this watch, after all, it contains elements inspired by Mark Webber. Its rugged appeal is dampened by its cool silvery dial but the chronometers accented by red subdial hands and main seconds hand at 3, 6 and 9 o'clock simply point to something serious and by all means, this Chopard is definitely made to take your breath away. chopard.com
Estimate CHF10,000 – 20,000 SOLD FOR CHF20,000
4. Girard-Perregaux Vintage 1945 XXL DLC Large Date and Moon Phases for Only Watch 2015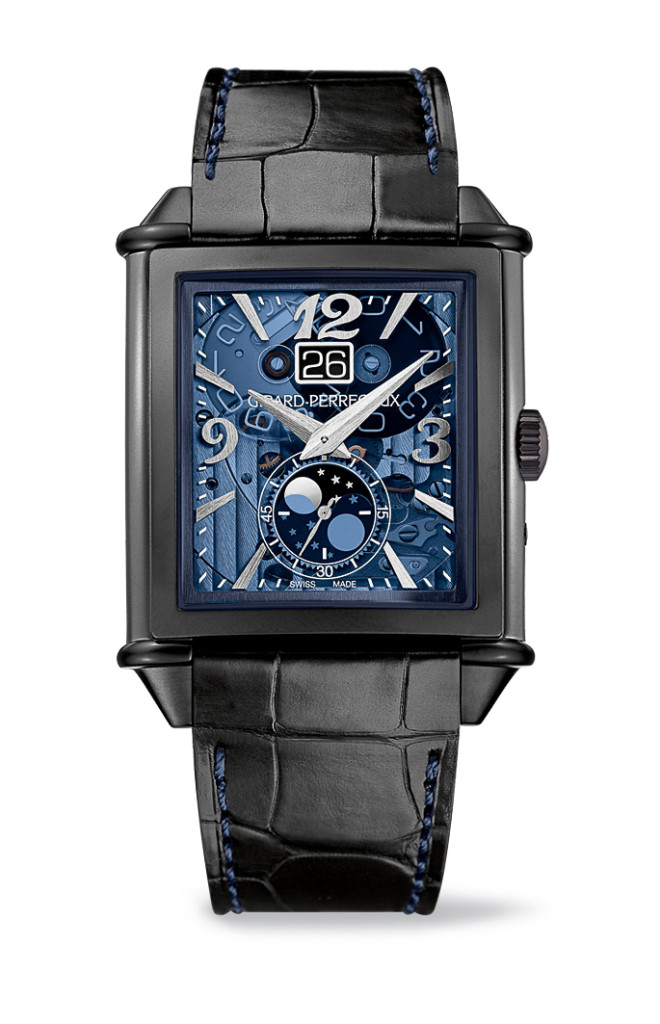 For this Girard-Perregaux Vintage 1945 XXL Large Date and Moon Phases piece, the element added to it for the event's sake is the titanium DLC case with a blue polycrystalline transparent dial. One positive result is a skeletonized dial with bluish hues, just wow. We all know this watch is an art made with finesse when it comes to symmetry and overall design. Oh and to remind you that this piece is made for Only Watch 2015, just look at the back and you'll see its marking there whilst displaying the Girard-Perregaux 03300–0105 manufactured self-winding caliber sporting 46-hour power reserve. girard-perregaux.com
Estimate CHF15,000 – 23,000 SOLD FOR CHF38,000
3. FP Journe Tourbillon Souverain Bleu Only Watch 2015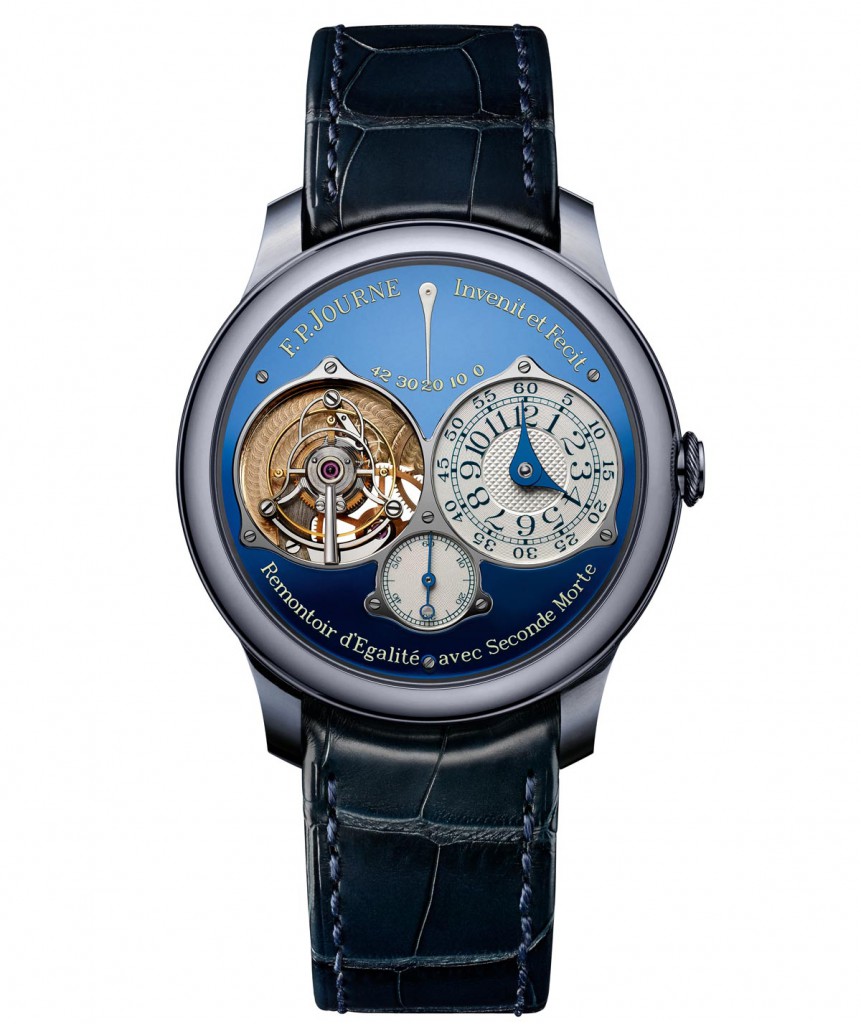 This piece features unique elements on its dial which is made of steel. I know you will say, why use steel on something that is totally sealed from the outside? Well, why not especially if you're going to make it look like a treasure trove of beautiful inspirations such as lacquered layers and chronometers that totally stand out plus you can definitely appreciate its tourbillon at 9 just beside the hour and minute subdial at the 3 and running seconds subdial at 6. The symmetry looks great and the bluish dial mated with tantalum case is simply fascinating. fpjourne.com
Estimate CHF250,000 – 400,000 SOLD FOR CHF550,000
2. Kari Voutilainen GMT-6 Unique Piece for Only Watch 2015
Kari Voutilainen is certainly a one-of-a-kind watchmaker and his GMT–6 is simply stunning. And its stainless steel case is a dial that just stands out through its remarkable patterns. The inner dial sports bluish Geneva Wave pattern in crescent moon shape surrounded by an outer dial in Barleycorn pattern in deep grey which yields superb contrast. Then the Breguet styled white gold hands which are a bit thick and off-centered makes it absolutely gorgeous not even mentioning the GMT hand at 6 o'clock. voutilainen.ch
Estimate CHF90,000 – 100,000 SOLD FOR CHF145,000
1. Patek Philippe Grand Complication Ref. 5016A-010 In Steel For Only Watch 2015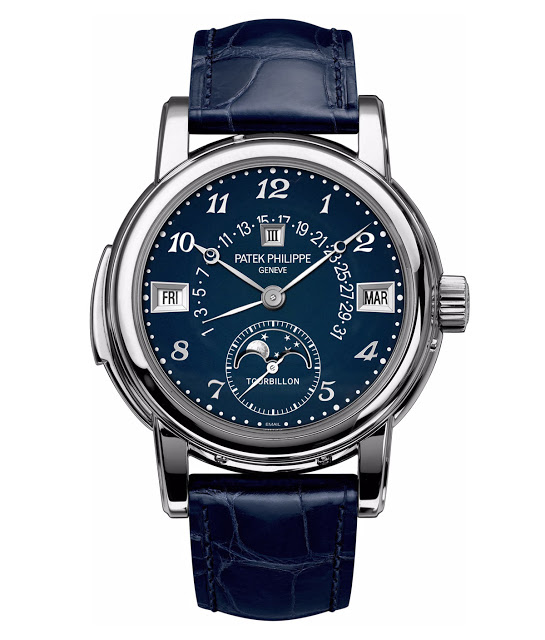 You get this watch of course if you're at the primal list of horology fanatics although what makes it my first choice is not its price point. It simply combines three magnificent complications, the tourbillon, a perpetual calendar and a minute repeater in an undoubtedly super rare masterpiece. At record-breaking $7.3M for minute elements of steel for this caliber and a blue enamel grand-feu dial, I don't see anything surprising aside from its very rare movement, the reference 5016. patek.com
Estimate CHF700,000 – 900,000 SOLD FOR CHF7,300,000
Click here, if you hadn't had the opportunity to read our articles about what Only Watch 2015 had to offer.
JOVAN KRSTEVSKI – FOUNDER, PROPRIETOR & EXECUTIVE EDITOR
Watch collector, aficionado and an Event profile in the Swedish nightlife. He launched Watchgeek back in 2011, which is now known as WristReview and is one of the most widely read watch blogs on the Web. He quotes 'WristReview is a site to help people find, explore, discover and enjoy wristwatches.'  His passion jump started in his early teens when he was given his first mid-range wristwatch which was an Omega Seamaster. Since then he has always been in love with wristwatches! Besides WristReview, he also writes for a number of publications. Read his articles here