As you well know, we here at WristReview work extra hard to make sure all of our articles cover a broad range of topics related to horology, from desk clocks to vintage watches to the cutting edge in modern design. We also love the works of the big players such as Rolex, Omega, Patek Philippe, the Swatch Group and all of the other contributors as well, basically, we love what we do with a passion, but there's always one little group of companies that's almost forgotten: The Micro brands.
Some of us haven't heard of those companies yet, or they might just have discovered they have a passion for watches. A crowdfunded watch company is a company that has started up from scratch and owes most of its success to the supporters of the project i.e. the general public. Crowdfunded watch companies give us a breath of fresh air when we review them because there's no ideas about the company and its products that are already in place, so there's no stigma. Kickstarter companies get to show off their designs and really get stuck into the nitty-gritty of the market, companies such as MB&F would've started this way.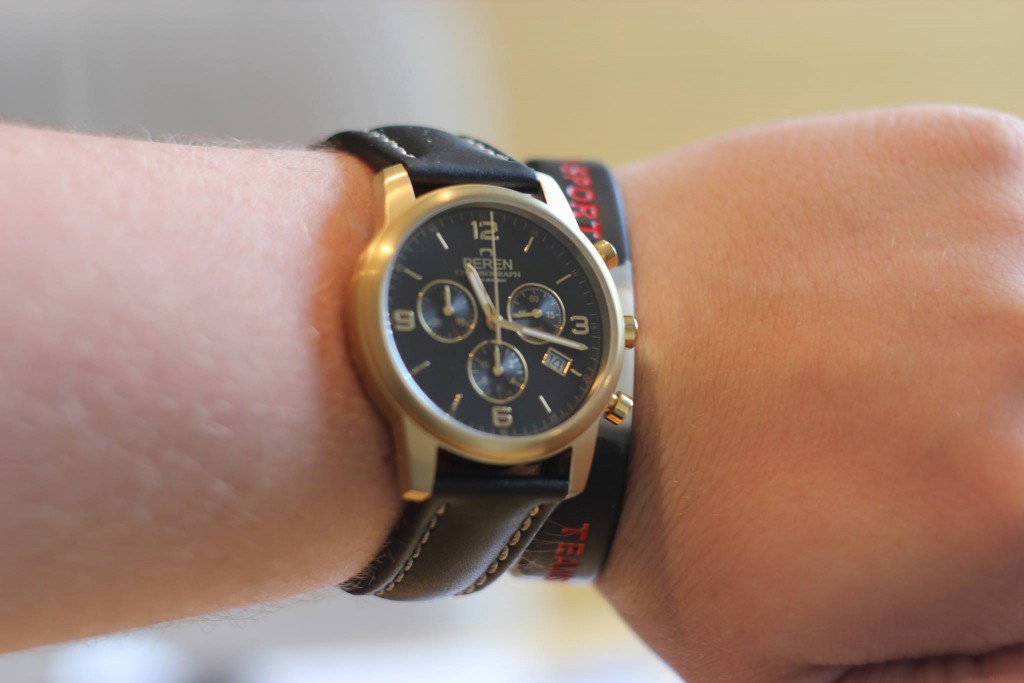 It's with great delight that I get to present to you this watch, the Peren Chronograph in gold. This watch is a quartz based pseudo sports watch, I use the term pseudo because this watch isn't quite a traditional dress watch, or it would be a three-handed affair, and it's not quite a sports watch or it would be on a bracelet (there is a bracelet version of this watch available in steel from the Peren website).
Let's get straight into this watch by looking at the piece overall. It looks pretty smart, I've worn it daily for two weeks and it's been through higher education life, family parties and many more without a fuss at all. It doesn't look out of place on a casual dressed Sunday, and it works well if you need to wear a long sleeved shirt.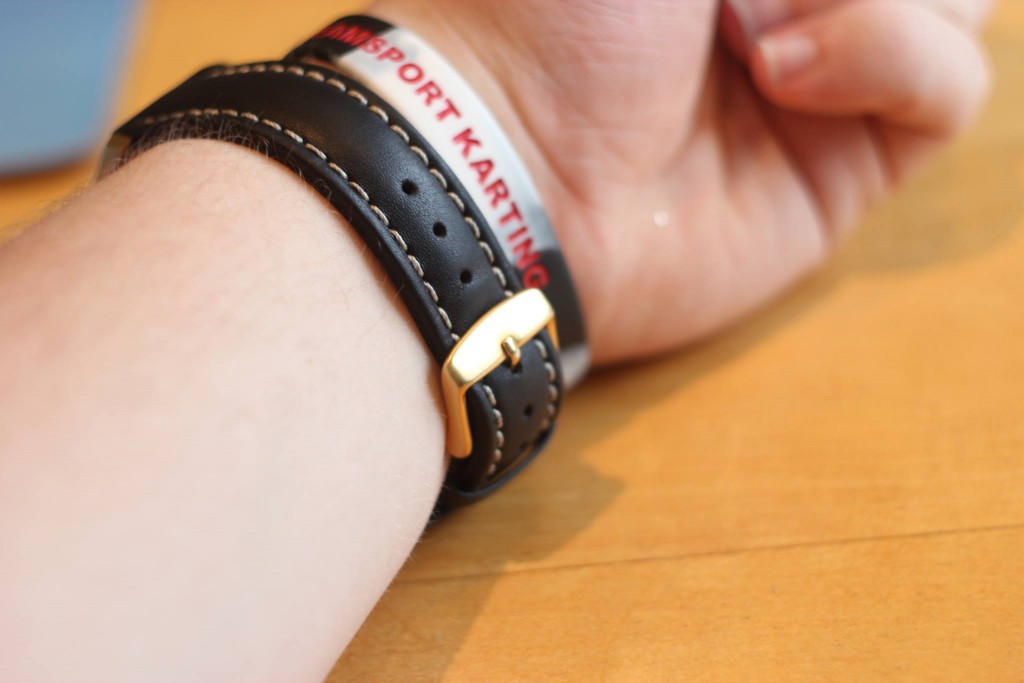 The case and the buckle are made of stainless steel with all but the caseback being given a golden PVD coating that seems to hide most of the little dings and scratches of everyday life really very well indeed. The yellow gold version of the watch (the one I tested) comes on a genuine leather strap which is 2mm at its thickest point and 20mm wide at the case. The strap also has some eye-catching white stitching on it, from a bit farther away this stitching breaks up the outline of the strap and generally makes the watch look more prestigious.
Let's cover the dial side of the Peren, as this is the side an owner will no doubt see the most of. The yellow gold version of the watch has a black dial with golden… pretty much everything really! The choice to use numerals at 3, 6, 9 and 12 O'clock and use baton markers at the rest was a good choice to make, the dial seems spacious despite the fact that the watch has both a chronograph and a date feature. The date is presented at a jaunty angle at 4 O'clock on the dial, the window itself is marked with a golden outline and the date wheel is white with black markings, a good choice for a watch with a black dial, I have a feeling that with both the golden outline of the window and gold on black writing the date could get tricky to read quickly. The dial is covered by a sapphire crystal which has been given an anti-reflective treatment. There's also SuperLumiNova applied to the hour hands.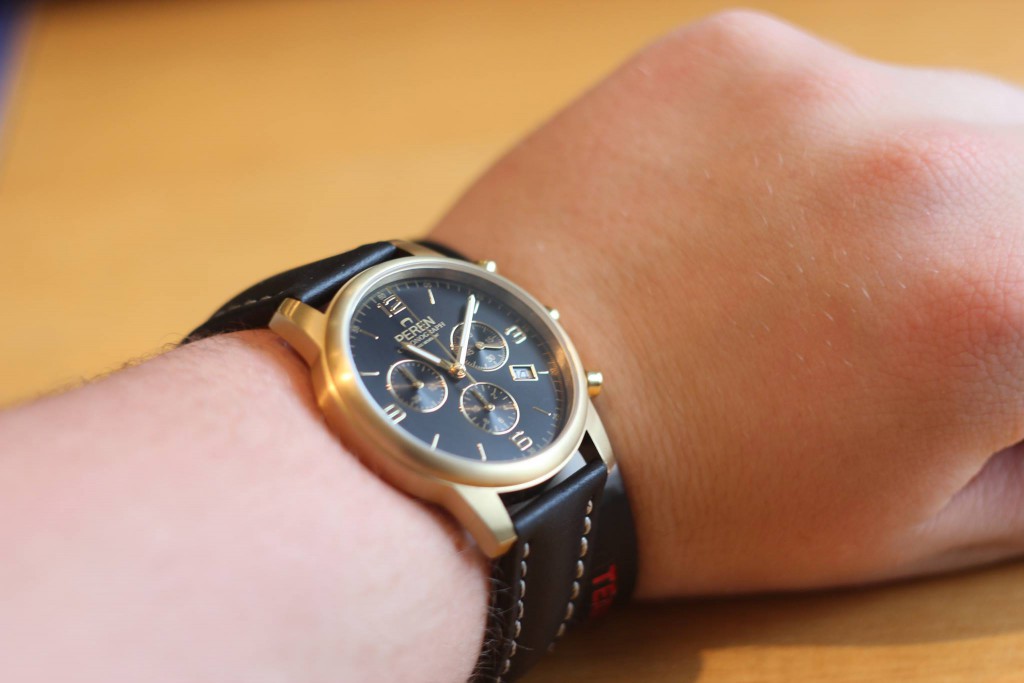 This watch features a chronograph which is powered by the Swiss made Ronda 5030D Startech Gold applied movement. It takes up the central seconds hand as well as the bottom and left subdial, leaving the right one at 3 O'clock to indicate the seconds. The quartz chronograph works well when needed though I must stress that in the relatively short feeling two weeks I had to wear this watch I didn't once encounter a situation where I needed to use it, but it's nice that it's included anyway. The pushers on the chronograph actually feel like those you'd find on a mechanical timepiece, they have a certain resistance to them which clicks very satisfyingly. This leads me onto one of only two flaws I picked up on when trialling this watch. After a while, I noticed the central seconds hand no longer rested exactly at 12 O'clock, I must stress that I haven't simply forgotten the chronograph was running and then stopped it. It no longer returned to 12 when the reset pusher was depressed, I expect this is a minor flaw that can be easily rectified by looking in the manual, but for now I ran the chronograph and stopped it at 12, purely to stop it annoying me.
The other small detail and this really is a personal thing, I don't like the seemingly enormous gap between the watch case and the leather strap. Having said that I'm used to wearing a watch with a bracelet on and I assume it wouldn't take me too long to stop noticing this particular detail. If you regularly sport a watch on a leather or fabric strap I can't see you personally having an issue with the gap.
These past two weeks with the Peren Chronograph in gold have been great fun. The watch looks the part and feels it too, it also adapts pretty well to most environments, bringing the fun into the business part and the laid-back cool into the more relaxed weekend environment. If you're in the market for an affordable watch that looks great, won't break the bank and will be reliable for years to come, I suggest you throw away anything you think about Kickstarter companies and give this Transylvanian company a go, you won't regret it.
For more info, please visit perenwatches.com
HARLAN CHAPMAN-GREEN – CONTRIBUTING EDITOR
A keen bass guitar player, Harlan enjoys all the perks modern watchmaking technologies the industry has to offer. Although you might catch him sampling Omegas or the odd Rolex, Harlan loves all things Haute Horology, with his three favourite brands being Breguet, A.Lange & Söhne and Vacheron Constantin. He hopes to study timekeeping more in depth someday and will never be able to thank his father enough for introducing him to the industry. You can follow him on Instagram Read his articles here