Zenith first produced the El Primero in 1969, which at this time was very special in that it was one of the first watches to use an automatic chronograph movement. This was a revolutionary discovery in the world of watches and chronographs. Today, this is a very common feature in the world of timekeeping. In 1969, the Zenith El Primero was competing between the Heuer-Breitling-Hamilton-Buren Calibre 11 and the Seiko 6139 for the most formidable watch featuring the automatic chronograph movement. The main competitive difference between the Zenith El Primero and the other two is a build in escapement that vibrates and creates a high-beat movement which makes the timepiece more precise than its competition. That same year, the British car manufacturer Range Rover put into production their first luxury off-road vehicle which was named the Range Rover. The Range Rover was not put into production in Britain until 1970. Both the Range Rover vehicle and the Zenith El Primero Range Rover Special Edition are targeted towards the luxury market.
The watch is encased in a 42mm aluminum case that is matte black in color, bringing out the sharp light white colors on the face of the piece. This model watch is waterproof up to 100 meters and features the Zenith logo, a star above the logo, and the words "Range Rover" below it. The hands and the hour markers on the face of the piece are rhondanized crystals with luminescent filling in each, which makes them glow in the dark. At 9 o'clock is a hand for timing with seconds, at 3 o'clock is a minutes timer, and a 12-hour register is kept at 6 o'clock. Below the 12-hour register, directly at 6 o'clock, is the date.
With the watch, the buyer has the option of buying either a blue or a white rubber strap coated with ivory-toned perforated calfskin. Both are hand-stitched and very comfortable for the user. Both colors match the matte black finish of the watch very well, bringing not only style to the piece but also class to the wearer.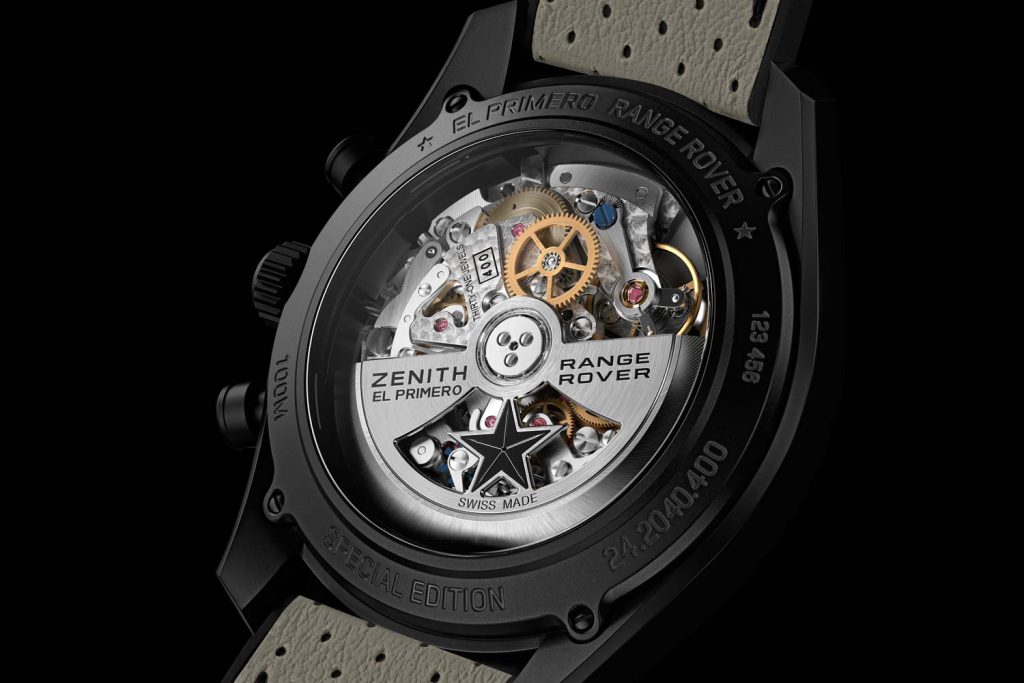 The caseback of the El Primero is open so the owner can catch each and every precise movement of the watch. The metal that makes up the caseback is engraved with "Zenith Al Primero Range Rover," and a black Star on the back, displaying the Swiss made origins of the piece. The open caseback also shows the sapphire crystals that keep the movement of the piece on par, as well as the rotor and various gears, all of which are beautifully colored, shined, and polished.
As was the case back in 1969, the Zenith El Primero Range Rover Special Edition features the 400B movement of the motor. This feature enables the watch to have a beat rate of 36,000 vibrations per hour, keeping the time intervals of this piece precise within one-tenth of a second. This is one of the best chronograph movement watches out on the market today. Not only is the piece very accurate by function, but it is also very sleek and stylish. A watch modeled after a car, enough said. Better yet, the watch is released and available to the public for 7,900 euros. For more info, please visit zenith-watches.com