When you think about Seiko, you first think of their diving watches or also their cool sports watches. But Seiko is also known for some mostly classy watches made for gentlemen.
The new modern sized case will probably appeal to the younger generation of collector.
Well, it's not brand new because this 42mm Grand Seiko SBGR family was officially launched at Baselworld 2015. But now Seiko wants to put some extra in this piece by producing a new limited edition model that comes with a really cool blue dial with small GS logos spread throughout the dial and with a really nice geometric pattern. The dial is highlighted by the 3D indexes and their typical dauphine hands.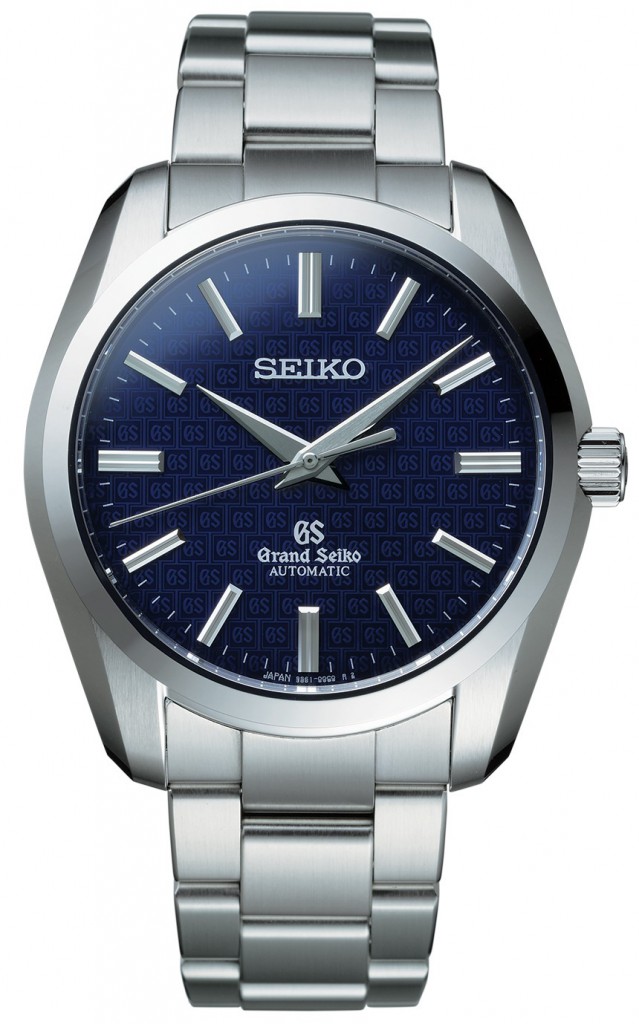 Note that this piece has been created to celebrate the 55th Anniversary of Grand Seiko and only 500 pieces will be made for the world and that's also something that could attract some collectors. Usually, this collection is made in 38 or 40 mm, and that's probably too small for new young customers. That's why this 42 mm watch, with a thickness of 13.1mm, is very welcome in the family.
Sure, €4100 is quite expensive for a Seiko but if you buy it this means that you know all about the quality of the Grand Seiko collection and more than this you know what they have to offer for the rather large amount of money.
The best thing is inside the Grand Seiko SBGR097.  This piece is created with the in-house made Seiko caliber 9S61 mechanical automatic movement. The watch has a 72-hour power reserve and a 4Hz frequency. This 9S61 can compete with some chronometer grade watches, despite not being COSC certified itself, thanks to an accuracy of -3 to +5 seconds per day (in a laboratory). Note that this accuracy is the result of measuring the loss/gain of the time for seventeen days before the inside movements of the watch are put in the case. The measurement has been done in the factory where temperatures or position of the movements is controlled. When the watch is actually worn, the accuracy should be from +10 second/day to -1 seconds/day.
The open caseback gives you the chance to see the clean and classic decoration of the movement and moreover the caseback is engraved with the serial number of the watch.
Technically, the movement can compete with anything made in Switzerland. Aesthetically, the Grand Seiko doesn't even try to dress up its movements. And that's a shame because better decoration will give more power and more value to that piece, considering that some ETA movements have more beautiful decorations on them.
Now to probably the most negative thing of this timepiece is that it weights 174g, which is actually really heavy for the most wrists out there.
Finally, and that's my own opinion, this line of watches they want to make really high-end class should have a more Japanese style (in the best classical sense). The thing is that this watch looks too much like what already exists in the market. Seiko should probably add more and more fun, and more and more Japanese aesthetic or craft. You know something that gives them an aesthetic that no other watchmaker has.
For more info, please visit seikowatches.com

JONATHAN KOPP – CONTRIBUTING WRITER
Jonathan Kopp has an avid enthusiasm for timepieces of all genre, from vintage timepieces to modern Luxury Haute Horology. His preference goes to small and independent high-end watchmakers. He loves the difference rather than classicism, although if he admits to being in love with several ultra-classics pieces. Jonathan was caught by the passion for watchmaking there are almost 6 years. For about 5 years, he wanders in this industry and was Communication-Marketing-PR Consultant for several brands. He has worked for over 2 years as a freelance for the development of the Swiss brand Arthur Oskar Stampfli (AOSWatches). Read his articles here